Behind the lines: Kustom Kulture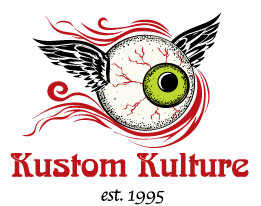 I don't remember the first time I walked into Kustom Kulture in Winnipeg's Osborne Village, but I know it was some time ago. I bought Veganomicon there, as well as numerous other great things. Plus, they have been supportive of the magazine since day one. In fact, if you poke around there you may still find a T.O.F.U. shirt or two, as well as a copy of Issue One or Two.
Although they may not seem like the most obvious vegan-friendly shop, they have a great selection of vegan lit, and some of the staff walk the walk. So, if you ever find yourself in Winnipeg, be sure to add Kustom to your list of things to see and do. Ask for Cass, and tell her Ryan sent you.

Why run a vegan-friendly business?
Crazy not to.

How long have you been in business?
Sixteen years.

Favourite part about it?
The feeling like you're doing the right thing.

Anything new people should know about?
"They" are using cat & dog fur for faux fur! Fuckers!

Who would win in a fight: Quinoa or Cous Cous?
Quinoa = complete protein.

What's THE thing a vegan has to do in your town?
Participate in THE fart party!
Jan. 21, 2011
Comments Off on Behind the lines: Kustom Kulture
Related Posts