Behind the Lines: Teresa Fisher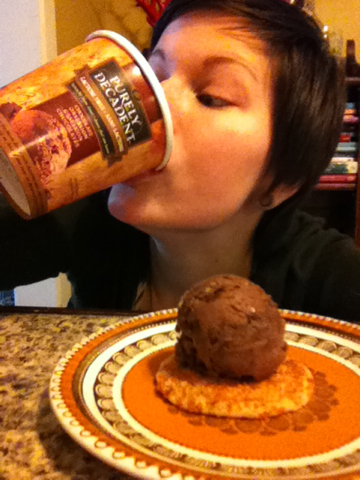 Somehow, after my years of being in Halifax, it seems I missed meeting at least a few of the Haligonian vegans. Sadly, Teresa Fisher is on that list. So, I figured the next best thing to meeting in person is to collaborate on something together. Something like… a magazine? Readers of issue four might recognize Teresa's name from the article "The Magical Magic Oven", but they can also find her blogging and tweeting up a storm online. Luckily, we caught-up with her for a few quick questions.
In one word, why are you vegan?
Decency

How long have you been vegan?
4 years!

Who would win in a fight: Quinoa or Couscous?
Quinoa! Couscous is a fakeout!

Would you prefer to lead a revolution or to live quietly in the woods?
Quietly live in the woods while creatively assisting with the revolution!

If there is a revolution, will it be televised or a Facebook event?
Both, duh! It'll be everywhere! Don't forget about news apps and twitter.

Favourite vegan thing in your town:
Hot and spicy noodle soup with tofu from Gingergrass on the corner of Barrington and Morris.
Feb. 10, 2011
Comments Off on Behind the Lines: Teresa Fisher
Related Posts