Vegan food delivery: Tiffinday in Toronto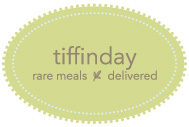 During my time living in Halifax one of the most interesting things to happen was the development of small vegan food delivery services. Sure, larger cities west of here had restaurants and grocery stores filled with vegan options, but for a couple years Halifax had a few neat ways to be a lazy vegan who still ate something good.
Currently, the only option I am aware of is The Wandering Deli, but at one point there were a few vegan delivery options (Burrito Bike, now Toronto-based, and Vegan to Go being two of them.) Visiting the city now I wish I had taken advantage of these options while I called it home, and I'm not quite sure why I did not. So, when I came across this article recently on a great new vegan delivery service in Toronto called Tiffinday (Website |Â Twitter), I thought I should bring it to everyone's attention.
Mumbai office lunches come to Canada
I will fight the urge to ramble on about supporting small, vegan-friendly businesses, as I'm sure I would mainly be preaching to the choir. Instead, I'll just suggest that you fine folks in Toronto check it out.
Jan. 06, 2011
Comments Off on Vegan food delivery: Tiffinday in Toronto
Related Posts