Look who VidaVegan Con just added to their speakers!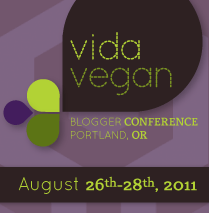 Alright, as if I was not excited enough to simply go back to Portland (did I mention they have vegan donuts? Have I mentioned that yet?), the fine folks at the Vida Vegan conference just added two new speakers to the list. Yes, the list that was already amazing, and not just because it included me.
Breaking News: The Pee Your Vegan Pants Edition (vidavegancon.com)
That's right, both Terry Hope Romero (Veganomicon, Viva Vegan!, Vegan Cupcakes Take Over the World, etc…) and Colleen Patrick-Goudreau (Compassionate Cooks, The Joy of Vegan Baking, Color Me Vegan!, etc…)Â have been added to the conference's lovely schedule. As the post suggests, you may now begin to pee yourself.
Of course, I think this means that I will need to be packing my interviewer hat into my luggage. With so many great people set to be in one just-as-great city, how could I not find out their thoughts on the important subjects, such as the quinoa versus cous cous battle?
Now, do I even own luggage?
Related Posts