Review | Protein Ninja by Terry Hope Romero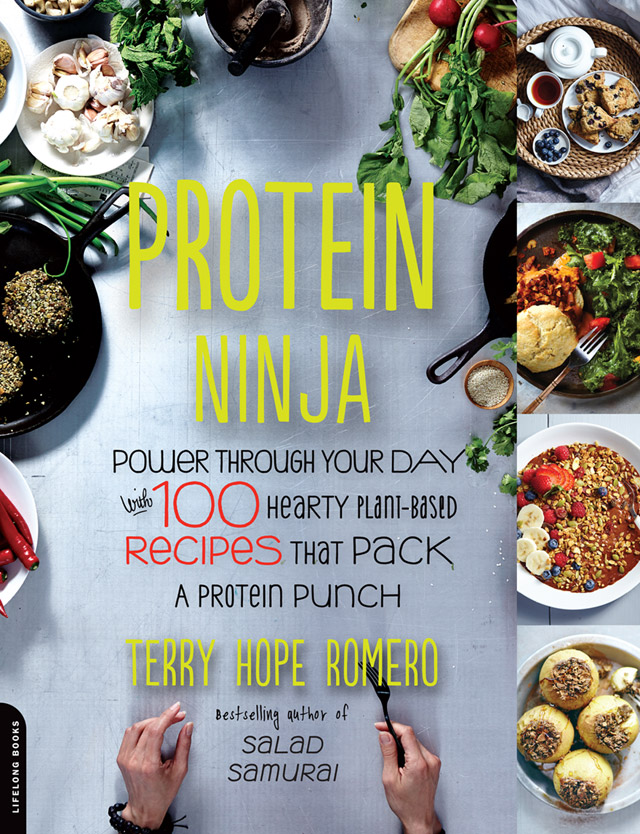 I have cooked my way through a cookbook or two and along the way have learned numerous kitchen hacks, quirks, and invaluable tips from a myriad of authors. Some cookbooks look pristine while others are clearly favourites, barely legible through their stains, coloured tabs, mark-ups, and dog-ears. Of these cookbooks, Terry Hope Romero is the Queen. When I learned of her follow-up book to Salad Samurai, which at this point is almost falling apart from overuse, I eagerly awaited the opportunity to review it.
Protein Ninja was born from Terry's own needs to up the protein game from a newfound love of weightlifting. As an athlete, I've read every nutrition book, athletic performance guide, and vegan endurance inspiration book I've come across. I categorized all the information, noted the tips and tricks, and loved studying nutrition information and meal plans. Tips and tricks were amassed, but many call for specialized ingredients that are far beyond my budget and may require stock investments at Whole Foods. Not Protein Ninja. This is all about sneaking protein into everyday meals, snacks, and baked goods. Terry goes into great depth about protein powder types and successful swaps and uses. She also covers other protein sources, and how to batch cook beans and grains and freeze for easy weekday use. With that ammo and knowledge, we're set to stealthily sneak in protein at every chance!
The recipes are sorted into categories such as Unstoppable Smoothie Bowls and Granola, Stealthy Protein Pancakes, Waffles, and Much More; The Protein Bakery Basket; Super Toast: Savory and Sweet; Protein-Packed Patties and Burgers; Better than Ever Burger Bowls; Grain and Noodle Bowls; and Sweet Treats. After my test list was composed, I realized I wanted to cook the book. I whittled it down to try and make use of common pantry items only, and splurged on one kind of new-to-me protein powder. I chose pea protein, and used that in all recipes, regardless of kind specified. I found the pea protein to be neutral in taste and not chalky, so I think it was the right choice for versatility.
My favourite smoothie was the Mango Avocado Hemp Smoothie Bowl, a smoothie that is not too sweet and super creamy from the avocado and hemp. For breakfasts it was a close race, but the Baked Veggie Pan Omelette slightly edged out the Garbanzo Veggie Pancakes with Cilantro Mint Apple Chutney. The pancakes were a great version of the classic pudla, and the chutney added some vibrant zing to the dish. I made sandwiches with the chutney as the jam, and it was a great hand-held meal on the go. The omelette has a base of tofu and chickpea powder seasoned with some standard scramble items. Its topped with some roasted vegetables (green beans, cherry tomatoes, carrots, and leeks) tossed in thyme and rosemary and then baked again to perfection. My biggest issue with eggy-like dishes is that they're eggy-like. This was like eating a deep dish pizza with a softer crust, and I'm all for pizza. Absolutely amazing – this disappeared much too fast!
The Pub Beans on Toast were the biggest surprise of the book. I have a long sordid history with baked beans, and this was my challenge recipe. The beans are cooked in a sauce of tomato paste, molasses, and mustard and then mixed with roasted tomatoes and mushrooms. Heaped on top of a giant pile of greens (I ran out of toast) this was phenomenal. I kept going back for more, thinking that the next forkful would be the fork that delivered the old amnesty. Soon the bowl was wiped clean of its tangy, slightly sweet, and smoky concoction of roasted vegetables and beans coated in a sticky molasses tomato sauce. I only wish this is what I thought baked beans were growing up.
I cooked the next three chapters in their entirety as I couldn't prioritize. Choosing a favourite is near impossible, so after much consternation these two got A+++ in my ranking system: the Falafel Bowl with Lemon Roasted Potatoes, Basil Lemon Cashew Dressing, and Chopped Mediterranean Salad and the Creamy Tomato Tofu Curry with Cilantro Garbanzo Flatbread. The falafel is Lebanese style: dry chickpeas are soaked overnight and pulsed uncooked in the food processor with heaping amounts of fresh herbs and greens. Already a protein powerhouse, with the addition of pea protein it ups its game substantially. The falafel by themselves are fantastic – I am partial to the herb-lemon Lebanese style, and would bring these to a falafel joint to stealthily sub into my falafel bowl any day. When put into a bowl with the best lemony potatoes I've had outside of Santorini, a creamy herby dressing with bright notes from the lemon and dill, and a huge Greek salad, this is quite possibly one of the best bowls to come out of my kitchen*. No pita required – this falafel bowl is a crowning accomplishment and a combination of all my favourite things. The only improvement I would make is to add some quick pickled radish. It is also fantastic if the craving strikes and your falafel is beckoning from the freezer (freezes fantastically!) and you don't have soaked cashews for the dressing at the ready: sub in tahini, and you're craving will thank you.
The Creamy Tomato Tofu Curry was a dish that shouldn't work, but just does. The curry is loaded with tofu, cauliflower, zucchini, snap peas, and leeks, cooked in a fresh curry paste of shallots, garlic, ginger, curry powder, lemon, turmeric, and a hefty bit of chili peppers. To this concoction, you add a pureed blend of tomatoes, white beans, and water. Served with a handful of cilantro, I was expecting the love child of tomato soup and curry to be at war. Not so! The tomato and bean puree thicken the curry and add a great backdrop to the spicy vegetables and tofu – almost like a korma. Spiced to perfection with just the right amount of heat and zing, this curry was not only a protein powerhouse with the tofu and the beans, but a delectable journey straight to the bottom of the bowl.
I've yet to make anything from the Baked or Sweet Treat section, and eagerly await the opportunity to do so. The baked goodies with their protein boost are perfect for long bike rides, long runs, or even just to stash in the backpack for a long day at work.
This book isn't just for athletes. The heated discussion of vegans and their proteins will continue to be heard, I think for as long as we debate the health benefits of red wine. If you're looking for a boost of protein in your diet or meals, or don't know how to answer that question "But where do you get your protein?" this book is phenomenal. With a lack of special ingredients, it's more approachable to the average kitchen ninja. Indeed – if you wanted to stay away from protein powder, you could still gain much knowledge from this book. In addition to upping the protein game, the flavours are what you'd expect from Terry: bold, distinctive, a bit quirky, and addictive. With these flavour profiles I would happily serve any of these dishes to those that ask that question and watch their awe when they learn of the jam-packed macronutrient profile, as they gobble it down and ask for seconds. If the sheer creativity and tastiness that leaps from the pages doesn't win you over, the humour will. How can you resist a giant knock on how frozen bananas ARE NOT ice cream, or how the Chia Trend has put the world's Chia Pet population on the endangered species list?
To help you up your protein game, the publishers have kindly let me share one recipe with you. I've chosen the Falafel Bowl with Lemon Roasted Potatoes, Basil Lemon Cashew Dressing, and Chopped Mediterranean Salad. It's most of my favourite things all combined into one delicious bowl to satisfy all your falafel needs. Enjoy!
For more information on Terry and her books, you can find her here:
Website | Facebook | Instagram | Pinterest | Twitter
Reviewed by Katie Hay
When Katie isn't exploring new cuisines and challenging food conceptions in the kitchen, she can be found at farmer's markets, building and designing bicycles, and planning her next life adventure.
* No small feat: I eat 99.99% of my meals out of my Rubbermaid mixing bowl.
Baked Green Falafel With Pea Protein
GF | SF | Makes: 2 Dozen Falafel Balls | Time: 1 Hour, Not Including Soaking Chickpeas
Proper falafel must be green: Green means it's loaded with lots of tasty fresh parsley and cilantro, which make everything better. So, yes . . . MUST. If it's not green, you have made terrible life choices. Speaking of which, you have ten hours while the chickpeas soak to think about what you're doing with your life. Even if you do this overnight (a wise choice; good work!), have you thought about going back to school? Maybe you should get that raised freckle checked out. When's the last time you called your parents? Why do people deep-fry falafel when it's so much better baked?
1 cup dried chickpeas
1 cup lightly packed chopped fresh parsley
1/2 cup lightly packed chopped fresh cilantro
4 garlic cloves, peeled
1 large white onion, peeled and chopped
3 tablespoons olive oil
2 tablespoons freshly squeezed lemon juice
1 teaspoon ground coriander
1 teaspoon ground cumin
1/2 teaspoon cayenne pepper
3/4 teaspoon salt
1/2 teaspoon baking soda
1/2 cup pea protein powder
Olive oil cooking spray or olive oil, for brushing
Cover the chickpeas with 3 inches of cold water and soak for 8 to 10 hours; I like to do this in the morning before leaving for work, or playing hooky, or whatever you do with your days. Drain and discard the water.
Preheat the oven to 400 F and line a large baking sheet with parchment paper. In a food processor, grind the chickpeas with the parsley, cilantro, garlic, onion, olive oil, lemon juice, coriander, cumin, cayenne, salt, and baking soda into a thick, chunky paste. Add the pea protein powder and pulse until the powder is absorbed and the mixture is thickened. Taste and season with a little more salt and cayenne, if desired.
Scoop 2 tablespoon–size balls of the mixture onto the baking sheet. I use a medium-size mechanical cookie scoop for easy, neat scooping and shaping of falafel balls. Spray or brush each ball with olive oil and bake the falafel for 22 to 24 minutes, or until firm and the bottoms are golden brown. Serve hot with the sauce from the Falafel Bowl with Lemon Roasted Potatoes, Basil Lemon Cashew Dressing, and Chopped Mediterranean Salad (page 155), or go ahead and make the bowl and serve falafel as nature intended.
Falafel Bowl With Lemon Roasted Potatoes, Basil Lemon Cashew Dressing,
& Chopped Mediterranean Salad
Serves: 4 | Time: 1 hour
A beautiful bowl of toothsome baked falafel nestled on tender lemony marinated potatoes alongside cool, succulent cucumber salad and drizzled with bright basil lemon cashew dressing. Serve with warm thick pita bread if you desire a little something extra to sop up the juices from the salad and the potatoes. Consider serving with your favorite chili sauce, too!
Basil Lemon Cashew Dressing
3/4 cup warm tap water
1/2 cup cashews
1 tablespoon olive oil
2 tablespoons freshly squeezed lemon juice
2 garlic cloves, peeled
1 cup lightly packed fresh basil leaves
1/2 teaspoon salt
Lemon Dill Roasted Potatoes
1/2 cup vegan vegetable broth
1/4 cup freshly squeezed lemon juice
1/4 cup chopped fresh dill
4 garlic cloves, peeled and finely minced
2 teaspoons dried oregano, or 1 heaping tablespoon chopped fresh
1 teaspoon salt
2 pounds russet or other starchy potatoes, scrubbed
Chopped Salad
1/2 pound cucumbers, preferably Persian
1 pint cherry tomatoes, diced
1 cup chopped fresh parsley
1 large red onion, peeled and diced
Juice of 1 lemon
Salt and freshly ground black pepper
Make the falafel balls and keep warm or, if they have been prepared in advance, reheat on a griddle or wrap in foil and heat in the oven for about 10 minutes while you prepare the dressing and potatoes.
Make the dressing: Combine the warm water and cashews and set aside to soak for 20 minutes (but stay away from Tumblr; get to work on the potatoes while you're at it instead). After a brief soak, blend the cashews and water with the remaining dressing ingredients until smooth. Chill until ready to use.
Roast the potatoes: Preheat the oven to 400 F. In a 3-quart ceramic or glass baking dish, use a fork to whisk together the broth, lemon juice, garlic, oregano, and salt. Dice the potatoes (leave the skin on) into 1-inch pieces. Toss to coat in the marinade and cover the baking dish with foil. Seal the edges tight and bake for 20 minutes. Remove the foil, stir the potatoes, and bake, uncovered, for another 8 to 10 minutes, or until lightly browned but still a little bit saucy.
Make the salad: Combine all of the chopped veggies and the lemon juice in a bowl. Season with salt and pepper to taste.
Assemble the bowls: Scoop a generous portion of roasted potatoes into a wide serving bowl. Top with the chopped salad, then arrange a few falafel balls on top. Drizzle some dressing on top and pass around the remaining dressing.
Related Posts