Review | Tofuture Tofu Press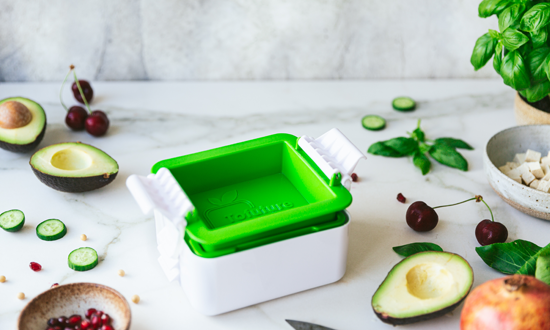 If you were to take a look inside my fridge at any given time, you would see no fewer than three to four blocks of tofu of varying levels of firmness and size. There may also be some leftover tofu scramble in there somewhere, and maybe some smoked tofu cut up for snacking. I panic buy my preferred brand of extra firm if there are only a couple left on the shelf at the grocery store, and love any opportunity to visit my local tofu factory, Ying Fat, here in Edmonton, AB. Once, my dog, Xena, scarfed down three bricks of tofu that I'd placed on the counter for a MINUTE, and it is the only time I can recall that we were momentarily not on speaking terms.
So, as you can imagine, when Ryan provided me the opportunity to review another tofu press (I previously reviewed the EZ Tofu Press), I was thrilled.
Upon receiving the Tofuture in the mail, I was delighted to see how compact it was. Inside the box was the press, and clear instructions containing photos.

This press is made of three, plastic components. Pictured from the left of the image:
The white tub collects the water and contains the whole press. It has three pieces that jut out on the left and right sides, like rungs of a ladder.
The green strainer is placed inside the white tub to hold and strain your tofu
The third piece goes on top, and has rubber bands on each side that latch onto the rungs to apply three different levels of compression.
The Future Beyond Book or Plates
In the past, I've often used presses that appeared more like two small cutting boards attached by springs. This has meant needing to level that press on a plate to collect the water being drained. I love that the Tofuture is completely self-contained, so that I can place my tofu, and store it in the fridge overnight without issue.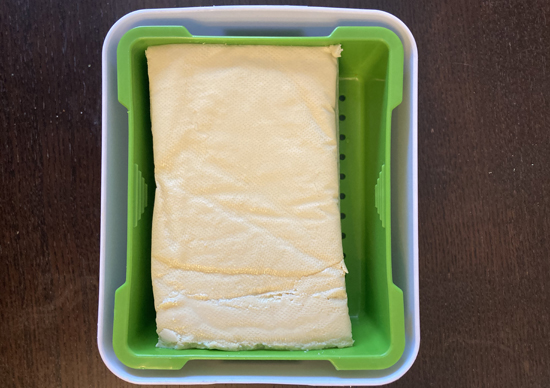 My first try was with a 350 gram rectangular slab of tofu (Sunrise extra firm, for the Canadians reading). I found that it just fit, and the press really seems to be suitable for smaller squares, or perfectly rectangular pieces of tofu. It is not adjustable, so keep that in mind if you find yourself with larger amounts to prep.
Once I placed the tofu in, I put the lid on top. On each side of the lid is a thick rubber band, which need to be wrapped around one of the three rungs on the side of the container. This makes it easy to evenly distribute the pressure on the tofu, instead of trying to manually tighten any notches, or if you're old school- adding another book on top of your tofu pressed between two plates.
While clever, this was actually a bit difficult for me. I have somewhat limited mobility in my hands from tenosynovitis. While placing the lid, I found it next to impossible to hold it down, while trying to wrap each elastic. This is something I ended up needing assistance with. If we have this in common, I might suggest seeking out another option that puts less strain on your hands.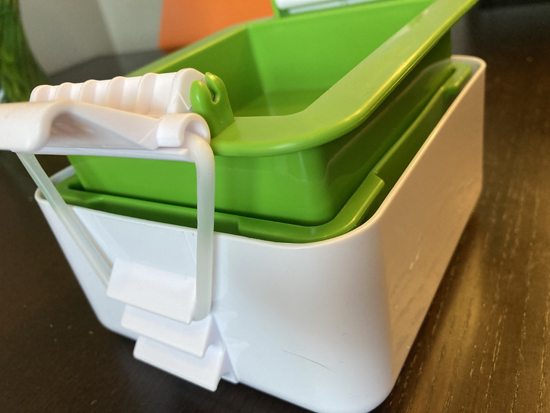 After getting assistance with that, I put it in the fridge. I started out with the first rung, then removed it a couple hours later to move the elastics down to the third rung (again, with help). At that point, I left it overnight.
In the morning, I had a slightly less tall brick of tofu, and there was about ¼ cup of water strained from the tofu. I think that if I had used a smaller brick of tofu that did not touch the sides, there may have been space for even more water to press out. The water is strained out through the bottom.
Also, check this out- the Tofuture logo was stamped into my tofu; fun!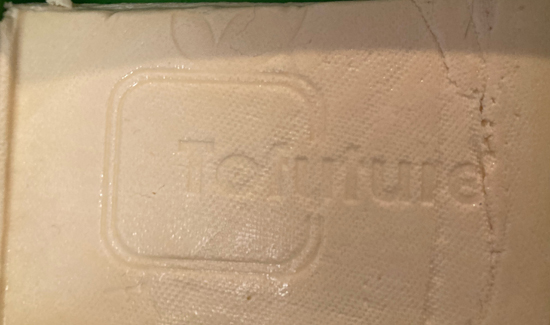 The tofu was nice and dense for me to marinade, and crumbled wonderfully for me to scramble up for a brunch pizza the next day (pizza not included with press)!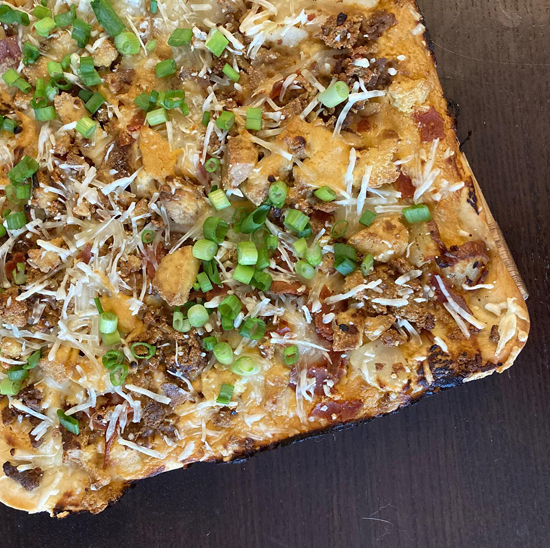 After I was done, it washed up easily, and looks to be dishwasher friendly as well. It's a convenient size that does not take up too much space in my cupboard or fridge. While being plastic, it seems pretty sturdy, and I am looking forward to seeing how it holds up.
Beware the Tofu Water
If what I mentioned surrounding hand mobility is not a concern for your household, I would recommend this as a good option for a convenient tofu press. However, in general, I really do recommend pressing your tofu, regardless of whether you use a commercial press, or DIY it! The texture is a game changer, allowing your tofu to better soak up a marinade, and retain its shape in recipes. Just do me a favour, and don't drink the water. I tried it one time, and do not recommend it.
If you're interested in checking out the Tofuture press, you can check out their website if you're located in the UK. It is also available on Amazon in Canada and the United States. For those in Ontario who prefer to shop locally, I'm advised the press is also regularly stocked at the following locations:
Ambrosia Natural Foods
55 Doncaster Avenue, Thornhill, Ontario, L3T 1L7
J.D. Adam Kitchen Co.
795 Bank Street, Ottawa, Ontario, K1S 3V7
Nature's Emporium
16655 Yonge Street, Newmarket, L3X 1V6
Zest Kitchen Shop
192 Main Street, Picton, Ontario, K0K 2T0
Reviewed by Sarah Louise
Sarah Louise is a vegan food enthusiast and writer who hails from Edmonton, Alberta, Canada. When she isn't busy drinking tofu water, she is probably hanging out with her dogs, singing the praises of crocs, or watching The X-Files. Likely all at once. You can find here at sarahlouseiaf.com and @sarahlouiseaf on Instagram.
Pin It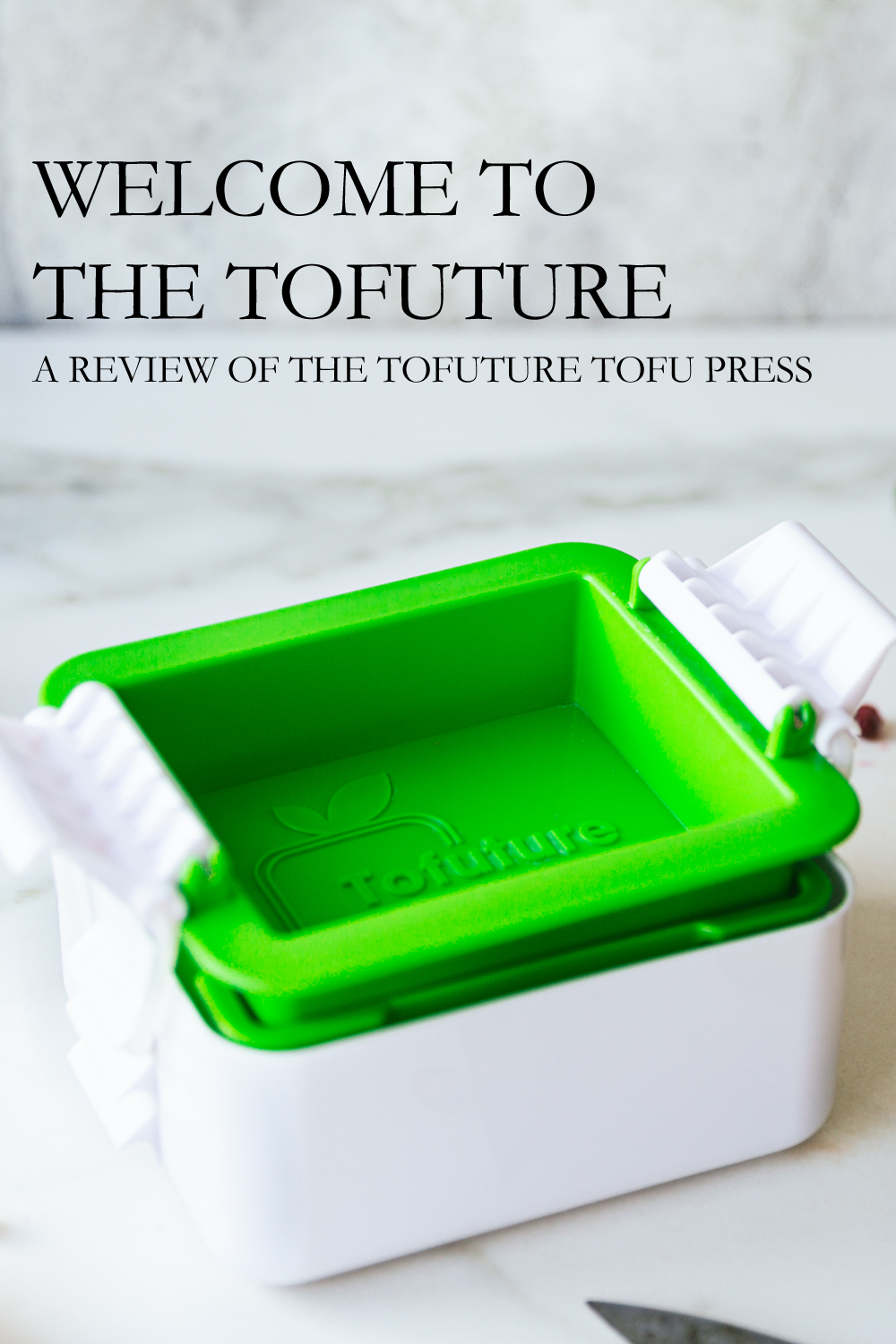 Jul. 12, 2021
Comments Off on Review | Tofuture Tofu Press
Related Posts