Review | Oh She Glows for Dinner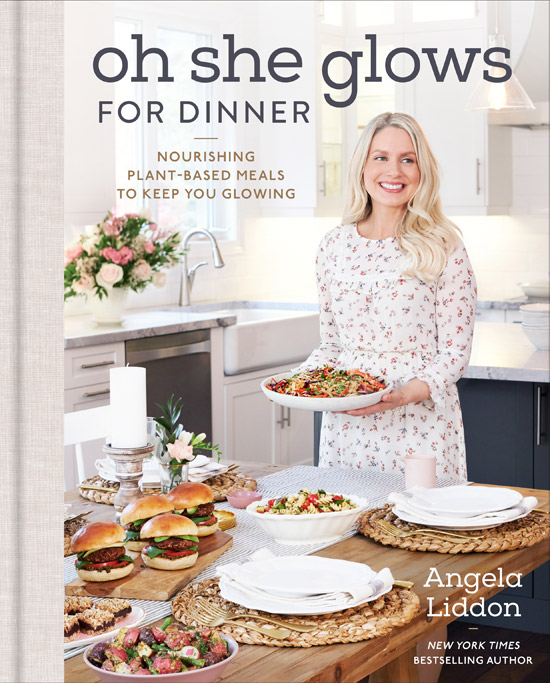 Angela Liddon of Oh She Glows has come out with her third cookbook, Oh She Glows for Dinner. I have been waiting to test this cookbook for what feels like eons, but what has probably only been a year. I was a recipe tester during the cookbook development phase, and what I tested got me excited for the final product. Add in my preference for dinner and hatred for classical breakfast fare and this book's focus on glorious savoury dinner (all 352 pages of recipes, gorgeous photography, and resources), and I was beside myself. I am pleased to say that the final product is a solid cookbook with good to outstanding recipes (tried so far) that are friendly to the beginner cook with some flavour tricks thrown-in that could surprise the more experienced home cook.
When the cookbook graced my doorstep, I was cooked out. The time for cooking projects was over, as happens to the best of us. Angela however starts the book off with her own story of cooking fatigue and learning to love creating again. Right after that intro, there are multiple weekly menu plans with three dinners and two bonus dinners listed. I was hooked. For this review I tested three weeks of meal plans and two more weeks of using the themed menus as makeshift meal plans, and I've only scratched the surface of this book: my 'to cook' list is as extensive as my testing list, including the delicious looking treats in the Treats and Drinks chapter. As such, it was difficult to choose the standout recipes, from burgers to wraps to even dynamite spice mixes; ultimately I picked the top three from my colour coded numeric ranking system. Science.
School Night Scramble was the first surprise of the book for me. Up until then, I was sure I'd like what I was trying. Not being a fan of breakfast, and historically not a fan of scrambled eggs in my pre-vegan days (turns out I'm allergic), I approached this with both trepidation and an open mind. This scramble is full of flavour, with onion, garlic, bell peppers, tomato, and fresh parsley making it more of a delicious vegetable sauté instead of what I remember scrambled eggs to be. The secret ingredient however is the sun-dried tomatoes. It's amazing how much umami one ingredient can bring! I served the scramble over a bed of greens, and it was anything but boring.
Although the weather has been decent so far this winter, Canada can get cold and dark, and November is when it really hit me. Enter Angela's Cold-be-Gone Flavour Bomb Noodle Soup – although I wasn't sick, I had a case of seasonal blues. This soup tastes like stuffing. A tomato broth with onion, garlic, carrot, celery, and noodles, seasoned with ginger, thyme, sage, and parsley. Deceptively simple, it was quick to whip-up one weeknight and was comfort in a bowl.
When I don't feel like cooking, more often than not I create a freeform bowl with some sort of tahini or peanut butter sauce. I was very excited to see on the menu plan the Peanut Butter Crunch Veggie Noodle Bowls. I'm always up for trying new variations on my favourite standby, and this does not disappoint. The Dreamy Peanut Butter Sauce with Ginger and Lime is composed of the title ingredients plus a soupçon of Sriracha. I could take a bath in this sauce. Angela uses it for a super quick noodle dish (I used udon) with cabbage, zucchini, edamame, and carrots. Fresh cilantro and more lime add some extra freshness to the dish. This is my new standby freeform bowl – creamy, fresh, crunchy, with comfort noodles and a hint of spice, it's everything I want on a Wednesday. Or any day, to be honest.
Overall, the recipes are very detailed and easy to follow – perfect for new cooks or cooks new to vegan cooking. The oddest ingredient used to new vegans is nutritional yeast, which makes the book approachable. Some of the recipes called for canned goods that I couldn't find (14oz. cans of beans remain elusive), however Angela also lists the cup equivalent, so my batched cooked beans worked great. I didn't have problems finding anything else shopping at my local No-Name grocery store. Some recipes, such as the Green Goddess Gazpacho, rely heavily on fresh produce. Here it is avocado and cucumber, two items that aren't at their best in November in Canada. Nevertheless, the core parts of the recipe were enough to convince me to try again come spring. The gorgeous photography would make it a fantastic coffee table book, if I owned a coffee table. And if nothing I've said thus far has convinced you of this book, there's a review by Jann Arden on the back cover. Don't just take my word for it – take Jann's. 
The publishers have allowed me to share one recipe, and I've chosen Cold-be-Gone Flavour Bomb Noodle Soup. Any dish that chases the November grey away is a keeper in my books. I hope you take as much comfort in this feel-good soup as I did.
For more information on Angela and her cookbook, please visit her website.
Reviewed by Katie Hay
When Katie isn't exploring new cuisines and challenging food conceptions in the kitchen, she can be found at farmers' markets, building and designing bicycles, and planning her next life adventure.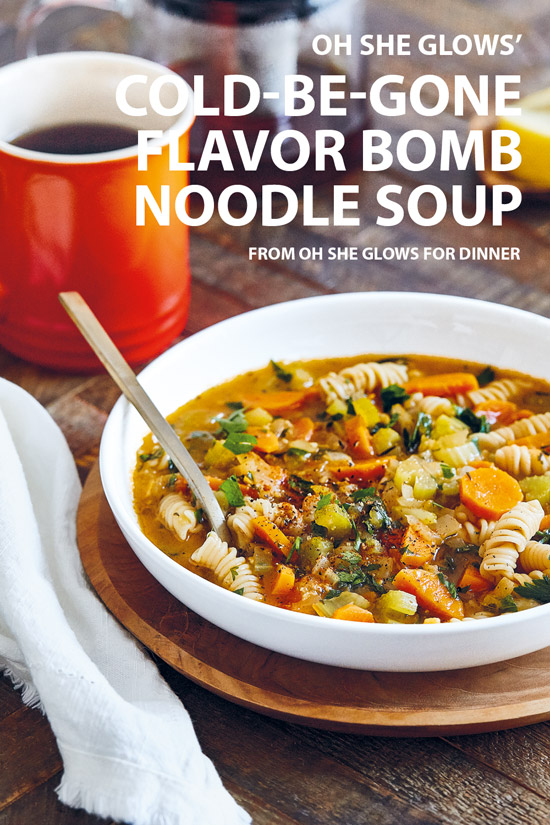 Vegan • Gluten-Free Option • Nut-Free • Soy-Free • Grain-Free Option • Kid-Friendly • On the Glow • One Pot
Cold-Be-Gone Flavor Bomb Noodle Soup
Serves 8 (1 cup per serving) • Active prep time: 20 minutes • Total time: 35 to 40 minutes
I don't know about you, but I'm not down with bland, boring soups. Give me a rich soup with a ton of flavor! I want herbs, I want spice, I want a kick of tang, and a rich broth with umami. Thanks to all the immune-boosting ingredients like fresh garlic, warming ginger, lemony thyme, fresh parsley, and tangy lemon juice, this is a fantastic soup to whip up when you have a cold coming on (but it's also handy when you're not sick, simply to keep your immune system humming along!). The pasta adds heartiness that will make this a well-loved dinner for fall, winter, or spring. For even more staying power, add 1½ cups cooked chickpeas or white beans, or add 2 cups of stemmed and finely chopped kale! To amp up the flavors even more, I love this soup served with a hefty sprinkle of Italian Herb Parmesan or a swirl of one of my homemade pestos. Serve it with my Pumpkin Spice and Everything Nice Salad for an even heartier meal.
2 tablespoons extra-virgin olive oil
2 cups (280 g) diced sweet or yellow onion (1 large)
6 large garlic cloves (36 g), minced (3 tablespoons)
3 medium carrots (220 g), peeled
3 medium stalks celery (160 g)
2 ½ teaspoons grated fresh ginger (I use a Microplane)*
¾ teaspoon dried thyme leaves
¾ teaspoon ground sage
2 tablespoons tomato paste 6 cups vegetable broth
5 ounces (1 ½ cups/140 g) dry pasta of choice (I used rotini)**
¾ cup packed (15 g) fresh parsley leaves, minced
1 teaspoon fresh lemon juice, or more to taste
â…› teaspoon cayenne pepper (optional)
Fine sea salt and freshly ground black pepper
In a large pot, stir together the oil, onion, and garlic to combine. Sauté over medium heat for 5 to 6 minutes, until the onion is softened.
Meanwhile, dice the carrot and celery into ¼- to ½-inch (5 mm to 1 cm) pieces. This will help them cook faster. You should have 1 ½ cups carrot and 1⅓ cups celery. Add the carrot and celery to the pot and stir to combine. Sauté for a couple of minutes.
Stir in the ginger and sauté for 1 minute.
Add the thyme, sage, tomato paste, and broth. Increase the heat to high and bring to a boil, then reduce the heat to medium-high, cover, and simmer for 5 minutes, or until al dente (still a bit firm).
Add the pasta and cook, uncovered, stirring occasionally, until al dente, following the timing guidelines on the pasta package. Check on the pasta frequently while it's cooking, as you don't want to overcook it.
Once the pasta is al dente, remove the pot from the heat and stir in the parsley, lemon, cayenne (if using), and salt and black pepper to taste. Serve immediately.
Storage
This soup is best served fresh, due to the pasta's tendency to soften during storage, but you can store it in an airtight container in the fridge for up to 3 days. Some types of noodles will soak up the broth as the soup sits, so you may want to add a bit more broth when reheating, seasoning again to taste. I don't recommend freezing this soup with the pasta in it, as the pasta can soften too much upon thawing. However, you can freeze the soup without the pasta and add freshly cooked pasta when reheating.
Tips
* Using 2 ½ teaspoons grated fresh ginger results in a spicy soup, especially after sitting overnight. If you prefer a less intense broth, start with 1 teaspoon ginger and add more to taste.
** Read the directions for your pasta carefully. Pasta that requires only a 5 minutes to cook and requires a cold rinse, such as chickpea pasta and some other gluten-free versions, will not work in this recipe because they'll become mushy. You'll want to cook these types of pasta on the side, in their own pot. Store the cooked pasta separately, and add it to individual bowls when serving.
Make it Gluten – and/or Grain-Free
Swap the pasta for a 14-ounce (398 mL) can of chickpeas (drained and rinsed) or 1 ½ cups cooked chickpeas, or use gluten-free (and grain-free, if needed) pasta. If using gluten-free pasta, please see the Tip above.
From Oh She Glows for Dinner: Nourishing Plant-Based Meals to Keep You Glowing by Angela Liddon, published October 13, 2020 by Avery, an imprint of Penguin Group, a division of Penguin Random House, LLC. Copyright © 2020 by Glo Bakery Corporation
Pin It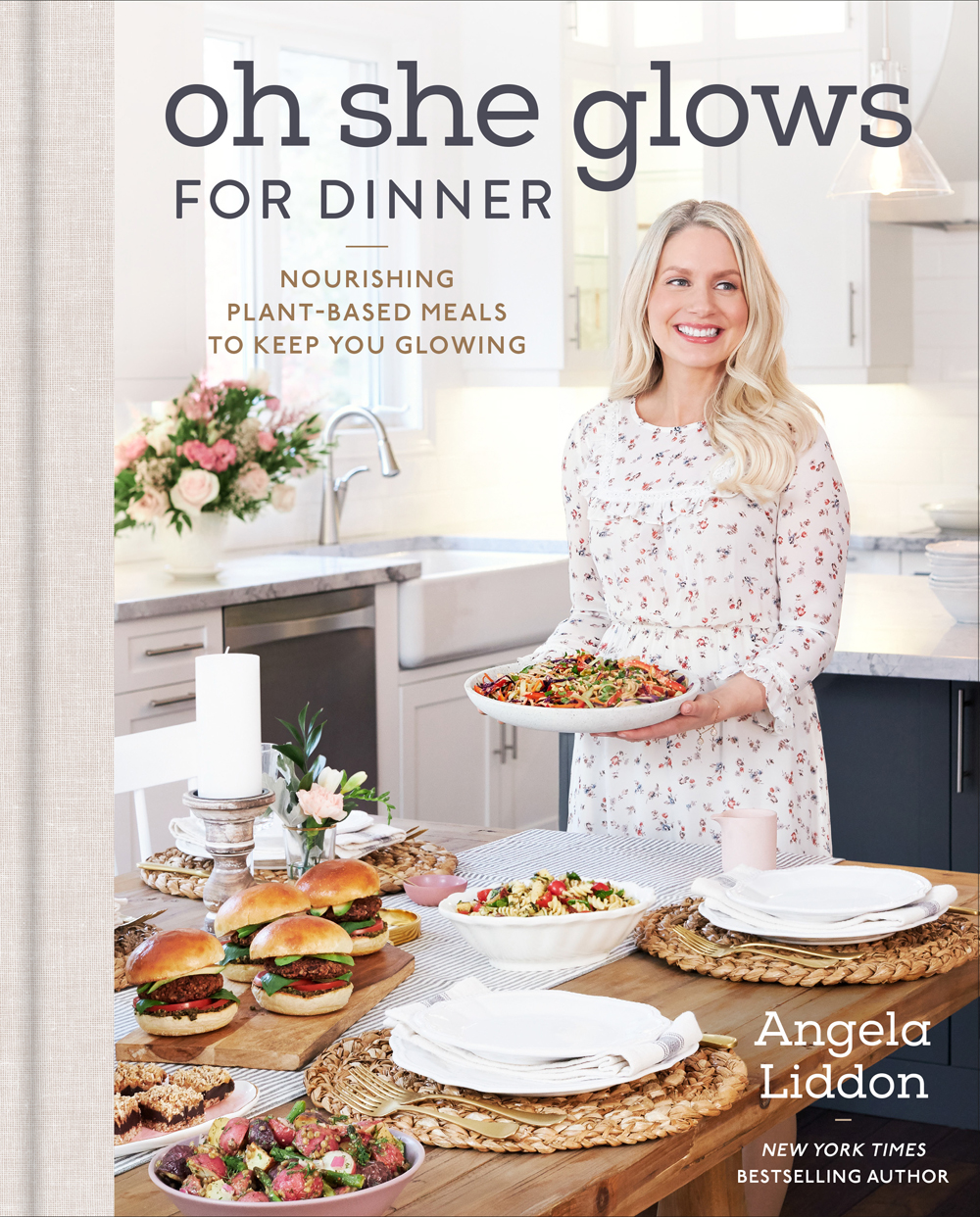 Jan. 04, 2021
Comments Off on Review | Oh She Glows for Dinner
Related Posts