Review: Salad Samurai by Terry Hope Romero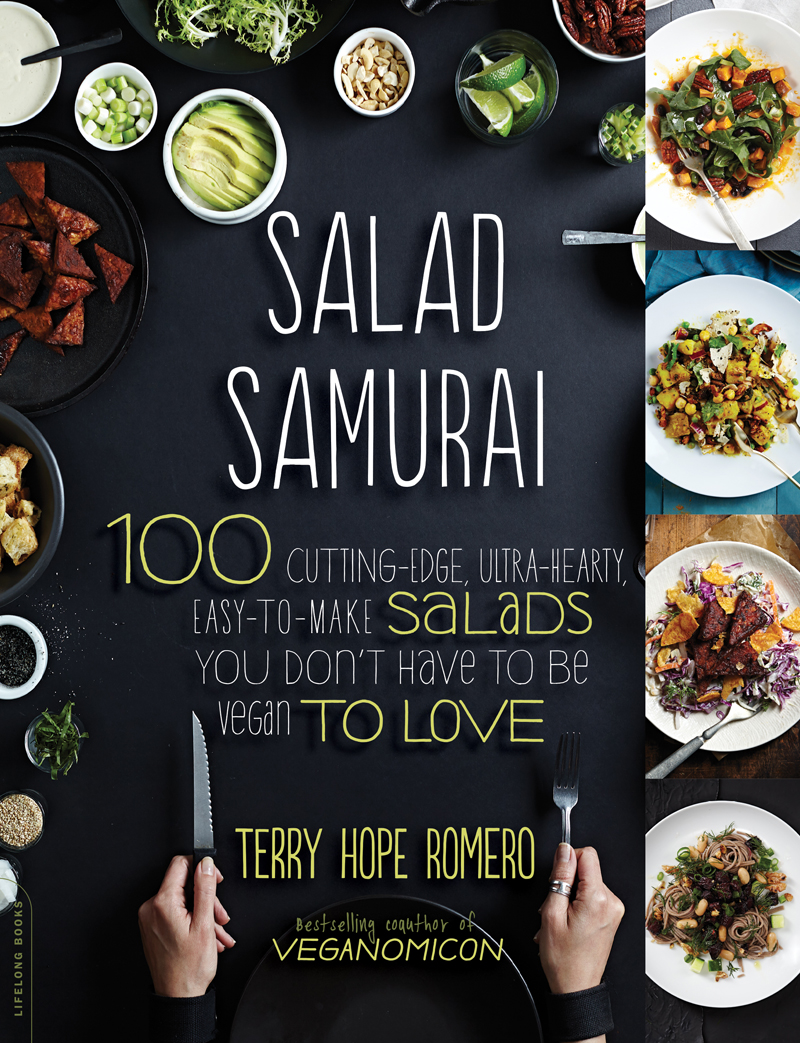 An Ode to Salads Large and Small
An apology on behalf of all restaurant chefs everywhere who consider the bagged iceberg lettuce salad (hold the blue cheese dressing) for $15 is a credible vegan option. This is an apology to all the vegans out there who have ever had to experience that option, while answering the question "but where do you get your protein?" This book is an ode to all that is wonderful and glorious about our favourite vessels: bowls.
Terry's new book illustrates her journey as a cookbook author, coming full circle back to her roots. She started with Isa in the Post Punk Kitchen, bringing delicious food to the masses with aplomb and equipment that any studio apartment in Brooklyn would be able to handle. Her solo books, Viva Vegan! and Vegan Eats World grew in sophistication, with the research and passion for each dish evident in the glorious taste profiles. These are some of my kitchen standbys, the ones I go to for comfort food and for food advocacy. Salad Samurai took me back to the punk rock scene of Brooklyn, where there is no judgement for eating out of the salad spinner, and a section on how to serve a salad is warranted. Which is how this book begins. A quick section on weekly planning for all your salad needs, and we're off.
Changing With the Seasons
The book is separated into the growing seasons, so those who try to eat seasonal can do so. This is my only criticism of the book: living in a place where the "not winter" growing season is six weeks, I can only dream of all four seasons. But I took her advice of "all seasonal salad" to heart, and made all the salads – the seasons are just suggestions. Heavily influenced by world cuisines, the pages are full of aromatic Thai lemongrass and curries, Asian umami, Indian spices and tang, Latin American flair and zing, and "down home" BBQ flavours. If recipes aren't already gluten free, suggestions to make them so are offered. There are even raw options when appropriate, and the freedom to make each salad your own is encouraged. The punk style is back: these recipes are just suggestions – ideas to get you out of your bowl rut. With separate sections for dressings (from creamy to vinaigrettes) and Power Toppings, the bowl is your canvas. After reading through the book and seeing the creativity, I immediately created some of my own "salads": Moussaka bowl, Lasagna Bowl, Ethiopian Tomato Ye'Misir Wot Salad, Butternut Cauliflower Cabbage MacMaster, and a twist on two offerings: Kale Chip Chaat Salad. Creativity knows no bounds when in a bowl!
Don't Make me Choose!
As is the case with all of Terry's recipes, I was faced with serious indecision. I was given this book to review a little over a month ago, and since then I've made a new recipe every day. Yes, cooking over 50% of the book for a review was probably overkill, but every recipe I tried I declared "no, THIS is my favourite!" To not bore you with detailed descriptions of all, I give to you the winners that I have made more than once (a girl needs to eat breakfast!)
The Power Toppings: Lemongrass Tofu and That 70's Tofu. I am now an addict of adding tofu to salad, something that I didn't partake in before. But when the tofu tastes this good, why not?
Standbys: Terry's version of Pad Thai is a light and refreshing take, one that I never cease to enjoy. The Tempeh Rubenesque Salad and Kimchee Black Rice with Asian Pear bowl are amazing, and honour my love for fermented cabbage. I'd never had Thousand Island dressing before, so I have no idea if the version here is legit. All I know is that it's so addicting I could drink it. The kimchee – who doesn't love kimchee? I cheated a bit and made my own – the Fast Lane Kimchee from Vegan Eats World – but I didn't think Terry would mind. Any dish with chewy wild rice is a winner in my books, and when the rice soaks up the kimchee dressing …. Ahem. The Broccoli Peanut Lemongrass Salad lists most of the ingredients in the title, and is a giant bowl of my favourite vegetable paired with my favourite nut in my favourite cuisine, so tangy and delicious I'm glad I didn't make the whole recipe at once as I polished the bowl clean.
Honourable Mentions: Pepperoni Tempeh Pizza Salad – I hate crust, and have been called names for my love of kale on pizza (kale chip pizza!). This is the answer to all my problems! Smokehouse Chickpeas 'n' Greens – basic and loveable. From the sweet and savoury section, the weekend hangover cure Avocado and Tofu Breakfast Bowl with Carrot Ginger Dressing (I swear it cures whatever ails you, and the fiery and spicy taco tofu scramble-esque bowl goes surprisingly well with the carrot ginger dressing) and the Coconut Carrot Cake Salad.
Now, the following bowls blew my mind. First, The Grilled Kale Salad with Spicy Lentils wins Punk Points. The ingredient list is nothing out of the ordinary – massaged kale, tomatoes, and lentils make up the bulk of the salad. It's the method that amazes me. A serial renter, I'm forever mourning my lack of BBQ. Terry has a creative way around that – "grill" the kale in a cast-iron (or non-stick, as the case may be) pan on the stovetop! One of my special skills is charring things, and I embrace every opportunity to do so on purpose. Little did I know that you can achieve BBQ quality grilled vegetables on the stove! For that, this salad goes from ho-hum to fantastic. Kale chip salad – I'm not complaining!
The Curried Tempeh and Apple Salad in Radicchio Cups is what I think fruit salad is like in India. I had used all my Tempeh for the Rueben, so I substituted black eyed peas. The dressing is bright and tangy from the lime and deliciously curry like. The cranberries and apples in the dish pair so well with the dressing and protein that it made me seriously reconsider my previous Kitchen Axiom "Thou Shalt Not Have Fruit and Savoury Salad Mix". Tart, tangy, delicious. The Vanessa Kabocha Squash Salad combines all my favourite things: Kabocha squash, peanut butter, and cabbage. It was Terry's response to Vanessa's throw-down challenge: to make a salad honouring the glorious Kabocha Squash. The result is just as stunning as Vanessa's photography, who is so skilled she can make the ugliest salad look beautiful. The Vanessa bowl is straight up comfort food. It is a giant hug in a bowl, and with the recommended Sriracha at hand, a bowl that has me break out the good IKEA china to serve.
But the hands down winner of strange combinations that totally work and are addicting goes to Sesame Noodles in the Dojo. Picture this: your typical sesame dressing made with tahini, kicked up a notch with peanut butter and ginger. Soba noodles (or zucchini noodles if you run out of soba due to bowl-addiction, like me) are lightly tossed in sesame oil to make them extra sesame-y, and added to a salad of romaine, cucumber, tomato; dressed with the peanut-sesame dressing. The garnish? Nori sheets! The result? A crave-able, delectable, unique dish that just works. It makes me wonder: why not tahini AND peanut butter? Why not sesame dressing and Mediterranean salad? Why not the umami nori addition? It all works, and it all works like it was born to be made this way. It's my answer to the days where I want sesame noodles, but I'm also craving a falafel. This bowl combines both flavour profiles deftly, and Sriracha just ties the two together.
So Many Salads, So Little Time
Still to try is the Amaranth Bhel Puri Chaat, the Lentil Banh Mi Salad (and it's offspring, the inspired Tofu Banh Mi scramble salad from Vegan Eats World), the Beet Ball 'n' Fries Salad, everything brussels sprouts, and everything squash. And that's just to start! All the recipes I tried are weeknight friendly – minimal prep, minimal cleaning, and hearty meals that keep you going. The leftovers are also amazing – no flavour or crunch is sacrificed when you pack the salad like Terry recommends. The pantry requirements are simple, whole foods that most have on hand already – only a few require special ingredients. Approachable, simple, and delicious, Salad Samurai is an instant classic, and a necessary element to the Punk-at-Heart Kitchen.
The publishers, DaCapo Press, have generously agreed to let me publish a recipe from the book. After much consternation, I've chosen Sesame Noodles in the Dojo. This Asian-Mediterranean Salmagundi Bowl is truly a masterpiece!
For more information on Terry and her books, you can find her here:
Website | Facebook | Instagram | Pinterest | Twitter
If you wish to purchase the book through Amazon, you can find it here
.*
Reviewed by Katie Hay
When Katie isn't exploring new cuisines and challenging food conceptions in the kitchen, she can be found at farmer's markets, building and designing bicycles, and planning her next life adventure.
Photo Credits: From Salad Samurai: 100 Cutting-Edge, Ultra-Hearty, Easy-to-Make Salads You Don't Have to Be Vegan to Love by Terry Hope Romero. Reprinted courtesy of Da Capo Lifelong Books.
* This post contains affiliate links. If the product is purchased by linking through this review, T.O.F.U. receives a modest commission.
Related Posts