Review: Choosing Raw by Gena Hamshaw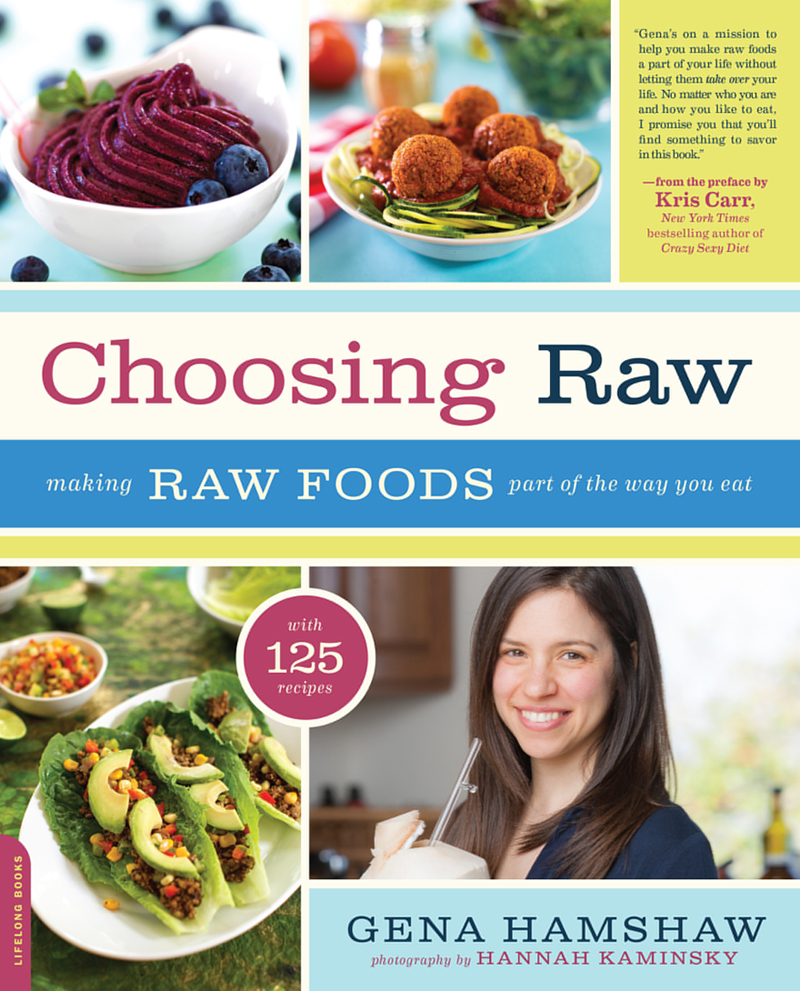 Moving from delectable salads from Salad Samurai, I immediately got to work on expanding my raw repertoire. My food processor is one of my most prized possessions, and after months apart I greeted it with the warmth normally reserved for loved ones. To honour our reunion, I quickly got to work reviewing Choosing Raw: Making Raw Foods Part of the Way You Eat by Gena Hamshaw for the T.O.F.U Cookbook Review series.
Gena is the voice behind the popular blog Choosing Raw, the namesake of her debut cookbook. Gena is a certified nutritionist as well as a successful pre-med, post-bacc student, and a wealth of information on the various aspects of a raw vegan diet. Readers of her blog have come to appreciate her warmth, gentle guidance, and wisdom on a variety of topics associated with a raw diet and nutrition. Her unique background and approach lends itself well to recipe development, and her debut cookbook is as informative as it is delicious.
Levelling Up
The cookbook begins with an introduction to raw food: The Why, The What, and The How. A proponent of a "high raw" diet, Gena encourages small steps to slowly incorporate more raw dishes into your standard diet. No fancy equipment or strange superfood ingredients necessary: just whole foods and a food processor is all you need to make most of the recipes in the book. To help you ease into raw food, the recipes are divided into three levels: Tried and True, Something New, and Brave New World. Each section is organized into breakfast, lunch, and dinner, making meal planning simple. Essentials are covered, including four different versions of hummus, a whole section on how to properly build a salad, and desserts to cap off the tomb. There is even a 21 day meal plan, to gently guide you through most of the book and show you how simple eating a high raw diet can be.
I read the cookbook cover-to-cover, devouring the information and recipes, drooling over the gorgeous photography by Hannah Kaminsky. By the time I was done, there were less untagged recipes than tagged. Wrought with indecision, I decided to follow the lunch and dinner suggestions in the 21 day meal plan, to see if the cookbook would deliver on my simple criteria:
I must learn something
the food must be delicious, and
if weeknight cooking is required, it must involve less than 10 dishes (including serving dishes) and be ready in 45min from the time I walk in the door.
I am pleased to say that this cookbook delivered all that and more, with a whole host of new favourites and discoveries. I lack the time to delve deeply into every recipe in the plan, so I will share with you the outstanding dishes that rose above the others.
20 Dips, Dressings, Sauces, and Spreads
All the salad dressings are fantastic here, with my favourites being the Lemon Turmeric Vinaigrette and Ginger Miso Dressing. It is difficult to choose between the hummus recipes, but the Zucchini Hummus is an instant classic – a great change of pace from standard hummus, it's light and refreshing. With no legumes or soy, it's also allergen free! The Kale and Pistachio Pesto deserves an honourable mention, but what stands above the rest is the Raw Marinara Sauce. With so few ingredients, it delivers a taste that could rival the best Italian restaurant offering.
5 Meal-Size Salads
The various versions of kale salad deserve a mention, especially the Dinosaur Kale and White Bean Caesar salad that tastes better than any Caesar I've ever had. But the salad that I have made again and again is the simple Romaine, Cherry Tomato, and Arugula Salad with Chickpeas and Raw Parmesan. The title has all ingredients listed – simple, elegant, and delicious. I've adapted the recipe to meet my CSA delivery, but always with the same elements and never skimping on the parmesan. The sprinkle of nutritional yeast and hemp hearts change the salad from everyday to decadent.
Level 1: Tried and True
These recipes are more familiar, with more cooked elements. My absolute favourite was the Chickpea Tofu Tahini Scramble. Never a fan of a tofu scramble, I challenged myself to make this, and I am grateful I did! The chickpeas add a toothsome bite to the scramble, and with the addition of bright green broccoli and tang from turmeric and tahini, this scramble is anything but bland. I served it in a lettuce boat with some sriracha, and instantly changed my mind about all tofu scrambles. Fantastic, simple, and filling.
Level 2: Something New
Many new standbys are compliments of trying something new: Raw Gazpacho; Avocado Black Bean Breakfast Scramble Wraps; the surprising success of Collard Wraps with Hemp Hummus, Mesquite Tempeh, and Tomatoes; the classic Pumpkin Risotto; and the allergen free and absolutely divine Raw Carrot Falafel with Tangy Tahini Sauce. But the take home winner was the Nori Rolls with Gingery Almond Pate and Raw Veggies. These rolls come together extremely quickly, and the almond pate freezes exceptionally well. I made a full batch of pate, and, when the mood struck for rolls, just thawed one serving of pate. Never a fan of sushi, I decided to try to discover what all the hype was about with nori rolls. I now know! With an invaluable tip of "shiny side down" for the nori, I made these rolls time and time again for lunches and dinners. Zesty with a bit of crunch from the vegetables, these rolls are as filling as they are gorgeous.
Level 3: Brave New World
These recipes are high raw and made use of the food processor in the most creative ways possible. My favourite from this section was the Un-Fried Vegetable Rice with Scallions and Ginger. I have made cauliflower rice tabouli and Latin 'beans and rice' plenty of times in the past, but there was something unique and special to this un-fried vegetable rice. I was never a fan of fried rice in Asian restaurants as I always found the rice over-soy sauced, very greasy, and boring. This is everything but that. Light and refreshing, the dish instantly evokes classic Asian fried rice with the perfect amount of aromatic sesame oil and tamari. With your choice of vegetables and spring scallions, the dish is adaptable to the seasons, and was fantastic with every iteration. Leftovers keep well, and are even better the next day for lunch.
Desserts
I was so stuffed from all the recipes above that I have yet to make any desserts. On my must make list are the Fig Bars and Carrot Cake Cupcakes. I have no doubts that the desserts are as decadent and tasty as their savoury counterparts.
With each recipe containing minimal ingredients, they are all ready in well under an hour, if you prepare beforehand (i.e. soak nuts. But if you forget like I did, you can pour boiling water over the nuts and let sit while you chop up the remaining ingredients. This quick soak worked wonders!). Simple yet delicious, they indeed demonstrate that eating a high raw diet need not be complicated or involve "superfoods".
A Treat for You
The publishers, DaCapo Lifelong Books, have generously agreed to share a recipe from the book. One of my favourites, Raw Carrot Falafel with Tangy Tahini Sauce. With no soy, legumes, nuts, or gluten, it's a sure-fire win at any potluck. What it doesn't sacrifice is flavour: the falafel is moist, pungent with Middle Eastern flavour, and it even sneaks in an extra serving of vegetables. Paired with the tangy tahini sauce, you'll be the most popular one at the potluck.
For more info on the book, and other recipes from Gena, please see her website.
If you wish to purchase the book through Amazon, you can find it here
.*
Reviewed by Katie Hay
When Katie isn't exploring new cuisines and challenging food conceptions in the kitchen, she can be found at farmer's markets, building and designing bicycles, and planning her next life adventure.
Photo Credits: Hannah Kaminsky
Recipe Credit: From Choosing Raw by Gena Hamshaw. Reprinted with permission from Da Capo Lifelong, © 2014
* This post contains affiliate links. If the product is purchased by linking through this review, T.O.F.U. receives a modest commission.
Oct. 15, 2014
Comments Off on Review: Choosing Raw by Gena Hamshaw
Related Posts