Review: New So Delicious Products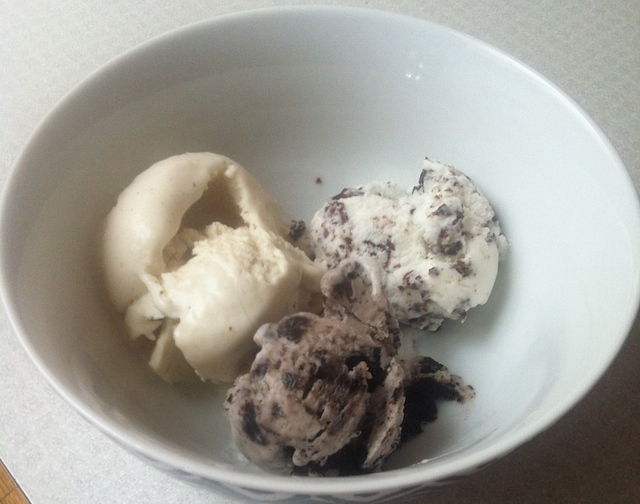 Recently, I had the pleasure of taste testing some of SO Delicious' no sugar added and gluten free ice creams. Certified vegan, cholesterol free, and non-GMO project verified, SO Delicious offers a wide range of products in soy, almond, coconut, and cashew; from beverages to cultured products, coffee creamers, and frozen desserts.
Gluten Free Cookie Dough
A long time personal favorite, I didn't think cookie dough could get any better! Soy-free and made with organic coconut milk, this is really great stuff. It was very creamy with lots of delicious cookie dough bits. The flavor leaves you craving more every time. I personally do not have any gluten sensitivities, but I love that there is an option for many of my gluten sensitive friends!
Gluten Free Cookies 'n Cream
Soy-free and organic coconut milk-based, this one was not quite like I remember cookies 'n cream to be, but it was close. It was very creamy and I loved the crushed cookie bits.
No Sugar Added Butter Pecan
One word: WOW. It was love at first bite. With only 140 calories and 1g of sugar per serving this is pure bliss. The flavor is spectacular, so creamy, sweet, and salty all at once. I could not get over how yummy this was.
No Sugar Added Mint Chip
With 120 calories and 1g of sugar per serving this tastes exactly like the mint chip I'm used to. The mint flavor is spot on perfect! One thing I really enjoyed about this flavor is all the chocolate bits, it wasn't like a chip more like shaved chocolate that melted in your mouth.
No Sugar Added Vanilla Bean
Oh vanilla bean, how I love you! 100 calories and 1g of sugar per serving, this flavor is the most fitness-friendly out of the bunch and the most versatile. I love that even though there is no sugar added, there is still an amazing amount of flavor and no weird aftertaste. I'm definitely hooked.
No Sugar Added Minis Fudge Bar
This was also another one of my favorites. So fudge-y, so creamy, so light! 80 calories & 1g of sugar per bar. I practically ate the whole box in one sitting. The chocolate flavor is so rich and delicious. These bars are going to be in my freezer at all times!
For more information on these new So Delicious items, as well as all their other products, please visit their website.
Reviewed by Raquel Moreno
Raquel is a mom to a basset hound named Bentley. A vegan with a penchant for craft beer, zombies, and feminism, you can find her in the warmer parts of the USA often debating whether or not she should get a new tattoo or another friend for Bentley. Or both.
Oct. 09, 2014
Comments Off on Review: New So Delicious Products
Related Posts