Belfast I – The Restaurants!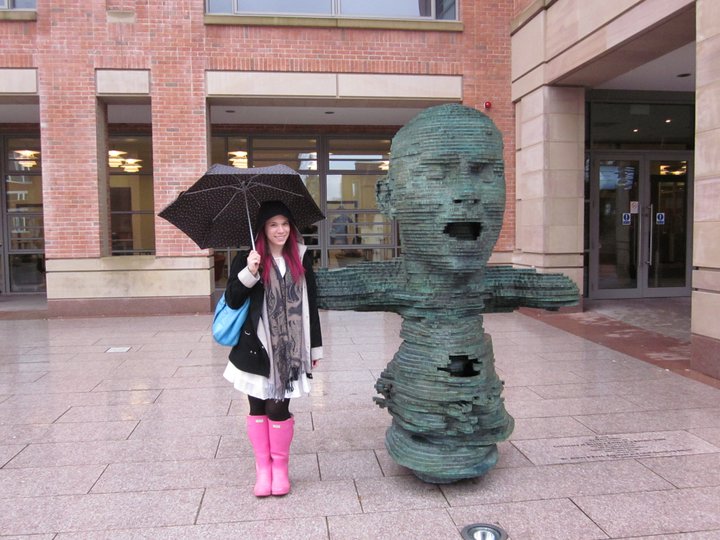 I am back from Belfast (sadly), and I've caught up on all my school work (happily), so I finally have time to update y'all on the vegan eats I found while visiting Northern Ireland!
Archana
Archana used to be split into a vegetarian-only restaurant on the top floor, and an omni restaurant on the main, but it has since been combined into one, anything-goes Indian restaurant. Still, their vegetarian menu is expansive, and there are many clearly marked vegan items. I ordered the Thali, which is a chef's selection of three curries (you can specify that you want vegan curries!), pokoras, rice and naan. It was about £11, or $17.50 CAD, which is kind of pricey, but I'm sure this dish could easily serve two! They brought out a complimentary papadum and marinated onion appetiser beforehand, which was great, but by the time the curry came I was mostly full! Still, the service was really friendly and the food was really, really delicious.
Complimentary papadums! The salsa-like mixture is actually spiced onions, and the sauce was spicy, tangy, and mildly sweet. It was incredibly delicious. The main course came out in a flash! By the time I'd finished the papdums, it was ready.
The red curry in the corner is Achari Aloo, it was sweet and tangy, with potatoes and tomatoes. The green curry in the middle, Dal Saag, had lentils and spinach and was a bit like chili in terms of flavour. The third, orange curry was Vegetable Jalfreezi, and was made with peas, tomatoes, potatoes, and corn. Do I need to tell you again how mouth-wateringly delicious this was? Normally the Thali plate comes with dessert, however, they had no vegan options. Still, the servers told me upfront that this was the case, and there was enough food that I didn't have room for dessert anyway!
Sadly, there was a miscommunication between the server and I, so he threw out my leftovers. I was shattered that all that lovely food had ended up in the trash can! Still, the service was quick and the food was delicious. I would highly recommend Archana to any vegan eating in the Belfast area!
My rating: ★★★★
Thai Village
The next restaurant I visited was Thai Village, which is actually directly across the street from Archana. I found this incredibly frustrating, because I got lost on the walk to and from Archana from my guest house. I seriously wandered around for about half an hour each way, maybe a little longer. It took me ten minutes to walk to Thai Village and back because it is literally a straight line from point A to point B. Only I could get lost while trying to walk in a straight line. Sigh. But I digress. Let me tell you about the delicious Thai food I ate!
First off, I have to say, I have a soft spot for any restaurant that serves sparkling apple juice, so that was an automatic plus for me. I know this food is coming off as very… Beige in this photograph, but trust me, it tasted anything but! The portions weren't as generous as Archana's, but the food was spicy, the tofu melted in your mouth (I didn't know tofu could do that!), and the combination of bamboo and coconut milk is fool-proof! The crisps you see in the corner had a buttery, vaguely fishy flavour, and I'm not sure if they were vegan or not… Just to be safe, I avoided them. There was a bit of a language barrier between the staff and I, but the menu says that all bean curd-based dishes are free of animal "produce," so I stuck to the curry (and was not disappointed). I still had a little left over for a snack the next day, and all for under £12!
My rating: ★★★★
Cayenne
My experience with Cayenne was a bit of a strange one, so I'm not sure I'll be able to do it justice with this review. However, I'll give it the old college try! The first thing I should mention is that Cayenne is a beautiful restaurant. The place settings and decor are lovely, and the place has a really intimate atmosphere to it, even in the middle of the day. The next thing I should mention is that they don't have a single vegan thing on the menu. They have a really brilliant looking vegetarian menu, but it's very cheese-heavy… They may have had a salad that was vegan, but I think there was even cheese in that. The chef offered to make me anything I wanted (they have a "richly-stocked kitchen"), but for some reason, offering me unlimited choice made me incapable of deciding what to eat! The thing is, I have to plan meals at home. At a restaurant, I don't want to have to think that much… I just want to eat. Still, eventually the chef made up my mind for me, and I was treated to this beautiful salad (sorry for the low lighting):
It was good, but truthfully, I found it a little high on the olive oil front and a little short on vinegar, but that's probably just a matter of taste. Unfortunately, an emergency of sorts came up that required access to the internet, so I had to make a mad dash from Cayenne to my guest house. I begged my server to box my food and ran like the wind. The food, to it's credit, was still hot by the time I made it home. Also, it was still beautiful:
Okay, so I added the leaf for garnish. Anyway. The chef ended up preparing me a rice ball with grilled vegetables. It was pretty tasty, but nothing I haven't made at home before. Ultimately, I found Cayenne a little disappointing. This is too bad, because it came highly recommended, the service was impeccable, and the kitchen was very flexible… It just isn't set up to cater to vegans at all. I would say that if you're a vegan traveling through Belfast you should either call ahead with a meal already planned, or give Cayenne a miss. If you are a vegetarian, however, please do try them out, for me? Their vegetarian menu really did look sublime.
My rating: ★★☆☆
I'm sure there are a few restaurants I should have eaten at while I was there… I've since been told that Boojum is a must-taste, and you could always try your luck at one of the many Deanes locations (although I suspect you'll fare about as well there as at Cayenne). I hope to return one day and see what other treats Belfast restaurants have to offer!
Mar. 22, 2011
Comments Off on Belfast I – The Restaurants!
Related Posts