Living Vegan in Costa Rica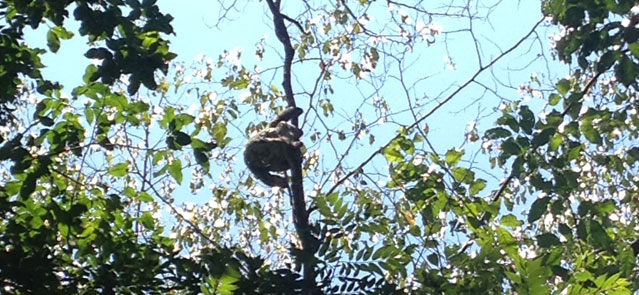 Now that I'm back in Canada and my itchy feet have turned to cold feet (don't worry, they still want to travel. They're just too cold for me to feel it!), I've had a bit of time to reflect on the nearly three months I spent in Costa Rica. I had wanted to write a blog post or two while I was there, but somehow other things took priority and the next thing I knew I was on a plane.
So, without further adieu, here's what it was like for me to live as a vegan in Costa Rica.
Here For a Long Time, Not a Short Time
First off, the reason I say I was living in Costa Rica instead of visiting or vacationing is because I went there with the idea that it could be for the long-term. So, after quitting my job and accepting the offer of two close friends to move in with them in Ciudad Colon, my decision from that moment involved keeping an eye on my finances probably more than seeing how much I could experience.
This one factor made a difference in a number of ways, and one of the biggest ones was when I asked folks for recommendations. It became apparent very quickly that taking a two-week vacation to a country as beautiful and varied as Costa Rica was much different than expecting to be there for at least three months (the length of a Canadian tourist visa to CR). Without a doubt, Costa Rica has some amazing places, and in each location you can find plenty of retreats, adventure tours, luxury resorts, and so much more.
However, as much as I would have loved to have spent a weekend in a treehouse eating raw food, my desire to avoid the Canadian winter and focus on my own projects trumped such adventures when I saw most of the price tags. So, depending on what you're looking for, I recommend checking a bunch of other blogs too. A quick Google search shows me there are plenty of other great places in the country that I didn't discover during my time there. Unfortunately, I was aiming more for $10-20/night for a place to rest my ahead, not $100+.
Everything Has a Price
If that price tag shocked you, then your travel experiences may be similar to mine. Coming from past adventures in Thailand and South Korea, my friends and I had expected to not only be escaping the Canadian winter, but Canadian prices as well.
Sadly, we quickly discovered this was not the case. On the bright side, Costa Rica's economy seems to be doing rather well, and there are signs of development around the country. Of course, whether or not luxury condos being built by foreign real estate agencies and sold to foreign buyers is a good thing or not, the influence on the cost of living was obvious.
So, whether or not you're going there for a vacation or you're considering something more long-term, don't expect your wallet to take a lot of time off when you're there.
But Nothing Has a Number

Another thing you may find surprising is the lack of road signs and addresses. Outside of San Jose, it was rare to even see a street sign, and in the city it wasn't something you could rely on. Add to that the fact that businesses don't have street numbers and the whole food tourist thing becomes even more of an adventure.
From my experience, a typical address consists of referencing landmarks and measuring the distance from there. For example, my roommate first arrived at our house in a cab based on directions from the white church down the road. So, basic Spanish would be helpful in getting to places as you may need to be able to say something like "The brown house 400 metres from the white church on the right-hand side."
Even after becoming somewhat accustomed to this, and picking-up a SIM card for my cell phone (easy to do, if your phone is unlocked) so I could use Google Maps, San Jose proved tricky when I realized that the city also doesn't mark the N/S or E/W versions of their streets. At one point, my friends and I were with a trusted pirate cab driver who still had trouble finding the place despite me using an iPad, an iPhone, and basic Spanish because the street we went to was on the opposite side of some dividing line and we actually wanted to be on the other side.
Bottom line: Expect it to take longer to get somewhere, even if you hop in a cab. So, don't start looking for a place when you're hungry. No one enjoys being lost when they're hangry (hungry-angry), right?
Of course, most of you didn't come to this article to hear me complain about spending $6 on gallo pinto and getting lost, so let's get into the (non-)meat of the issue, shall we?
Beans and Rice For Days

Gallo Pinto. You can expect to eat a lot of this, day or night. Personally, I could have lived off the simple beans and rice dish every single day. In fact, I still crave it now when I have a number of other options around me.
Basically, in pretty much any town, you'll find at least one small restaurant (typically called a "soda) and these lovely little places will have some variety of dishes consisting of beans, rice, plantains, potatoes, salads, and a few other things. Along with this, juices of some variety of fruit will be available too. Of course, depending on where you are and the prices at the soda, the food and drink can vary in quality. However, I did find it comforting that I wouldn't have to depend on potato chips at a gas station (come to think of it, I rarely saw any gas stations…) because there were no options at the franchise restaurant we happened to stop near.
That being said, I should probably note that one cannot guarantee this food is vegan. In fact, it may not even be vegetarian sometimes. Similar to travel anywhere in an area where you don't know the language confidently, getting the point across about what you do and don't eat can be difficult. Plus, just like telling your grandmother "I don't eat meat, dairy, etc." doesn't necessarily mean she's not going to serve you fish or something with butter in it, one cannot be 100% sure that the food on your plate is exactly what you want it to be.
So, proceed with caution. Personally, after six months in South Korea where I knew even less of the language and there wasn't even really a word for "vegan", I've learned to try my best and trust my taste buds and the people who make me food.
Finding the Words

Of course, learning the language is always a good solution to this problem, but if you don't have the time or find it incredibly difficult, there are at least a few key pieces you can put to memory to make your experience better.
Costa Rica is mainly a Spanish speaking country, but the tourist destinations seem to be rather full of folks that speak English to some degree as well. However, I lived in Ciudad Colon, which was just outside of San Jose and had no major tourist draw outside of the University for Peace. So, after a number of funny, hand waving, smiling interactions with locals that led to either a hungry belly because I couldn't properly order food or confusion over how much we were supposed to pay for fruit, it became obvious that at least some Spanish would be helpful.
Luckily, I found the basic Spanish to be relatively easy since I was exposed to a number of the words from various restaurant menus, food labels, etc. in Canada. Plus, there was some minor crossover with French, which made reading labels easier. Some of the key bits I learned were:
vegetariano (vegetarian)
vegano (vegan)
sin carne (without meat)
sin queso (without cheese)
sin leche (without milk)
sin pescado (without fish)
batido en ague (fruit drink with/in water)
ague de pipa (fresh coconut milk)
casado vegetariano/vegano (basically, a meal of rice and beans with other sides. Using "vegano" may not work in most places, but you may also be able to simply point and choose your sides.)
tortuga (this has nothing to do with veg food, but knowing the word for "turtle" is always a good thing, right?)
If you want to dig deeper than that into the language, and I recommend you do, then there are certainly a number of options. My friends found an app called Duolingo to be rather good, and, depending on where you are, there are most likely people willing to teach Spanish to eager students too.
Closer to Home
Regardless, even if your Spanish is lacking and you just want to relax and eat good food, Costa Rica has a great selection of veg-friendly restaurants, farmer's markets, and other things that you're sure to love. Again, it's dependent on where you go in the country, but with a little bit of planning you can find yourself enjoying some great meals without any concern about animal stock in the rice or other language/culture issues. For better or worse, tourism has led to restaurants that cater to a number of tastes, and vegan/organic/gluten-free are included in that list.
Since I was trying to live in the country, and travel wasn't super easy/cheap compared to SE Asia, I didn't cover as much ground as some folks, but I did manage to find a few places that easily understood what vegan meant.
Ciudad Colon

Thanks to the University for Peace and it's multi-national student population, there were actually a few interesting spots in the town we lived in that meant we didn't spend all of our time at the sodas or in our own kitchen. Despite getting a few confused glances, and maybe some needed clarification, ordering pizza "sin queso" wasn't too difficult, and it was actually pretty good each time. Along with this, there was a lovely Thai restaurant with a number of veg-friendly dishes and they understood the importance of "sin pescado" in regard to our curries. Since it was a little more expensive, we didn't frequent it as much, but our outings there were good ones. We also enjoyed a large selection of veggie sushi one night, but the price tag was a little much, so we didn't go back. Along with these restaurants, there was also a great bakery (Los Dulces de Berenice) owned by a French couple who sold fresh loaves of bread for a decent price and had a good grasp of English. Finally, the weekly market was a great place to find produce for home, as well as fresh coconut milk, if we went early enough.
Manuel Antonio/Quepos

Even though our only meal out near Manuel Antonio National Park turned out to be Subway, I suspect there are better options there if you are not hangry and travelling with other hangry people right off the long bus ride from San Jose. Regardless, spending time in the park to see the wildlife is worth an expensive meal of bread and vegetables in my opinion. Plus, if you check out Hostel Vista Serena, you're likely to see some rather amazing sunsets. Maybe even a few lizards on the rooftops too.
Note: Folks will try to convince you to pay for a guide in the park. We didn't, and we still saw sloths, lizards, birds, monkeys, and more. I'm not saying you will see them if you don't go with a guide, but we were happy to save a few dollars and still mark something off our bucket list!
Puerto Viejo

Another popular tourist destination, and one that was a little too beach party-esque for this old man, was on the Caribbean coast near Panama. Although it didn't have quite the natural beauty that Manuel Antonio did (and less wildlife for sure), we did find one of the best curries I've had in a long time at a place called Flip Flop, which was one of the more popular restaurants in the main part of town. However, it wasn't until we went to Como en mi Casa that I was able to really experience the interesting veg/organic experience that CR offers. I ended up visiting this place twice during our weekend there, and I would go back again for sure.
San Jose
Even though we were just twenty minutes or so away from San Jose by bus in Ciudad Colon, I didn't visit it that often. Part of the reason would be that my friend and I had terrible luck with the bus the first time we tried, and we ended up being dropped-off nowhere near where we wanted to be. Granted, we ended up finding a decent little Mexican restaurant right before the rain came down, but it did hinder our ambition for future adventures somewhat.
Plus, when you add in the lack of street numbers that I mentioned above, simply heading to San Jose for a good meal is far from a predictable trip. Our first attempt to find a well-known veg restaurant ended up involving hours of walking, circling around the same area for about thirty minutes, and wet feet for a not-so-memorable falafel burger and another dish I can't even remember the name of. That being said, it still beats the pants off dealing with slushy sidewalks in a Canadian city just to get to the grocery store. Maybe.
Chalking all of that up to adventures in a foreign land, some of the more interesting meals in San Jose came near the end of my time in Central America. After nearly three months of living in CR, my friends and I made the decision to head to Nicaragua to try and find cheaper living. So, after leaving our apartment in Ciudad Colon and finding ourselves stuck in San Jose for an extra night due to the buses selling out, I managed to cover a little more ground there.

Luckily, my friend is a sleuth when it comes to accommodations, and she scored us a nice room at Hostel Shakti, which also had a lovely veg-friendly restaurant right below it. Needless to say, with tofu, tempeh, and other soy products being rare in both restaurants and grocery stores in the places we had been before leaving, seeing soy meat tacos on a menu was great! Plus, the breakfast they fed us each morning was wonderful too.

On a non-food related note, I also recommend taking the time to see something at Teatro Nacional Costa Rica while you're in the city. Apparently, their restaurant/cafe is quite good as well, but it was too pricey for me at the time. Regardless, the building is beautiful and I couldn't pass on the chance to hear some classical music in a venue that was almost as old as Canada.
Soon after that performance, we were on a bus headed for the border and Nicaragua. I spent two weeks there in San Juan del Sur, which was another tourist hotspot with plenty of folks looking to party and surf. Buddha's Garden and El Gato Negro were the big draws here for veg folks, but my money mainly went to the cheaper places that offered 2 for 1 wraps, cheap beans and rice, and other simple things. Even though Nicaragua did turn out to be cheaper (although not by much in San Juan del Sur, especially given the use of American dollars for lots of pricing), I had a ticket booked for xmas in Newfoundland, so I had to leave my friends and head back to San Jose soon after.
Sadly, due to having to stay at Maleku Hostel near the airport for an early flight the next morning, my last meal in Costa Rica ended up being Subway. However, I did manage to make my way to El Chante Vegano before I left. To say I overdid it by ordering a plate of hummus and pita before trying to conquer a chickpea burger and fries would be an understatement. I left that restaurant with food on my plate, which is something I rarely do, but I knew the long walk back to the hostel would be no fun if I finished.
Knowing I would soon be back in Canada was bittersweet for many reasons. Granted, there were plenty of dishes I was dreaming of eating the minute I arrived, but I also knew winter would greet me. Leaving +30 C weather and knowing that the dry season was just starting was hard to do when faced with below freezing temperatures, slush, snow, and ice.
Where to Next?
Now, months later, even though my feet have barely been warm since I landed in Newfoundland, it's been nice to have the many comforts I've come to love here.
Of course, that doesn't mean my backpack is unpacked or that I'm not planning my next adventure! I'm just waiting for things to warm up, and then (hopefully) I'll be on the road again. Or the rails. Stay tuned!
To find out where I am, what I'm eating, and where I'm going, might I interest you in my Instagram account?
Feb. 17, 2015
Comments Off on Living Vegan in Costa Rica
Related Posts