Review: Peruvegan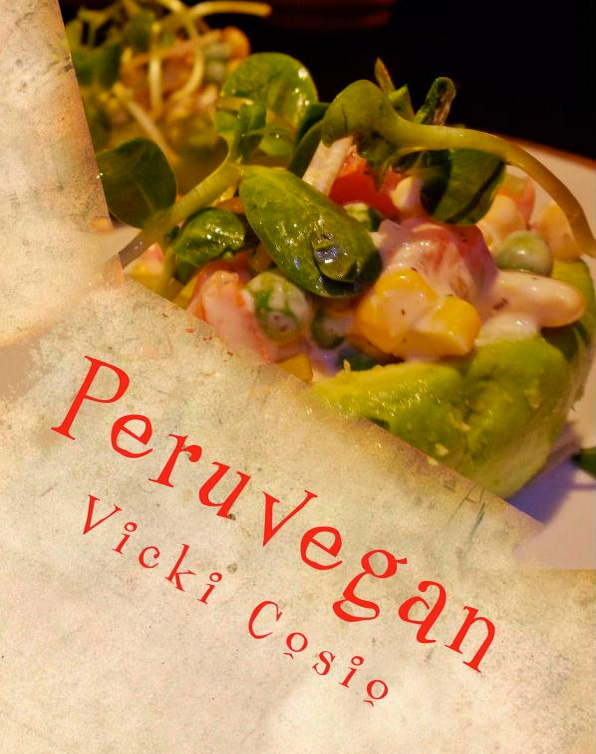 Inspired by her husband's heritage, Vicki Cosio has been veganizing Peruvian recipes for years, and so, Peruvegan, a self-published cookbook full of creative traditional (and not-so-traditional) Peruvian dishes was born. I enjoyed reading through the book, and learning a bit more about Peruvian cuisine and a bit more about Vicki, a now retired tennis pro. I enjoyed how she blended her own Italian heritage with her husband's Peruvian one and included a few recipes exploring the complimentary flavours of both cuisines.
The book is organized into five sections, Crucial Condiments, Appetizers & Sides, Main Dishes, Desserts, and a Special Ingredients list. These include recipes for condiments used throughout the book like homemade Garlic Aioli and Golf (a type of spiced ketchup mayo), appetizers like Papas A La Huancaina (Potatoes in a Cheesy Spicy Sauce) and Palta Rellena (Stuffed Avocado), several hearty main dishes like Aji De Soyllina, Arroz A La Jardinera (Garden Rice), Tacu Tacu (a Bean and Rice Loaf) and several hearty stews. Finally, the dessert section is full of super sweet and comforting recipes like Arroz Con Soy and Coconut Leche (Rice pudding) and a Tres Leches Cake (Three Milk Cake.)
I appreciated the Special Ingredients section because this book calls for two spices you probably don't have in your pantry: (unless you already cook Peruvian cuisine) Aji Amarillo Paste and Aji Panco paste. The pastes are made from a couple of Peruvian peppers, and finding them involved a bit of a search. In Toronto, I picked up a jar of each from Lively Life Fine Foods in the lower level of St. Lawrence Market, but it's easy enough to find online and at other Latin American markets.
Overall, the recipes in the book were great and unique – each dish was exciting to prepare and eat, my partner and I enjoyed eating our way through the book. Peruvian food is completely new to both of us, so every recipe was an adventure in slightly new flavours. My only criticism for the book is that the formatting can be a bit distracting and, while pictures were in full colour, sometimes it wasn't clear what was in the photo.
I use cookbook photos as a guide to help me figure out the best way to present something on a plate, or to give me some idea of what the dish should look like. Some of the photos simply do not do the incredible recipes justice, but I highly recommend the book anyway – just get creative and manage your expectations.
Time To Get Cooking
Having no point of reference when it comes to Peruvian food, one of the things I noticed about this book was the quantity of recipes involving potatoes. Thankfully, Vicki addresses this in one of her recipe stories. Why so many potatoes? Turns out my favourite tuber, the humble potato, is a world traveller that originated in Peru (in the upper reaches of the Andes) and it wasn't a universal food stuff until Spaniards took potatoes back to Europe in the 16th century.
After a brief history lesson, I was ready to begin. I put together a playlist of contemporary Peruvian music and got cooking. To start out,  I made a few of the Crucial Condiments, which I would use several times throughout the cookbook. All of the recipes were easy and straight forward, but some required a bit more advanced planning (like the Garlic Cashew Cheese).
A Few of My Favourite Dishes
Papas a la Huancaina (Recipe) -Â Similar to the Garlic Cashew Cheese, this dish required some advanced planning (soaking cashews) but was worth the effort. Homemade fries topped with a spicy cashew based cream sauce and sliced black olives were a total crowd pleaser and made for an excellent starter and side dish. Vicki was kind enough to let me share the recipe.

Arroz a la Jardinera – I thought this wouldn't be anything special – it's just "garden rice," some rice with some vegetables and a few spices (including aji amarillo), and additional optional protein. No big deal – but I was wrong. The spice blend was perfect, with a beautiful colour combination. Vicki noted that this dish traditionally includes cooked egg, so I added some crumbled tofu and I'm glad I did.

Tacu Tacu – It's an unassuming fried rice and refried bean loaf, but again, the blend of seasonings is exceptional and makes for a comforting delicious dish – this time with aji panca paste and garlic aioli.

Arroz Con Soy and Coconut Leche (Rice Pudding with Soy and Coconut) – This dish is something I could see myself making for dessert quite often. It's easy and quick, and the blend of cinnamon, coconut milk, and soy milk with basmati rice is just an easy simple treat.
Tres Leches Cake (Soy & Coconut Leche Cake) – This cake was incredible. I was blown away by the rich flavour and texture of the cake, and I can definitely see myself making it again for a special occasion (did I mention it's rich? Yum.)
I thoroughly enjoyed how reliable and delicious all of these recipes were, and I'm sure you will too.
If you wish to purchase the book through Amazon, you can find it here
.*
Reviewed by MeShell Gudz
MeShell lives in Toronto, likes science, vegetables, technology, coffee, and social justice. And cats. All the cats.
* This post contains affiliate links. If the product is purchased by linking through this review, T.O.F.U. receives a modest commission.
Related Posts