Review: Teff Love by Kittee Berns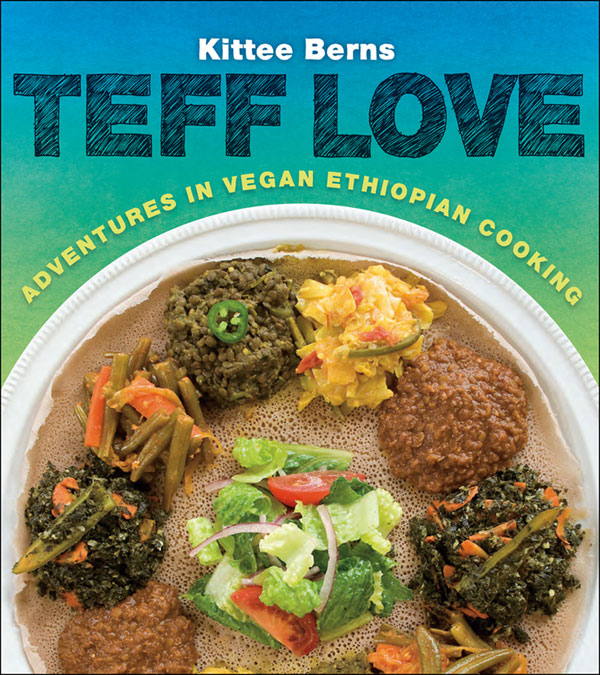 It's not all Teff Love, baby
Teff Love: Adventures in Vegan Ethiopian Cooking is Kittee Berns' (Cake Maker to the Stars) highly anticipated cookbook to the cult favourite zine Papa Tofu Loves Ethiopian Food. Her mission: to spread her love and passion for this delicious cuisine across North America. I am a lover of Ethiopian, and judge a city based on their Ethiopian offerings. With Teff Love, you can make better than restaurant feasts, knowing that they are classic and new-wave Ethiopian dishes that transport your kitchen straight to Addis Ababa.
Ethiopian is another ethnic cuisine that is largely vegetarian – on the fasting days of Wednesday, Fridays, and Lent only vegan dishes are served. Kittee starts the cookbook with a quick introduction to Ethiopian cooking: what the staples are, the traditions behind the vegetarian-heavy dishes, and how to serve it. Ethiopian cooking is predominately made of various curry-esque dishes, served on top of traditional bread called injera. She also briefly goes into the history of injera, and how it has been adopted in North America. With that quick primer, we immediately get to over 135 recipes, separated by course, spice level, and type of dish. From the basic spice blends and two different injera recipes to beverages and sweets, each and every recipe is fantastic.
Three Things
The book begins with The Holy Trinity (different from the French or New Orleans Trinity) which describes the foundation of all the recipes in the book. Most wots are composed of lentils, split peas, or vegetables with unique and distinctive gravy. Once you get the hang of the structure, Ethiopian is very free-form, and a slight tweak in how the onions are sautéed or even the order of the ingredients results in a completely different dish. Kittee encourages such creativity, and gives you the tools to express yourself on the heavily-laden injera platter!
Try Something New!
The Mitmita: Fiery-Hot Spice Blend was so addicting I was sprinkling it over my morning breakfast. An alluring mixture of cayenne, cardamom, and cloves, it matched everything. Breakfast was delicious with Ethiopian tofu scramble (a fusion dish), but my all-time favourite was Ye'shimbra Chechebsa: Savoury Pancakes with Spicy Seasoned Oil. A protein-packed Ethiopian pudla from the Queen of Pudla, the berbere seasoning sauce made it even better – and I didn't know that was possible! A variation that is equally addicting and makes use of leftover injera is the Ye'shimbra Kita Firfir – same sauce, different vessel to transport to your mouth. There is even a hummus recipe, which tastes like Ethiopian Ful. Deliciously satisfying, it is a fantastic addition to the hummus roster. What would an Ethiopian cookbook be without the ubiquitous Selata (Simple Salad)? It's here, and more delicious than its restaurant counterpart.
For the entrées, or wots, they are organized by type. For those that love their spice, the Kay Wot's pack a punch: berbere-based gravy usually with tomatoes, onion, and ginger. More numerous to count, she includes Kulet: A Basic, Easily Customizable, Spicy Red Sauce recipe to let you add any legume, vegetable, or dumpling (yes, dumplings!) to the gravy with guaranteed fantastic results. This is my go-to recipe for the whole book. When faced with indecision as to what to make, this free-form guide lets me whip up delicious fare in less than 45min. For the more heat-shy, the Alicha Wots are heavier in the Ye'qimem Zeyet: Seasoned Oil (also known as Niter Kibbeh), a wonderfully spiced butter (recipe included) with onion, garlic, cumin, and an addicting array of warming spices. Alichas get their mild heat from jalapenos, and generally have more onion and garlic. My favourite of the Alichas is the Ye'dubba Alicha: Roasted Butternut Squash in a Mild Sauce. The butternut squash lets the warming spices shine, and would be fantastic at any winter feast.
New to me were the Tibs. These are less saucy vegetable dishes; usually meat dishes in restaurants. The Ye'inguadi Awaze Tibs: Stir-Fried Mushrooms with Onion and Rosemary in a Spicy Wine Sauce is hands-down the best mushroom dish ever. The mushrooms soak up the rich and flavourful sauce with aplomb, and act more as an excuse to eat more gravy. Another new dish and awash in creativity was the Ye'kaysir Kitfo Be'ayib: Tender Roasted Beets, Minced and Blended with Soft Cheese, Spices, and Seasoned Oil. Although the Ethiopian name is shorter (and more elegant), the English version gives an apt description. Based off of Kitfo, a traditional beef tartar dish, the caramelized roasted beets are minced, resulting in a tartar-like texture. The added spices and creamy Ayib: Soft Farmer's Cheese marries wonderfully with the beet tartar. An elegant and surprising side dish, I especially enjoyed my Mitmita with this!
If you're not in a legume mood, the dumplings are fantastic. Dumplings always make me smile. The Ye'shimbra Duket Kwas: Chickpea Tofu Dumplings are addicting alone as a snack and irresistible served with Awaze: Red Pepper Hot Sauce or in a Wot. The dumplings are spiced with Ye'qimem Zeyet, garlic, and onion, and incorporate spinach and jalapenos for some pop. They soak up the gravy of your dish of choice while keeping their form, a science I have yet to duplicate outside of this book. They also freeze wonderfully, and can be made ahead for dumpling-emergency stashing.
And That's Not All!
There is much more, including fusion dishes, beverages, and desserts (including Mocha Teff Brownies) that are all as creative as the rest. I learned a great deal from this cookbook, and not only about Ethiopian food. From Kittee, I learned how addicting and amazing onions taste when they are dry-sweated on medium with the lid covered. This results in a wonderful colour and caramelization of the onion that adds depth and character to the dish.
This cookbook is for the adventurous kitchen traveller and their friends. Approachable, simple recipes with easy to find ingredients and online or DIY suggestions included, if required. You will be amazed at how great Ethiopian is, and wonder, like I do, why it is so undiscovered. Most dishes are weeknight appropriate, and if organized as Kittee suggests a four-dish feast can be on the table in under an hour. I highly recommend this cookbook for any curious cook – wow your dinner party, and get the conversation started with a wide variety of laden injera with wots, dumplings, beverages, and desserts to finish.
With that in mind, the publishers have been generous enough to let me share two recipes. I couldn't decide, and so I went to the standby: the Kulet and Quick Teff Crepes. I leave it to you to express your creativity with the Kulet – once you taste the amazing complexity of the tomato berbere gravy you will be hooked! Injera is a must for traditional servings, but not everybody has time for traditional injera making. Although quite easy, it involves creating a starter and feeding it every day for several days, to get the wonderful tang of injera. It also makes your house smell wonderful and is the only thing I have ever fed in my life that didn't die. For the time strapped or forgetful, Kittee offers this Quick Teff Crepes, which gets its distinctive appearance from soda water, baking soda, and vinegar. Quick and simple to cook with no flipping required, it is also the only flatbread I have made successfully the first try. Fun to make and they freeze well for the next time an Ethiopian craving comes over you. Enjoy!
For more information on Teff Love, and other recipes from Kittee, please visit her website.
If you wish to purchase the book through Amazon, you can find it here
.*
Reviewed by Katie Hay
When Katie isn't exploring new cuisines and challenging food conceptions in the kitchen, she can be found at farmer's markets, building and designing bicycles, and planning her next life adventure.
* This post contains affiliate links. If the product is purchased by linking through this review, T.O.F.U. receives a modest commission.
Related Posts