Review: Going Vegan by Joni Marie Newman and Gerrie Lynn Adams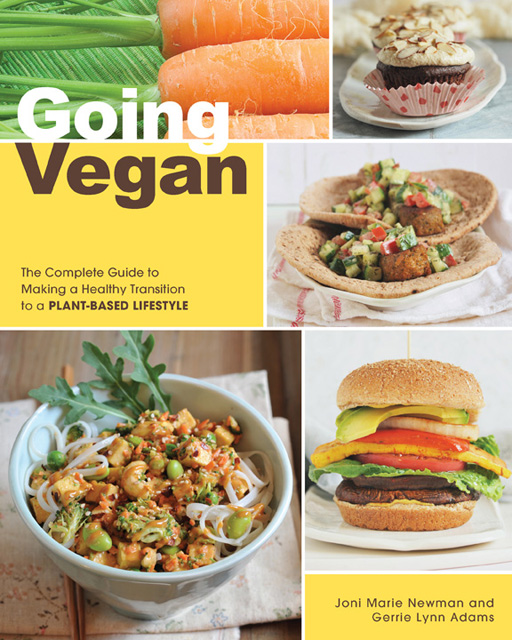 When I first went vegan, I did three things:
I read the fantastic resource Becoming Vegan by Brenda Davis, R.D. and Vesanto Melana, M.S., R.D. (a must-read for everybody)
I bought Veganomicon, then just released and
once published, I bought The Complete Guide to Vegan Food Substitutions by Celine Steen and Joni Marie Newman.
Since then much has changed, and there are plenty of resources out there for the vegan curious. Recently, Joni is back with one such offering called Going Vegan: The Complete Guide to Making a Healthy Transition to a Plant-Based Lifestyle, which she co-authored with Gerrie Lynn Adams.
For the "WeBes"
Going Vegan is not strictly a cookbook, nor is it a complete manifesto as to why you should go vegan. Instead, it's a combination of both: the first half of the book is devoted to Gerrie and Joni's transition to veganism, the "why's" of going vegan (health, animals, wallet, and environment), and then it moves to approximately 50 easy, approachable, and tasty recipes. The purpose of the book is to educate the vegan-curious as to why one would choose to be vegan, and show through simple recipes that vegan food is good food.
The "why" section of the book is a high level overview of the benefits of veganism to your health, animal husbandry/industrial farming, the environmental effects of an omnivore diet, and a brief look at the finances of going vegan. I found it very interesting and enlightening as to how the two authors came to be vegan: Gerrie became vegan slowly over a number of years, changing one thing at a time, motivated by health issues. Joni became vegan for the animals. But together, they show that these two reasons are not mutually exclusive, and in the end, we are all vegans. They strongly encourage the gradual change to a vegan lifestyle, and note that Rome wasn't built in a day. Instead, they coined the term "WellBeings" or "WeBes", for people moving towards a vegan lifestyle. There is also a significant section devoted to stocking your pantry, and simple vegan swaps for common animal ingredients.
Familiar and Friendly
The recipes are simple and straightforward, written in the style distinctive to Joni at Just the Food. Breakfast, Soups and Stews, Salads and Sandwiches, Mains, Snacks and Sides, and Dessert are all covered, with about five to ten recipes in each section. This is one drawback to the book: with the focus on the introduction, there is no recipe index or table of contents. Recipes are labeled soy/nut/gluten-free, and also indicate if there is any added sugar, oil, or salt. "Veggie bites" are included in most: these are suggestions to stray from the recipe and make it your own – throw in some extra greens, change up the vegetables, etc. Approachable and friendly, these recipes will speak to anyone looking for familiar comfort food.
The recipes focus on bowls, one-pot meals, and items many people would recognize, including pancakes, chili, pasta salads, sloppy joes, tu-not salad, and homemade mayo, as well as cookies, fudge, and cupcakes. They clearly illustrate how easy the transition to a "WeBe" can be, and how delicious the results are. Of all the recipes I sampled, my favourites were The Walnut Chorizo Breakfast Bowl: taco meat made of walnuts and spiced to perfection, served in a giant bowl of greens, cilantro, tofu, and black beans: this is everything I love in a taco in a giant bowl. I served mine topped with pico de gallo, and was ready for whatever the day brought me! The Surprisingly Good Green Soup was another favourite. Fresh, tasty, and delicious. The name says it all! The Cucumber Relish in the Falafelogs with Cucumber Relish is now a standby. So simple: cucumbers and tomatoes are tossed in a tahini-lemon-garlic dressing that is perfectly balanced. I am now in the habit of putting this on everything. The Tahini Noodle Bowl is also a welcome version to one of my classics. The tahini dressing here combines soy sauce, balsamic vinegar, molasses, and sriracha in a combination that is surprisingly delicious. I strayed from the spaghetti suggestion, and instead used the sauce for a heaping pile of greens, tomatoes, and zucchini pasta. Another common variation is cauliflower, carrots, broccoli, and napa cabbage – whatever is speaking to me that day. For dessert, the No-Bake Thumbprint Cookies are fantastic. Made with almond butter and coconut, the cookies are sweetened with a date paste made with orange juice and spiced with cinnamon. They remind me immediately of après-ski treats, warm and comforting spices with some Moroccan flair.
For You
In case my praise above has not quite convinced you, the publishers were generous enough to allow me to share one recipe. I've chosen the No-Bake Thumbprint Cookies. Easy to make and delicious right out of the food processor, they are an adept representation of Gerrie and Joni's simple delicious "WeBe" food.
I also have one copy to give away! Just leave a comment below telling me why you're excited for Going Vegan by Feb, 3, 2015, and I'll randomly pick a winner. Limited to Canada and the US only – I'm sorry international folk (T.O.F.U.'s budget does not allow for worldwide)!
To find out more about Joni and her books, please visit her website.
If you wish to purchase the book through Amazon, you can find it here
.*
Recipe Photo Credit: Celine Steen
Recipe Credit: From Going Vegan by Joni Marie Newman and Gerrie Lynn Adams. Reprinted with permission from Fair Winds Press.
Reviewed by Katie Hay
When Katie isn't exploring new cuisines and challenging food conceptions in the kitchen, she can be found at farmer's markets, building and designing bicycles, and planning her next life adventure.
* This post contains affiliate links. If the product is purchased by linking through this review, T.O.F.U. receives a modest commission.
Related Posts