Review: But I Could Never Go Vegan! by Kristy Turner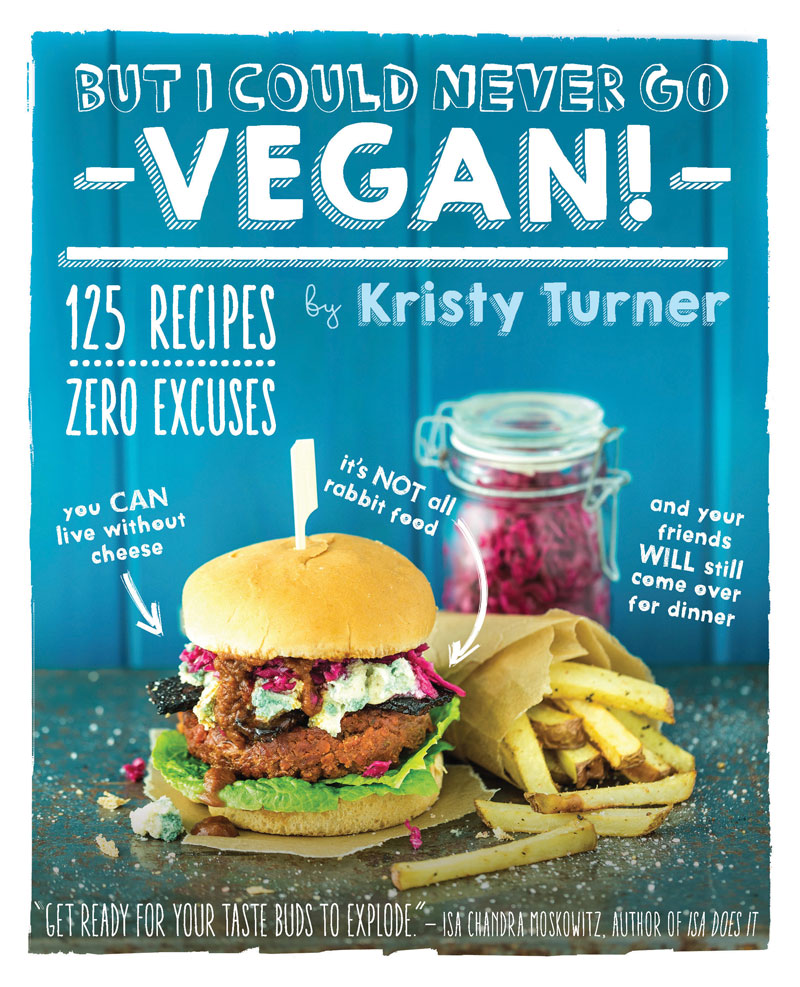 They say don't judge a book by its cover.
Who are they anyway? I argue that they are wrong when their eyes first feast on Kristy Turner's debut cookbook But I Could Never Go VEGAN! 125 Recipes That Prove You Can Live Without Cheese, It's NOT All Rabbit Food, and Your Friends Will Still Come Over for Dinner, quite possibly the best cookbook title ever.
Kristy Turner is the voice behind the popular blog Keepin it Kind. Readers of her blog will instantly recognize her distinctive humour and style permeating every recipe. Kristy tells stories through her food: from the month long relationship saga of The Chickpea; how Red Velvet Ice Cream was inspired by an encounter searching for sterile, angry furniture; and the importance of Festivus, recipes and dishes are built on personal stories, humour, and a bit of whimsy. This cookbook is no different, and a treasure trove of new flavour combinations.
No More Excuses
The book starts as most do: her story, pantry stocking, and how to cook simple things: grains (with the correct water ratio!), nut butters, etc. But from our cover judgement, this isn't your ordinary cookbook. Her story is told acknowledging the excuses (and associated eye rolls) she gave before she went vegan. Chapters are organized by excuses, with 20 excuses and on average 5-10 recipes per excuse, the ultimate in food activism. From breakfast to dessert and everything in between, Kristy has you covered. Each start with a little blurb, often of a conversation many long-time vegans have had in the past, and move on to the recipes. Like the blog, each recipe has a humorous introduction that had me laughing every time I read the cookbook. Points for best organization, this book will make you wish you had pamphlets, or an app, every time you heard "Where Would I Get My Protein?" or "I Could Never Give Up Cheese!"
In the pursuit of science, I tested 2-5 recipes for each "excuse", with only three excuses pending. Forty recipes later, I have the same number on my must make list. All recipes are marked with icons, indicating soy free, nut free, gluten free, plan ahead, and can be made to go. Most come together in under an hour, with plenty of idle time and minimum dishes. Thus, weeknight friendly – there really are no excuses!
Just the Highlights
I would love to describe in detail all the recipes I tried, but I lack the space, so I will give the highlights. Kristy's creativity and genius takes centre stage in I Could Never Give Up Cheese! The section includes Tempeh Bacon Mac n' Cheese, or as I call it The Best Mac Ever. Vegans are notoriously picky about their Mac, and this one is by far the best I have ever had. The balance of nooch, tang, and creaminess is perfect. Topped with Smoky Tempeh Bacon, this is a dish to serve to company. The Macarella actually behaves, smells, and tastes like fresh mozza, something I think is magical. A self-professed long-time blue-cheese hater, one of my favourite recipes in the book was the Balsamic Baked Pears with Cashew Blue Cheese. Quite possibly my favourite dessert, the roasted pears marry perfectly with the blue cheese flavour, and when roasted in the balsamic, you get a balsamic reduction without the risk of setting your stove on fire (true story).
I challenge anybody to claim Tofu Doesn't Taste Like Anything after trying the sublime Sesame-Sriracha Tofu Sandwiches. Tofu joins company with a marinade largely composed of Sriracha, chili powder and paprika. The sandwich itself is served on top of kimchi, with roasted sesame seeds sprinkled on top. Spicy lovers rejoice, this combination of sriracha, kimchi, and tofu is quite possibly the best sandwich ever. It's All Rabbit Food proves that vegans know how to indulge too – the complex Jackfruit Nacho Supreme is a prime example. Supreme indeed: spicy jackfruit meat is topped with a pico de gallo and cashew cheese – self-control optional. Chocolate Stout Chili Fries are rich, complex, and a twofer: you get fries AND chili, making leftovers that much better. Not Soup Again! ironically had me try every recipe listed. The Broccoli Cheddar Soup was full of broccoli, nutritional yeast, and had a creamy broth thanks to the power of white beans. I've never had cheese soup before, but that will change after this recipe. The White Bean and Portobello Stew is smoky, meaty, and full-on comfort food that would be best served at a ski chalet. Potato and Sauerkraut Soup should be served every time it's grey and gloomy outside. A surprising twist on the classic Shichi, the Tofu Sour Cream stirred in adds body and creaminess to the broth and the addition of parsley and thyme result in a completely different flavour profile to those accustomed to Eastern European flavour. The Sunflower Sausage, made with sundried tomatoes, sunflower seeds, and traditional Italian sausage spices take the soup over the top. The sausage also adds another texture to the creamy soup and is definitely not just a garnish, but an integral flavour component of this delicious stew. Fans of the blog take note – her infamous Spinach Artichoke Soup is also included!
The Eggplant Meatball Subs with Spicy Marinara Sauce from But I Hate [Insert Vegetable Here] would instantly convert even the staunchest eggplant hater. I personally love eggplant, so this may be a bit biased, but the eggplant serves as a perfect binder for delicious meatballs, served up in a simple Italian marinara kicked up a notch with more Sriracha. And just in case you have room, desserts are also covered in three separate sections: one of which is devoted entirely to chocolate and another to ice cream. How can you go wrong?
So what is left? Spinach Edamame Hummus, the infamous Tofu Chevre, Roasted Ratatouille Tartine, Falafel Tacos with Sriracha-Tahini Sauce, The Best Breakfast Sandwich Ever, and Molasses-Hazelnut Chocolate Mousse Tart with Coconut Whipped Cream. Exactly.
All Inclusive
Every recipe is introduced with a story, some wit, and some familiarity. Photographs by Chris Miller accompany almost every recipe, and are of such quality it would almost be a coffee-table book if it wasn't for the food stains. Recipes are approachable and simple to prepare, with pantry staples and no weird ingredients. If you have a cookie sheet, a blender/food processor, and a pot, you can make every recipe here. New and seasoned cooks can learn some tricks, from time saving methods to surprising flavour combinations. Most are weeknight friendly, and all will have you wishing you could lick the pot and not be judged. Although labelled, substitutions are offered in most cases to make recipes soy free, gluten free, or nut free. With some practice, those that appear at first glance to be not 'free' could easily become so – food activism is about including everybody, and thus allergies, sensitivities, or diet lifestyle shouldn't exclude anybody from these delectable dishes. Vegan or not, kitchen newbie or five star chef, there is something for everyone in this fun cookbook. The most tongue-in-cheek and delicious piece of food activism to date, this book is a must read. I can only hope pamphlets or an app are coming forthwith, and I am already anxious for the sequel.
Not released in Canada until December 30, it doesn't mean that us Canadians will be left out! The publishers, The Experiment, have been generous enough to allow me to share a recipe with you. The White Bean and Portobello Stew was a favourite, with a smoky broth complimented with thyme. Not a mushroom lover, I loved the meatiness of the portobello's here and would happily spoon up this soup again.
For more information on the book, and other recipes from Kristy, please visit her website.
If you wish to purchase the book through Amazon, you can find it here
.*
Reviewed by Katie Hay
When Katie isn't exploring new cuisines and challenging food conceptions in the kitchen, she can be found at farmer's markets, building and designing bicycles, and planning her next life adventure.
* This post contains affiliate links. If the product is purchased by linking through this review, T.O.F.U. receives a modest commission.
Related Posts