Let's Talk About Sex(ism) – Issue 8 Out Now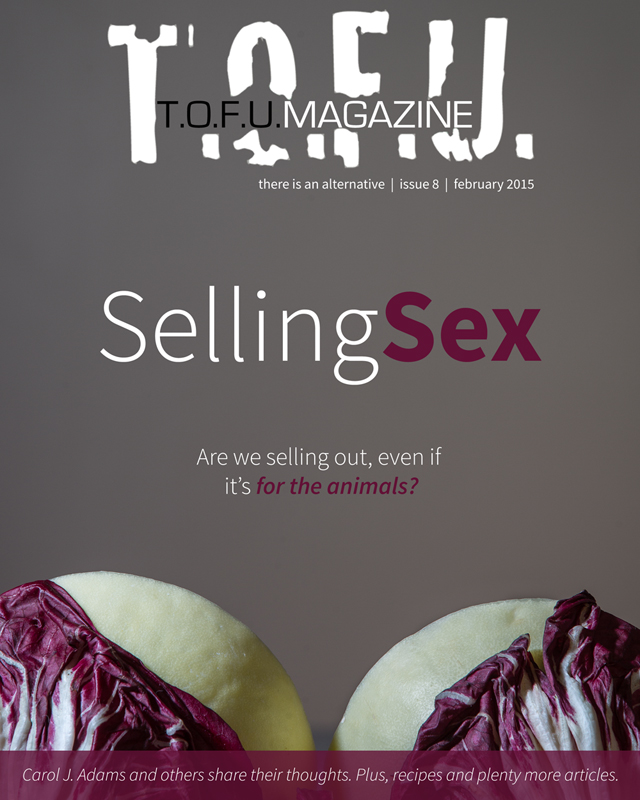 If you've been keeping tabs on the website, then you know the release of this issue marks a new direction for T.O.F.U. and myself. If you haven't had a chance to read my past posts, then I recommend checking my last one out prior to jumping into the new issue.
Since I started working on issue eight, I knew its focus on sexism and veganism was an important one, and that's part of why it has taken so long for it to be published. There were a number of pieces in the puzzle that I just couldn't have missing before this lovely thing went public, and now that it's complete, I'm glad I waited.
Continuing to focus on intersectionality, the eighth issue of T.O.F.U. tackles the relationship between the oppression of animals and the oppression of women through articles on the use of sex in animal rights campaigns, the targeting of men as the key demographic for such campaigns, and more. In addition, an in-depth interview with Carol J. Adams, the author of The Sexual Politics of Meat, connects current efforts with those of the past and offers insight on what we need to do for the future.
Of course, similar to past issues, this one doesn't just focus on one topic. There are also DIY articles on starting vegan businesses, a review of Northern New Jersey, plenty of recipes, and more. Spanning over 100 pages, it's yet another collection of the thoughts of vegans from around the world, and I hope it leads to plenty of discussions, both online and on the streets.
As if that wasn't enough, I decided to offer a special bundle that includes the newest album from T.O.F.U.'s Creative Director, Amanda Rogers. Her ninth solo album, Wild, has been a favourite of mine since it was released, and I'm happy to offer it to you. Amanda has been involved with T.O.F.U. since we decided to jump in a van together to travel across North America for the first T.O.F.U. Tour in 2009, and her creative output continues to amaze me, both through music and the pages of the magazine.
So, with all of that in mind, you can find the new issue online here:
Enjoy,
Ryan
Feb. 26, 2015
Comments Off on Let's Talk About Sex(ism) – Issue 8 Out Now
Related Posts