Review | Mastering the Art of Vegan Cooking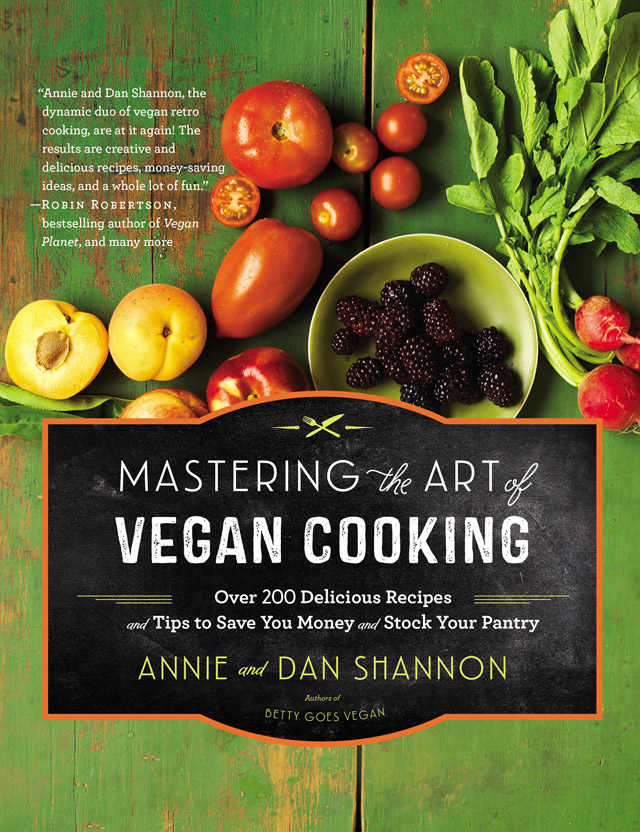 From the authors of Betty Goes Vegan comes another home-cooking cookbook that smacks of childhood memories. Having grown up with the Best of Bridge ladies, I dove into this cookbook expecting long-forgotten food memories of my childhood to be evoked. The Shannons did not disappoint, and for one month straight I was revisited by kitchen recipes of yore.
The book is aimed to those who have yet to master any sort of kitchen and those who are looking for tips and tricks to optimize their existing one. The first two chapters are dedicated to how best to set up your kitchen for success: from choosing a spice rack (and how best to fill it), to dry goods and pantry items that work in a pinch, to even how to extend your pantry past the cupboard. As someone who bought a chest freezer for my studio apartment *just for* farmer's market hauls, their tips on how to freeze vegetables and leftovers were something that I wish someone had told me when I first gained control of my kitchen.
Chapters are split into the three meals of the day, with bonus chapters of "No More Leftovers" and "Special Occasions". Each recipe itself comes with a cost per serving, which, given current food prices, I did not pay much attention to. When there are leftover items such as dressings, special ingredients, or strange vegetables, there's also a little insert with suggestions of where you can use these ingredients in other recipes. Extremely budget friendly and budget conscious for the most part, they do use processed goods such as cream cheese, chicken, tofurky, etc. – things which are out of my own personal food budget (especially after $7/head cauliflower!). One final note: in the potluck section, for every recipe, there is a small piece which offers suggestions for friend's dishes, so that, if you choose a themed potluck, order can be restored amongst the miscellany.
After reading through the book, it was time to cook. I started with the simple to prepare Sesame and Soy Marinated Mushroom Steaks. These were delightful, with an interesting twist of white wine and lime to a traditional sesame Asian marinade. Served with greens and a grain, they made for a filling weekday meal. With a special place in my (deep freeze) heart for leftovers, I made the Pumpkin Curry Soup one night and the Leftover Recipe: Pumpkin and Spinach Orzo. In a surprising twist, I loved the leftovers, and found the curry to be okay. The curry I thought was overpowered by the vegan chicken broth, but that may be a function of my DIY chicken broth spice mixture. The use of sage in an otherwise coconut-based curry was odd to my palate. The Pumpkin and Spinach Orzo, however, was fantastic. The spinach added a pop of colour that the dish was lacking, and the addition of *more* sage, nutritional yeast, and fresh parsley took the "funny tasting curry" feeling straight to "warming Thanksgiving pasta dish" land. It was astounding really the transformation, and brought new life to the "not another curry!!" complaint that some may hear.
Familiar with the Shannon's talent for taking classics and reinventing them, I knew as soon as I saw it I had to try the Chickpea a la King Skillet. I've never had the namesake dish, so I cannot comment on how authentic this one is. I can comment on how delicious it was though! Chickpeas are sautéed until crispy with mushrooms, peas, green beans, and red bell pepper for a colourful plate. Seasoned with (DIY) poultry seasoning, onion, garlic, nutritional yeast, and a pinch of celery seed, this was a hearty dish that spoke to my childhood. Served on top of noodles, this was fabulous. One of the last dishes I tried was the Tofu Vindaloo. I have a weakness for curries, and my Achilles heel is spice. Vindaloo combines these two in a dish that I can never resist, and thus I'm always game to try a new rendition. The Shannon's offer one with standard curry spices enriched with warming cinnamon and cardamom, with the heat brought by both cayenne and paprika. With the perfect spice ratios, this Vindaloo is an instant classic. I rounded mine out served with fresh cilantro and a squirt of lemon, and was pleasantly surprised that I could achieve such depth of flavour for a dish suitable for a busy weeknight.
This is a text-heavy book, with picture 'sections' a-la old style cookbooks. It felt like an older book, full of love and Nanas cooking and chatting in the kitchen. A great primer to those that are first entering the scary world of (vegan) cookery, it harkens of home and favourites while being budget conscious and guiding people to how to use leftovers, pantry items, and perishables to their maximum benefit. Instructions are not terribly challenging, and most recipes can come together on a weeknight. As an example, the publishers have allowed me to share with you one recipe, and I've chosen the Tofu Vindaloo. I would consider this a new classic, infinitely adaptable to your own pantry and spice whims. Enjoy!
For more information on the Shannons, as well as their new cookbook, please visit their website.
If you wish to purchase the book through Amazon, you can find it here
.
Reviewed by Katie Hay
When Katie isn't exploring new cuisines and challenging food conceptions in the kitchen, she can be found at farmer's markets, building and designing bicycles, and planning her next life adventure.
*This post contains affiliate links. If the product is purchased by linking through this review, T.O.F.U. receives a modest commission.
Tofu Vindaloo
We live in Brooklyn: home of more quality ethnic cuisines than any one person could ever eat in a lifetime. Most cuisines offer several options for vegans, ranging from traditional bean burritos and avocado sushi to Senegalese tofu dishes. We have quite a few good Indian restaurants that deliver— so when we made the choice to stop ordering takeout, Indian food was one of the first things we started to miss. This recipe is actually left over from when we lived in Virginia and good Indian food was something we had to make for ourselves. We haven't been to India yet, so I can't say this is an authentic vindaloo recipe. But I can promise it's good by Brooklyn standards. Plus, it has peas, and I love peas.
I recommend a nice root beer to go with it, too. It seems like an odd combo, but I really like it.
Makes 2 to 4 Servings
$2.25 per serving
Olive oil cooking spray
1 (16-ounce) package extra-firm tofu, drained and cut into cubes
Sauce
1⁄4 cup olive oil, plus more as needed 1 tablespoon ginger paste
1⁄4 cup tomato paste
4 cloves garlic, minced
11⁄2 teaspoons ground cardamom 1 teaspoon ground coriander
2 teaspoons ground cumin
1⁄4 teaspoon ground turmeric
1⁄4 teaspoon onion powder
1⁄2 teaspoon ground mustard seed
1 to 2 teaspoons cayenne pepper (more or less, depending on how hot you like it)
11⁄2 teaspoons ground cinnamon 1⁄2 teaspoon smoked paprika
1⁄2 large sweet onion, chopped 1⁄2 cup frozen peas
1⁄2 cup cooked cut green beans 3 Campari tomatoes, quartered 2 cups brown rice, cooked
Spray a cast-iron skillet with a heavy coating of olive oil cooking spray and set it over medium heat. Carefully place your tofu pieces in the skillet so they don't overlap or touch too much. Brown the tofu for 3 to 5 minutes or until the edges are a very light golden brown, then flip with a metal spatula and brown the other side. If any edges stick, use the metal spatula to scrape them off—they'll make crunchy, yummy bits that will be delicious in your curry.
Meanwhile, make the sauce: Whisk together the olive oil, ginger paste, tomato paste, garlic, cardamom, coriander, cumin, turmeric, onion powder, mustard seed, cayenne, cinnamon, and paprika until creamy.
After you've flipped the tofu once, pour the sauce over the tofu in the hot skillet and reduce the heat to low. Toss in the onion and use a spatula to mix all the ingredients together. Simmer until the onion is tender, stirring occasionally. If the sauce reduces while it simmers, you can add a little bit of water and more oil, 1 teaspoon at a time, until you are happy with the consistency. Once the onions are tender, mix in the peas, green beans, and tomatoes and cook for 5 minutes.
Serve hot over rice.
Cardamom
You might already have some neglected cardamom hanging out on your spice rack. There are a lot of different kinds, but the most common is ground green cardamom. It's a multitalented spice that goes with everything from turmeric to vanilla.
Mar. 02, 2016
Comments Off on Review | Mastering the Art of Vegan Cooking
Related Posts