Issue #11 | Call for Submissions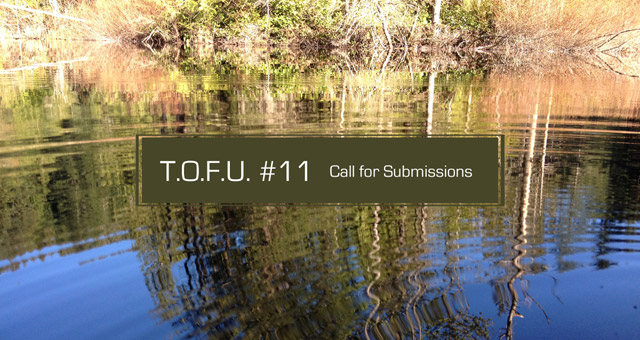 With the remaining copies of The Book of T.O.F.U. now on sale at a number of great vegan businesses (expect a post with details soon!), the time has come for work on the next issue to move into full swing. So, I'm putting out an open call for submissions, and I'd love to hear from you. Of course, before you start writing, you might want a little more info, right? Well, read on my friend!
Submissions Close: Monday, May 2, 2016 Monday, May 16, 2016*
Complete Works Due: Monday, May 16, 2016 Monday, May 30, 2016*
About the Issue
The eleventh issue of T.O.F.U. will focus on the topic of veganism and physical health. Going beyond the facade that veganism is the path to perfection, the issue hopes to provide a space for people to talk about their battles with declining health, chronic illness, and disease while maintaining (or questioning the end of) a vegan diet. Ideally, this will then lead to dialogue regarding our relationships with food, and mental health (including disordered eating), in future issues.
Submission Guidelines
Be familiar with T.O.F.U. and its past issues. You'll be writing for a (mainly) vegan audience that understands the need for intersectionality and doesn't have to be convinced that animals are our friends. Also, I don't want to turn down ideas because they were already covered in a very similar manner.
Send a few ideas, if possible. Together, I'm sure we can figure out a great article!
Quality and quantity. When it comes to contributing, you should be comfortable with writing at least 1800-2500 words. Smaller submissions will be considered, but the aim is to have something more substantial than a blog post.
Original and unpublished content. I don't want other publications mad that I'm running the same piece, and I'd like for my readers to be excited for something new from every author, if possible. Please don't just copy and paste something from your blog into an email.
Be excited. I'm accustomed to sending emails to people multiple times to round-up articles, but I'm not going to chase after you for long.
Eat your veggies. Maybe this goes without saying, but you should be vegan.
No recipes. I'm sure you've got a great one, but there are enough places for vegan recipes these days. T.O.F.U. aims to be a platform for something other than vegan food, even if I do enjoy said food a lot.
Space is limited. Since I'm hoping to bring this issue to print*, it is possible that not all submissions will be accepted, but there's always next time!
As always, submissions don't have to deal with the focus specifically, and they are welcome from both new and past contributors. So, if you're interested, please drop me a line through the Contact page.
*A Note Regarding Printing: Ideally, I want to print this issue, but the costs are incredibly high compared to digital, so, if these costs cannot be covered in a reasonable time, the issue will be released solely through a digital platform. Either way, to be prepared for print, all photos submitted with a piece should be at least 300dpi.
*Note: Deadlines extended as of Friday, May 6, 2016.
Related Posts