Review | Cook the Pantry by Robin Robertson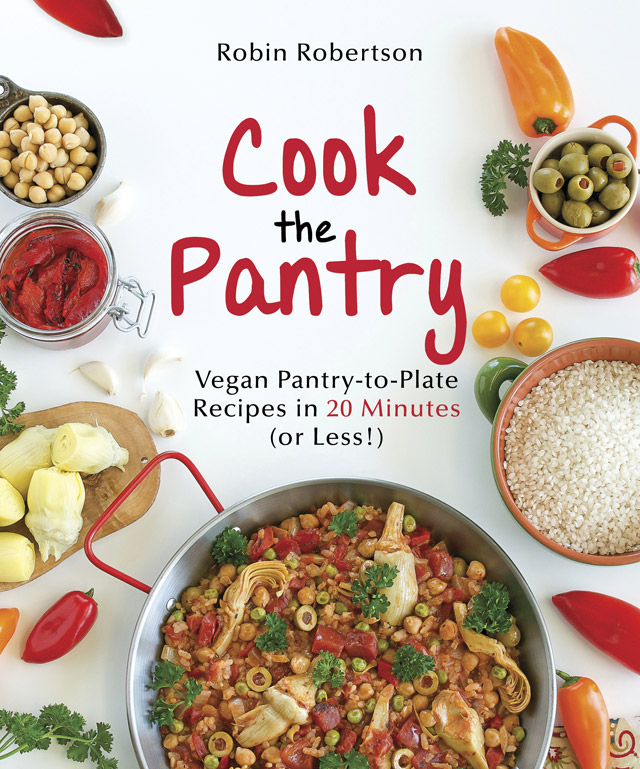 Little known fact: When you move across country borders, you have to dispose of your entire kitchen pantry. I learned this the hard way, and, after mourning the loss of my years of accumulation, I landed in my new home with a new start. (The food bank however thought I was amazing.) Enter Robin Robertson's latest, Cook the Pantry. Cook the Pantry is the sequel to her earlier book Vegan Unplugged, and aims to find creative uses for all those cans and prepared goods in the freezer for a fresh, vibrant meal.
Unique to most cookbooks, Robin begins this cookbook with tips on pantry management: rotation and variety, a pantry list from spices to canned goods, and how to extend your pantry past the cupboards to the fridge and freezer. With a more-stocked pantry, I started to plan out my pantry exploration by way of Soups, Stews, and Chilis; Salads; Pizza, Burgers, Sandwiches; Stovetop Suppers; Pantry Pasta Plus; and Sweet Treats.
From sheer volume alone, Robin likes Asian flavours. I'm right with her on that one, and loved her Manchurian Black Bean Noodles, Hot and Sour Noodle Soup, and Suddenly Sushi Salad. The Manchurian Black Bean Noodles were a feat in spicy/sweet garlicky sauce balance, evenly coating noodles, black beans, and my add-in vegetables. Although as written the Hot and Sour Noodle Soup actually doesn't have any noodles, I took inspiration from the title and added some to my slurpable bowl. The soup has a simple broth of garlic, ginger, rice vinegar, Tamari, and sesame oil, thickened with corn starch. Add some tofu, scallions, and other vegetables of your choosing (optional) (my mix was frozen broccoli, mushrooms, and bok choy) and this noodle bowl is a fantastic comfort bowl. The Suddenly Sushi salad I made for lunch one day, and aside from how well it travelled it tasted amazing. Basically all your sushi delights in a giant bowl, it has the added benefit of not unravelling after some time in a container. Plus, soggy nori does not equal dish disaster.
The BBQ Jack Sandwich was also lip-smacking good. The BBQ sauce coated the jackfruit perfectly, and with the crunch of the fresh slaw was absolutely fabulous. I made my own BBQ sauce with a recipe from Veganomicon, but the intent is store-bought. Added to the sauce is Dijon mustard, paprika, liquid smoke, and jalapenos, kicking up that standard BBQ sauce to 11. Taking inspiration from Homegrown Smoker BBQ, I added to mine a quick slaw of shredded cabbage and white vinegar. Balanced, tangy, saucy, and finger-lickin good: what more could you ask for from a sandwich?
Finally, I also really liked the Black Bean Picadillo. I found this strangely delicious – like a Brazilian Tagine almost. Spiced with oregano, coriander, and cumin, a tomato sauce is born, infusing black beans with flavour. Added to this are roasted red pepper, raisins, and capers, adding a smoky sweet zing to the dish. Topped with cilantro, and this dish confused me as much as it delighted me. Tangy and salty from the capers, subtly spicy, and a fresh note from the cilantro made this a win.
The recipes are very creative. For instance, the humble Tater Tot is used in Salads, a base in Homestyle Hash Burgers and a filling in Samosadillas (which is a quesadilla with samosa filling). The recipes are written like you don't have heaps of time – perfect for those nights where the mere thought of boiling water to do something with it seems like too much effort. There are no icons for the recipes, which I personally found refreshing: it made me feel less like I was breaking the "rules of the recipe" when I was substituting ingredients due to my own pantry needs. The structure of the index is sorted by type of dish instead of ingredient: I personally prefer the ingredient approach as I often have oodles of one thing. However, if you are the type of cook who prefers to search for "curry", you will find the index a refreshing change from the ingredient norm. Overall, this book had me using more canned goods than I have ever eaten in my life in more creative ways than I could even imagine. Being unused to canned cooking, there were some recipes that I didn't care for – for instance, I learned that I am not a fan of canned mushrooms, bamboo, or hearts of palm. I started reading the recipes going "Really?" and was amazed each time how fresh these canned-heavy dishes tasted. Robin mastered the ratio of pantry to fresh, while maintaining the speedy prep and cook requirement.
The publishers have allowed me to share with you one recipe, and I've chosen Manchurian Black Bean Noodles. I loved the garlicky sauce which coated the dish perfectly. I added mushrooms and bok choy to mine, as both were quickly approaching their 'expired' date in my fridge. The added veg. brought the dish to the next level, and I strongly encourage you to make it your own. Enjoy!
For more info on Robin and her books, please visit her website. For past reviews of Robin's books by Katie, please check out both Vegan Without Borders and The Nut Butter Cookbook.
Reviewed by Katie Hay
When Katie isn't exploring new cuisines and challenging food conceptions in the kitchen, she can be found at farmer's markets, building and designing bicycles, and planning her next life adventure.
Manchurian Black Bean Noodles
Makes 3 to 4 servings
One taste of this easy and elegant dish will convince you that black is the new pasta. Look for black bean pasta in natural food stores or online – it's even available at Costco as of this writing. Low in carbs, high in protein, with a sturdy texture and hearty flavor, black bean pasta is best with an assertive sauce and nothing says assertive like Manchurian sauce. Here, I combine the sauce with black beans for even more protein. Serve with a green salad or make it a one-dish meal and top it with roasted cauliflower florets or other cooked veggie of choice. Of course, if you don't have black bean linguine, you can substitute any noodles you may have on hand.
1 (8-ounce) package black bean linguine (or other pasta)
1 tablespoon safflower oil
5 cloves garlic, minced
1 tablespoon grated ginger
2 1/2 tablespoons soy sauce
2 tablespoons sambal oelek
1 1/2 tablespoons ketchup
2 teaspoons rice vinegar
2 teaspoons sugar
1/2 teaspoon onion powder
1/4 teaspoon cayenne
1 (15-ounce) can black beans, rinsed and drained
1/2 cup water
2 tablespoons chopped scallion, optional
2 tablespoons chopped cilantro, optional
Cook the pasta according to package directions.
While the pasta is cooking, heat the oil in a skillet over medium heat. Add the garlic and ginger, and cook until fragrant, 30 seconds. Stir in the soy sauce, sambal oelek, ketchup, vinegar, sugar, onion powder, and cayenne. Add the black beans and water and bring just to a boil, stirring to mix well. Partially mash the beans while stirring to make a thicker sauce.
When the pasta is cooked, drain it and transfer to a large serving bowl or individual shallow bowls. Top with the sauce and garnish with scallions and cilantro, if using. Serve hot.
© 2015 by Robin Robertson. Used by permission Vegan Heritage Press LLC.
May. 24, 2016
Comments Off on Review | Cook the Pantry by Robin Robertson
Related Posts