Review | Minimalist Baker's Everyday Cooking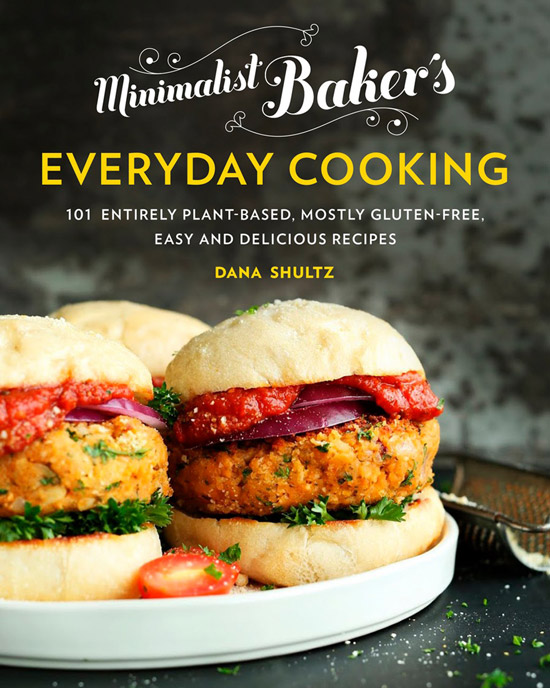 Dana Shultz is the voice behind the blog and namesake to this debut cookbook, Minimalist Baker. Her mission is clear: to create dishes that will please many with as few ingredients and minimal steps as possible. Having followed her blog for a while and loved every recipe that I've ever made, I was quite excited to have the opportunity to review her cookbook.
With a quick introduction to Dana and her partner John, the book begins with a Resources and Methods section. Hold the phone though, because this ain't your standard Resources and Methods sections. Resources include how to make things as varied as Gluten Free Flour blend, a Flax egg, quick pickled onions, how to roast garlic (quickly), and even Easy Vegan BBQ Sauce. Methods are tips for 1-bowl baking, how to measure dry goods (scoop then scrape), and how to get the most oomph from your blender when you're adding All The Things. A refreshing change from the no less valuable how to stock pantry sections (which is in the back).
The book is organized as many are, with Breakfast, Appetizers + Sides, Mains, Desserts, and Beverages. Each section has its own table of contents, which makes finding the right section and then the right recipe more of a flip-through exercise. However, the index is very explicit and thorough, so I didn't mind too much.
As happens when faced with an amazing cookbook, I went a bit overboard in testing as I couldn't decide. Dana's creativity and knack for fusion flavours did not help the selection process. Gotta eat it all! Attempting to stray from my comfort zone of 1-bowl wonders, I went out of the box this time and was rewarded. First up was The Trashy Vegan Sandwich. The title alone made me want it. This monster was so trashy, so sloppy, and so ridiculous – in all the best ways. Caramelized onions are added to a sandwich with tomatoes, sprouts, avocado, and banana peppers. Hummus joins the party with a liberal amount of sriracha to seal the deal. The liner notes also call for mustard, so I added that too. This sandwich made this non-sandwich lover switch teams. I've made it since as a salad as well, and I think it got even better. To wash that beast down, I tried the Simple Tamarind Whiskey Sour. This drink is off the charts. Lemon, tamarind, and bourbon/whiskey. It is indeed simple, and absolutely amazing. My mind was blown, and it is now my official fancy drink of ever.
The Thai Quinoa Meatballs were also a surprise hit. I am probably not alone when I don't immediately jump to "meatball" when someone says "Thai". These peanut base, Thai spiced meatballs were amazing. I ate them solo, I ate them in sandwiches, and I ate them with the Peanut Butter Pad Thai for maximum awesomeness. After all these successes, I tried a bowl: the Angel Hair Pasta with Harissa Romesco. I have never had romesco, but if it's a version with roasted red pepper, tomato, almonds, and a hefty amount of harissa, I'm in. This fusion sauce was phenomenal. The amount was also perfect: a light coat of the pasta so that you get sauce in every bite, but not enough to need a spoon at the end.
With the heat of summer upon me, the idea of turning on my oven in my apartment was not appealing, and thus the vast burger section remains untested. I will however be trying the Pizza Burger and the Thai Peanut Burger as soon as oven season returns. Summer also makes me crave fall vegetables, and I know that once Pumpkin Mania hits, the Pumpkin-Apple Upside Down Cake is going to happen.
Each recipe is marked with what Dana calls the "Simple Factor": Rankings of 1 Bowl/Pot, 30min or less, 10 ingredients or less, and gluten free. These categories are also available in the index, so if you're feeling like a 1-bowl wonder, all the recipes in the book are at your fingertips. At the very back is also nutritional information for each recipe in the book. I like this approach: for those that want the information it's there, but for those that don't want it/could care less it's out of the way. This is not a 100% whole foods book: Dana does make use of processed goods such as vegan cream cheese, curry pastes, and prepared crusts/doughs. However, with the Internet out there for those DIY folk, there are easy substitutes.
Overall, I loved this cookbook with its focus on fusion creations, simple ingredients and methods of preparation, and curious approach to flavour. Recipes could be prepared by someone with very little interest in cooking, very little time, or very little variety and wanting to find new favourites. When the recipe promises 30min or less, it really is 30min or less (I can vouch for my test kitchen only. I am an exceedingly slow chopper though). To help you discover Minimalist Baker, the publishers have let me share a recipe, and I've chosen The Trashy Vegan Sandwich. Because sometimes we all just need an oozing, sloppy mess of a sandwich. Don't forget the mustard!
For more information on Dana and her cookbook, please visit her website.
Reviewed by Katie Hay
When Katie isn't exploring new cuisines and challenging food conceptions in the kitchen, she can be found at farmer's markets, building and designing bicycles, and planning her next life adventure.
Photo credit: Dana Shultz
The Trashy Vegan Sandwich
This recipe is inspired by my go-to order at Which Wich sandwich shop. Hearty slices of wheat bread are topped with hummus, avocado, caramelized onion, peppers, tomato, and a simple "no honey" mustard sauce. Alfalfa sprouts add nutrition and crunch, and a drizzle of Sriracha adds a wave of heat. This is my weekday lunch when I am craving something simple yet substantial.
Serves 1 | Prep Time 15 Min. | Cook Time 10 Min. | Total Time 25 Min.
1 Tbsp (15ml) grape seed oil, avocado oil, or coconut oil
1/2 white or yellow onion (55g), sliced in thin rings
Pinch sea salt
2 slices hearty wheat bread
2 tsp Dijon mustard (ensure vegan-friendly)
1 tsp maple syrup
1/4 cup (60g) hummus
2-3 pepperoncinis, sliced, or banana peppers
2 tomato slices
1/4 ripe avocado (~40g), sliced
1/4 cup (8g) alfalfa sprouts or other greens of choice
1 Tbsp (15ml) hot sauce (such as Sriracha)
Heat large skillet over medium heat. Once hot, add oil and onions and stir. Season with a pinch of salt. Cook until soft, translucent and caramelized – about 8-10 minutes. Lower heat if browning too quickly and add 1 tsp water at a time if sticking to the pan. They should be very tender and sweet to the taste. Set aside.
Toast bread if desired. While it ís toasting, prep other ingredients.
Combine Dijon mustard and maple syrup in small bowl and mix to combine. Add more mustard for a spicier spread, and more maple syrup for a sweeter spread.
To assemble sandwich, spread hummus generously on bottom slice of bread. Top with caramelized onions, pepperoncinis, tomato, avocado, maple-Dijon sauce, alfalfa sprouts, and hot sauce.
Top with second piece of bread and gently press down. Slice and serve immediately. Best when fresh.
Excerpted from Minimalist Baker's Everyday Cooking. Copyright © 2015 The Minimalist Baker, LLC. Photographs Copyright © 2015 The Minimalist Baker, LLC. Published by Viking Canada, a division of Random House of Canada Limited, a Penguin Random House Company. Reproduced by arrangement with the Publisher. All rights reserved.
Aug. 16, 2016
Comments Off on Review | Minimalist Baker's Everyday Cooking
Related Posts