#TBT | Making NTV's St. John's VegFest Coverage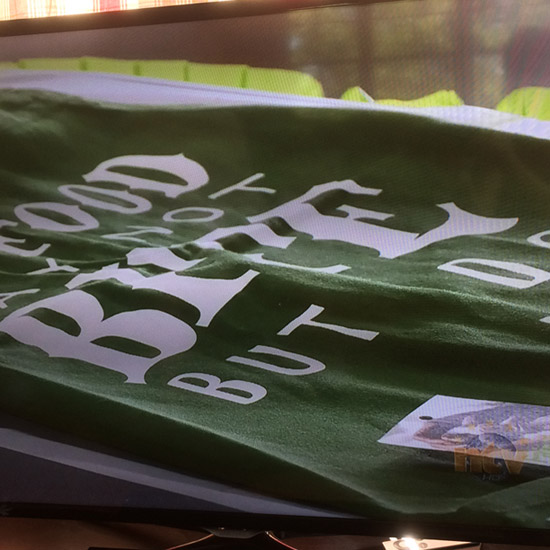 I arrived in Ireland early Tuesday morning (despite an hour or two at the border that suggested I might not get in), and I spent yesterday sleeping, grocery shopping, and getting to know a blind red setter named Bru. So far, I haven't had a chance to explore much, but I have had fun poking around the grocery stores for new-to-me vegan things! Don't worry, I'll have some sort of update about all my finds closer to the end of the sit in mid-September.
For now, I wanted to share an image my folks sent my way after watching the provincial news back home in Newfoundland and Labrador. It seems NTV covered the first St. John's VegFest, which I was tabling at for the magazine, and said table ended up on the news.
Personally, it was great to hear that my aprons were on TV, but the best part for me was that NTV chose to cover the festival in the first place. In fact, they weren't the only ones there from the media, and that's a great sign to me. Given that the first time I returned to Newfoundland and Labrador as a vegan was met with plenty of questions and a lack of options, seeing thousands of people come through the doors for the festival over the course of the day suggests that much has changed in the last 8-9 years! Not only that, but there were plenty of local vendors, and one of them even made this lovely list of vegan bakeries in Canada by Food Network. Plus, there were a number of speakers and folks seemed to be interested in what they had to say. Along with tabling, I also moderated the "Ask a Vegan" panel, which went well and served as a nice way to end what turned out to be a great day for everyone involved with the fest.
Needless to say, the VegFest was a nice way to end my time back home, and it only helped to illustrate that the province has a number of options for veg folk now. If you've been following my Where Am I Wednesday updates on the YouTube channel, then you already know some of them. Hopefully, I'll find the time soon to do a proper write-up to cover the month or so that I spent back in Newfoundland and Labrador, but exploring the possibilities in Lucan (where the house sit is) and Dublin (just a bus away) while I'm here might delay sitting in front of a computer to blog. Maybe.
If you're interested in getting one of the last aprons for yourself, you can head over to Vegan Supply to order one.
Related Posts