Review | Naturally Nourished by Sarah Britton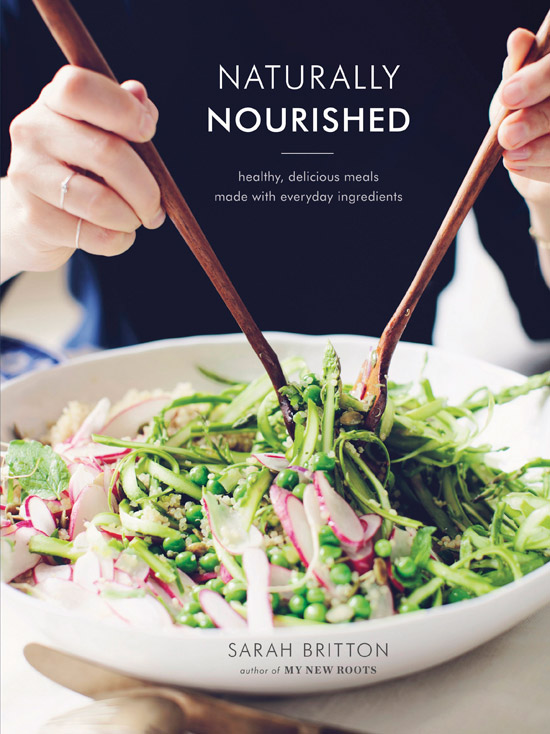 I am always excited when people decide to brave the cookbook publishing world a second time. I relish these opportunities, and ask myself: is this just the outtakes from round one? Or have they put on a new twist, elevated their game, and seized the opportunity to be better or different from before? Angela Liddon, Kristy Turner, Emily von Euw, and Gena Hamshaw are just a couple that I have reviewed and thoroughly enjoyed their second (and third!) offerings. So when I heard that Sarah Britton of My New Roots was publishing a second go around, I eagerly anticipated it. Naturally Nourished is the title of her second book, where Sarah focuses on approachable food that uses staple ingredients in new and novel ways. Different than the first, this book dials in approachable cooking that lets the ingredients shine with as little fuss as possible. The introduction is focused entirely on simplifying the kitchen process: the theme for the book. Sarah's second publication is worth it for the 'How to Make Creative Meals Cheat Sheet' alone with categories of build a foundation, make it interesting, add something special, sauce it up, and give it some flair. In this vein, recipes have 'rollover' suggestions: how to use up leftovers or leftover ingredients with a twist.
The recipes are divided into the broad categories of Soups, Salads, Mains, Sides and Small Plates, and Snacks. Recipes are bound together with fresh vibrant flavour honouring the star ingredient(s) with enough pizazz to delight your taste buds. The biggest surprise for me was the Massaged Kale Pressed Salad. I will let you in on a secret: I don't really like kale. Plus, I really don't like fruit in my salads. So I was just as surprised as you when I adored this simple kale salad with apples, carrot, and fresh fennel. Dressed with lemon and salt and pepper, this was the definition of simplicity. Fresh and inviting, I loved the crunch from the veggies and the flavour matchings of lemon, apple, and fennel. With that success under my belt, I went even more out of the box with the Broccoli Basil Broth. I will admit I did not puree it (I have my limits), but this odd combination of broccoli, basil, and lime was a surprise. I loved how basil-heavy this was, and the earthy broccoli gave the bright broth a great base to play off of. On a roll with the soups, I then tried the North African Sun-Dried Tomato Soup. Curious as to how sun-dried tomatoes and harissa would turn out, I was instantly in love with the salty-spicy-smoky combination. Hands down the best, and strangest, tomato soup I have ever had. Finally, I tried out the Run Wild Summer Rolls, which were really a vessel to contain Spicy Lime Slaw and Radish Cilantro Salsa. Once again, Sarah focuses on the titular ingredients, lightly accenting with a deft hand of acid (lemon), herb (cilantro), spice (red chili's), and salt and pepper. These Latin profile components were joined in the wrap with carrots, avocados, sprouts, and mint for a fresh and novel summer roll that was addicting. Luckily, I had leftovers of the filling, and the second-day free form lunch was just as satisfying as the original.
With spring approaching, this cookbook was perfect to get me out of hibernation and back in the world of vibrant colours, fresh produce and herbs, and simple delicious food. I did find that some recipes were lightly spiced, and required a bit more for my palate. However, that may not be the case come summer, when we are relishing in nature's bounty. To help encourage you to check it out, the publishers have let me share a recipe from the book, and I have chosen the Massaged Kale Pressed Salad. This recipe is one of three kale salads in the book, and epitomizes to me Sarah's approach. I realize that it is another kale salad, but take it from a non-kale lover: this one is worth it.
For more information on Sarah and her new cookbook, please visit her website.
Note: this cookbook is not vegan. However, many of the non-vegan recipes could be easily veganized with little effort or detriment to the recipe flavour profile.
Reviewed by Katie Hay
When Katie isn't exploring new cuisines and challenging food conceptions in the kitchen, she can be found at farmers' markets, building and designing bicycles, and planning her next life adventure.
Massaged Kale Pressed Salad
Vegan | Gluten-free | Raw | Grain-free
Serves 4 as a main, 6 as a side
Ingredients
4 packed cups / 240g shredded curly kale (shredding how-to included)
2 pounds / 1kg mixed vegetables (I recommend 1/2 small head red, 1 large carrot, 1 small sweet potato, 1 small fennel bulb, and 1 small red onion)
Small apple
1 1/2 teaspoons peeled, minced fresh ginger
2 teaspoons fine sea salt
Juice of 1 lemon
For Serving
Handful of fresh flat-leaf parsley
Handful of fresh cilantro leaves and tender stems
Sesame Salt (optional; page 157)
Lemon wedges
Cold-pressed olive oil
Directions
Prepare the salad: Wash the kale and cabbage leaves well and spin them dry. Remove stems and tough ribs, roll the leaves into a cigar shape and slice them crosswise to make ribbons. Combine them in a large bowl.
Using a julienne slicer (or good knife skills!), julienne the carrot, sweet potato, fennel, red onion, and apple. Add the vegetables and ginger to the cabbage and kale. Sprinkle the salt over top.
Using your hands, rub and squeeze everything together as if you are giving it a massage, until the vegetables begin to break down and release a great deal of their liquid when you squeeze a large handful. If there is not a lot of liquid, keep massaging.
Press the salad: Place a plate directly on top of the massaged vegetables and weight it down with a heavy object, such as a quart jar filled with water. Let the salad press for about 30 minutes.
Finish the salad: Just before serving, fold the lemon juice in the vegetables. Chop the parsley and cilantro. Divide the salad among individual plates and sprinkle each portion with fresh herbs and Sesame Salt, if using. Serve with lemon wedges and olive oil. Once made, this salad keeps very well in the fridge for a few days.
Excerpted from Naturally Nourished by Sarah Britton. Copyright © 2017 Sarah Britton. Reprinted by permission of Appetite by Random House®, a division of Penguin Random House Canada Limited.
Related Posts