T.O.F.U. Questions | Facebook Livestream This Sunday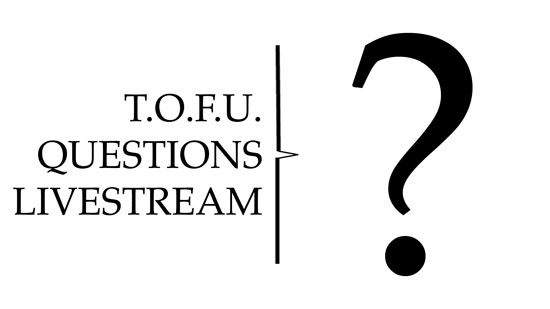 Although I dabbled with it a bit through Facebook and Periscope in the past, I think the first time I scheduled a livestream was for patrons of the magazine through Patreon just a little over two weeks ago. Since then, I also hosted a livestreamed talk about travel for a friend's English group in Thailand, and I have to admit that I've been finding the whole thing to be fun.
Given that I've been spending a lot of time working on video content for the YouTube page ever since I started the Where Am I Wednesday series, it's been kind of refreshing to create something that doesn't require editing. Better yet, it's been great to produce video content without having iMovie crash on me eighteen times in the process!
So, with that in mind, I decided to schedule a livestream event this coming Sunday through the Facebook page. I'm not 100% sure what I'll talk about as of yet, but I expect I'll touch on progress with the new issue (things are going great!), the continued push to go to print, and I might even be able to get some of the animals involved, if they're not all sleeping by the time I go live.
For more details, and to show your interest, you can sign-up on the event page itself.
Jul. 28, 2017
Comments Off on T.O.F.U. Questions | Facebook Livestream This Sunday
Related Posts