WAIW | Getting a Thai Visa in Saigon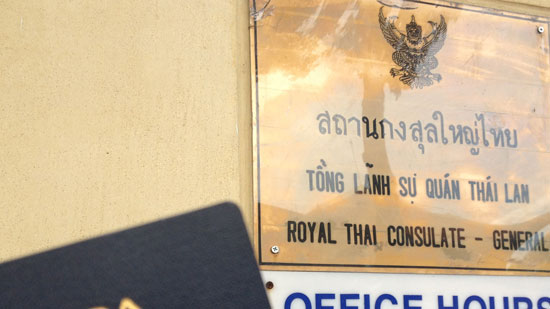 As I'm privileged to be travelling with a Canadian passport, a lot of the time I enter a country I do so without having to apply for a visa in advance. Since I left Canada nearly a year ago, I've only had to do so for Turkey and Vietnam. Sure, I've had issues at some (thanks Ireland!), and I always end up nervous whenever I'm approaching one of the imaginary lines government bodies enforce on a map, but at least I rarely have to deal with paperwork.
That being said, for my next visit to Thailand, I'll be staying for longer than the 30 days I get upon entry and hopefully longer than a one month extension would allow on top of that, so I had to go the paper route before leaving Ho Chi Minh City this time around. With that in mind, I thought I would take today's episode of the Where Am I Wednesday series to give you some details on just what you have to do to apply for a Thai visa while in Saigon, Vietnam.
Where To Go
In order to apply for the visa, you have to visit the Royal Thai Consulate-General. Luckily, it's in an easily accessible part of District 3, and I've had little issue getting there while using Grab. For more details, you can check this map to see just where it is.
When To Go
Although I did see someone apply for a visa in the afternoon this time around, I'm sure I read somewhere that the morning is the appropriate time to apply. Plus, going early will give you more time to fix any issues that might be identified when you apply.
On that note, do check the hours of the Consulate as they close for lunch, and also have a number of holidays for which they shut down.
What To Bring
As I mention in the video, there are a number of things you need to get in order before you submit your application. Again, checking the website is highly recommended as the requirements could change, and you don't want to be standing in the office without everything in order!
For me, I was required to show proof of exit and entry, which simply involved printing my flight itineraries at a little kiosk around the corner. Along with this, I needed at least six months left before my passport expired, and I also had to submit a recent passport photo with the application.
In terms of application information, you can find the form here. Compared to other visa forms that I've seen, Thailand's doesn't ask for much more detail than one would expect. So, if you have your flights booked, as well as a place to stay while you're there, you most likely won't have much issue filling out the form.
On a related note, I didn't fill out anything related to a guarantor, and they had no problem with that. I suspect it's more for those applying for a work visa, but I could be wrong. Also, they do technically have the right to ask about your finances, so you may want to be prepared to show that you have enough money to sustain yourself while in the country. Personally, I have yet to be asked in regard to Thailand, but I have certainly had to show it for other places (once again, thanks Ireland!), so it never hurts to be prepared.
Speaking of money, you'll also have to pay an application fee of $40USD, whether or not your application is ultimately accepted. If you don't happen to have that currency on-hand, then I recommend planning a visit to Hung Long Money Changer. It's one of the only places in the city that is legally allowed to sell USD, and I did so with no issues yesterday morning.
What Next
After you've submitted your application and paid the fee (be sure to get your receipt), you'll be told to come back either the next afternoon or the day after. When you do pick-up your passport with the shiny new visa in it, be sure to check that it's the right type and it's written for your name. If everything is in order, then you're good to go.
Of course, having the visa doesn't mean you're guaranteed entry into the country at the airport or land border you enter from, but it does mean you get to spend more time in a wonderful country once the customs folks approve you upon arrival. To me, that's a great thing, and I'm looking forward to my upcoming trip now that I've got the paperwork out of the way!
Aug. 02, 2017
Comments Off on WAIW | Getting a Thai Visa in Saigon
Related Posts