Review | Vegan Richa's Everyday Kitchen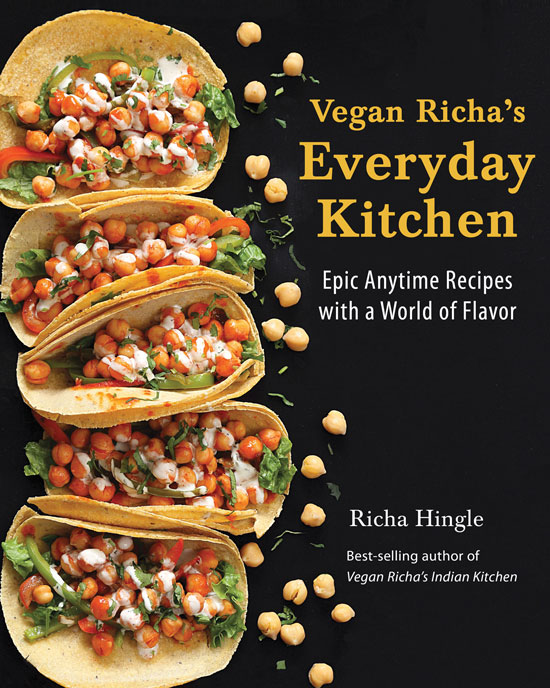 Richa Hingle has come out with another cookbook, and it's fantastic. Richa is author of the blog Vegan Richa and author of Vegan Richa's Indian Kitchen. In her second book she keeps to her Indian roots, expanding on the techniques and spice profiles that readers have grown accustomed to and applied them to a variety of dishes from bowls to burgers and everything in between.
Richa starts the book off with a very short introduction and brief explanation of how she approaches cooking. This cookbook is all about the Awesomesauce. With 32 sauces listed, she then goes into depth as to various applications: not just for bowls, burgers and pizzas are also enhanced by the flavour of these drinkable sauces. Further explanation about cooking time (helpfully, prep time is listed along with active and inactive time, giving you insight as to how many loads of laundry you can do while dinner is cooking), as well as substitution suggestions and how to cook oil free if requested follows. A scant introduction for a tome of recipes.
Taking Richa's approach to heart, I focused on the sauces in all the recipes that follow. I eased in with the Red Curry Soup with Lentils. Richa knows her curries. The soup features homemade Red Curry Paste, a paste that looks intimidating by the ingredient list but is super easy to throw together in a blender. Not just spicy (with two types of chillies, peppercorns, paprika, and cayenne), there's depth from the ginger, galangal, garlic, lemongrass, and cilantro. A dash of acid and a pinch of salt and sugar round it off. I found myself putting dollops of the stuff on everything. The soup perfectly showcases the paste, with veggies, coconut milk, red lentils, and basil making up a delectable broth with the curry paste. A sauce and a bowl to save for a rainy day.
The next curry I tried was the Laksa Curry Soup. The paste is built upon a base of roasted coriander and fennel seeds. Brighter than other pastes, lemongrass, cilantro, and ginger give the paste some umptuousness. The soup is much better than any Laksa I've had outside my own kitchen. Various veggies, greens, and noodles are simmered in coconut milk, the full yield of the paste recipe, and topped off with some bean sprouts. This bowl was like a warm hug: immediately inviting and smelling fantastic, this was comfort food at its best. My new 'chicken soup'!
In the midst of a heat wave I tried to sweat it out with the Baharat Chickpea Avocado Bowl. The Baharat Spice Blend is featured more than once in the book. A warming blend of cinnamon, cloves, allspice, cardamom, nutmeg, as well as paprika, pepper, and other ingredients make the blend as aromatic as it is tasty. For this bowl, Richa uses the spice blend to roast chickpeas, resulting in crispy flavour bomb nuggets. The dressing is a simple olive oil and lemon dressing, and the chickpeas join a hearty salad of lettuce, zucchini, roasted veggies, and avocados. There are so many mouthfeels and tastes in this bowl it's amazing. I roasted eggplant and zucchini, using the same rub as the chickpeas. The end result was phenomenal. I loved the simplicity of the dressing with the chickpeas and roasted veggies. The raw and roasted veggies added some pizazz to the salad, and the warmth of the veggies wilted the lettuce just enough, with plenty still crispy. The avocado brought the lusciousness to the party, and sealed the deal: this was one of the best bowls I've ever had.
The last chapter is Everyday Basics, where you will find pizza dough to BBQ sauce and a flax egg. Already bookmarked, this has been used more than once in my cooking outside of testing. She ends the book with a very comprehensive list of what is stocked in her kitchen. Having moved internationally more than once (where you must sacrifice your hard-earned spice collection), this list encompasses my 'moving stocking list' without the pains of doing inventory. I will be using it for my next move and also for kitchen management.
Overall, I tested well over half the book, so addicted was I to the flavours. The recipes are easy to prepare with layered depth of flavour. Winging it is strongly encouraged, as is catering to your tastes. However, the flavour profiles are so surprising, I encourage you to go outside your box and try something new. So vast is the collection, I guarantee you will never be bored. The publishers have allowed me to share with you a recipe, and I have chosen the Baharat Chickpea Avocado Bowl. This was one of the best bowls I've ever had, and that's saying a lot.
If you'd like to learn more about Richa and her new cookbook, please visit her website.
Reviewed by Katie Hay
When Katie isn't exploring new cuisines and challenging food conceptions in the kitchen, she can be found at farmers' markets, building and designing bicycles, and planning her next life adventure.
[Disclaimer: Katie was a recipe tester for cookbook development, and had the privilege of testing recipes more than once.]
Baharat Chickpea Avocado Bowl
The Mediterranean dressing is fabulous with the peppery Baharat. This customizable bowl can be seasoned with garam masala or curry powder instead of Baharat spices. The bowl is satisfying, delicious, and easily transformed into wraps for lunch.
(From Vegan Richa's Everyday Kitchen copyright © 2017 by Richa Hingle. Used by permission Vegan Heritage Press.)
Prep time: 20 minutes
Active time: 20 to 25 minutes
soy-free, gluten-free, nut-free
Serves 4
Dressing
1 to 2 cloves garlic, pressed, or 1/2 teaspoon garlic powder
1/4 teaspoon black pepper
1/4 to 1/2 teaspoon dried oregano
3 tablespoons (45ml) extra-virgin olive oil
2 tablespoons (30ml) fresh lemon juice, or more to taste
1/4 teaspoon salt
Baharat Chickpeas
2 teaspoons organic safflower or other neutral oil
2 1/2 cups (415g) cooked chickpeas, drained and rinsed
1 to 2 tablespoons Baharat Spice Blend (recipe follows)
1/4 to 3/4 teaspoon salt, to taste
1/4 teaspoon black pepper
1 teaspoon garlic powder
1/2 teaspoon onion powder
For serving
4 to 5 cups (200 to 250g) chopped lettuce or baby kale (see note)
1 medium zucchini, thinly sliced
2 1/2 to 3 cups (550 to 650g) roasted vegetables, such as eggplant, zucchini, or sweet potato (optional)
2 ripe Hass avocados, pitted, peeled, and chopped
Salt and black pepper, as needed
2 tablespoons (6g) chopped mint (optional)
Dressing: Whisk together the garlic, pepper, oregano, oil, lemon juice, and salt in a small bowl. Alternatively, combine the ingredients in a small mason jar, close the lid, and shake the jar vigorously to combine.
Baharat Chickpeas: Heat the oil in a medium skillet over medium heat. Add the chickpeas, baharat spice blend, salt, pepper, garlic powder, and onion powder and mix well. Cover the skillet and cook for 3 minutes. Add a splash of water to deglaze the skillet, stir, and continue to cook for another 3 minutes, or until the spices stick to the chickpeas and some chickpeas start to break down. Taste and adjust the seasonings.
For serving: Arrange the lettuce, zucchini, and roasted vegetables (if using) in each bowl. Add a serving of the chickpeas, some of the avocado, salt and pepper, and a good drizzle of the dressing. Top with the mint (if using) and serve.
Note: To make this bowl with baby kale, place the kale in a medium bowl and drizzle it with 1 tablespoon fresh lemon juice, 1 tablespoon extra-virgin olive oil, and 1 teaspoon maple syrup. Massage the kale for 1 to 2 minutes to soften it, then proceed with the directions.
Variation: Try this dish with caramelized-onion chickpeas. Heat the oil in a medium skillet over medium heat. Add 1 1/2 cups (180g) finely chopped onion and 3 cloves finely chopped garlic. Add a pinch salt and sugar and stir to combine. Cook for 7 to 9 minutes, stirring occasionally, until the onion and garlic are golden. Add the chickpeas, baharat spice blend, salt, pepper, garlic powder, and onion powder and stir. Cook for 4 to 5 minutes, deglazing with a splash of water if needed.
Baharat Spice Blend
Baharat is a very flavorful and strong spice blend. When used over neutral vegetables or chickpeas, it adds an aroma that is reminiscent of meaty kebabs. Try this blend with roasted vegetables, in burger patties, to flavor a cheese sauce, and in stews.
Makes about 1/3 cup (40g)
1 tablespoon black peppercorns
1 tablespoon coriander seeds or ground coriander
1 tablespoon cumin seeds
1 tablespoon Hungarian sweet paprika
2 to 3 teaspoons ground cinnamon
1/2 teaspoon ground cloves
1/2 to 1 teaspoon ground allspice
3/4 teaspoon ground cardamom
1/2 teaspoon ground nutmeg
In a blender or spice grinder, grind the peppercorns, coriander seeds, cumin seeds, paprika, cinnamon, cloves, allspice, cardamom, and nutmeg. Store the spice blend in an airtight container.
Related Posts