T.O.F.U. #12 | Cover Reveal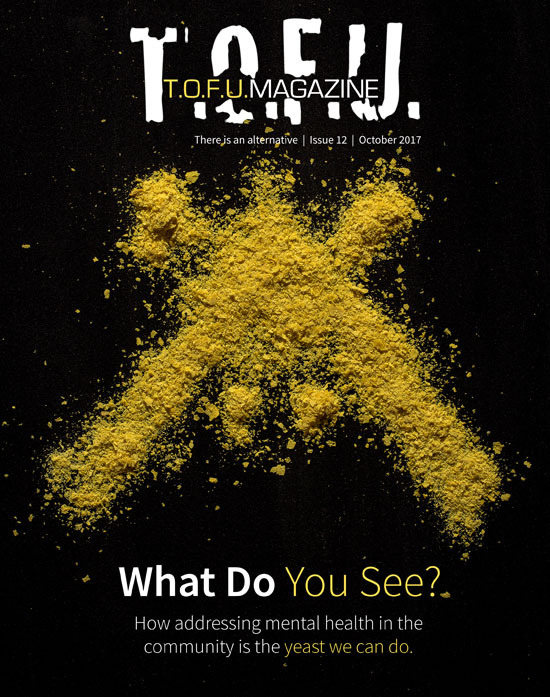 As I've written on the blog before, one of the first steps for me to starting on a new issue has always been coming up with a cover concept. I'm not sure why that's how I do things, but whenever I have an idea of what to put on the cover, I feel like I can start working on filling out the pages beyond that.
Needless to say, I've had this concept in my head for some time now, and I'm (once again) thankful that my good friend Devon Crosby was able to bring it to life.
So, why did I enlist someone on the other side of the world to take photos of nutritional yeast in weird shapes? In case it doesn't seem clear, here's a little bit about the concept.
Arguably one of the most famous tools of Psychology, the Rorschach inkblots are easily associated with mental health by many. Plus, the concept of each inkblot providing various responses appealed to me in the sense that mental health issues can be expressed (and treated) in a variety of ways. Accepting and adapting to this concept is something that our community must work harder on, and being inclusive of those with such things as anxiety, depression, addiction, and more is one of the first steps.
Now that the cover is public, I guess that just leaves the actual issue itself, right? Well, I'm happy to tell you that it should just be mere days before folks start to gain access to it! Of course, the first people to have the chance to read it will be the T.O.F.U. patrons who have subscribed to the magazine. If you haven't done so yet, there's still time. Just head over to the Patreon page, and choose your patronage level. For as little as $1/issue, you can subscribe to the magazine and receive priority access to each issue, as well as a number of other perks.
Otherwise, once those on Patreon have been notified, I'll be sending out a newsletter, and then the public release will happen soon after. Regardless of how you do end up getting the next issue, I'm excited for you to read the stories from all the authors (including this one), and to see the artwork the vegan illustrators have created to help fill the pages.
I suspect you're going to love it, but it's possible I'm slightly biased…
Oct. 07, 2017
Comments Off on T.O.F.U. #12 | Cover Reveal
Related Posts