Review | The Vegan 8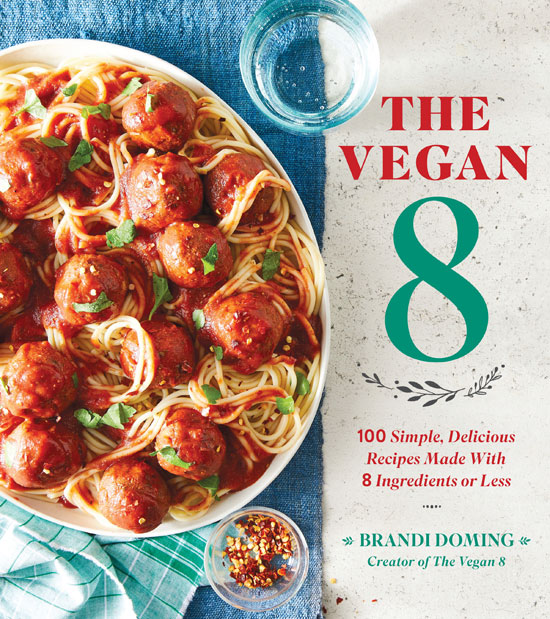 I have just recently moved, and I've found myself with a new schedule with very little time to cook during the weekday. Coupled with a teeny freezer which inhibits batch weekend cooking, I've come to rely on simple fast recipes that take very little mental power and effort. With this new routine I was given the opportunity to review a cookbook titled The Vegan 8: 100 Simple, Delicious Recipes Made with 8 Ingredients or Less by Brandi Doming, of the blog The Vegan 8. Eight ingredients or less sounded simple enough; and then I spotted the Time Crunched Lunches chapter, and I knew this book was made for me at this moment. Thus, I dived in to expand my "I'm too tired to cook" meal rut with enthusiasm.
The first recipe I tried was the Hungarian Red Lentil Soup. The weather had just turned, reminding us all that it's now winter in Canada, and biking to work is chilly. This soup is a creamy tomato-based soup with key additions of lentils, dry mustard, and Hungarian sweet paprika. Never a fan of any tomato soup (it ranks quite high on the 'avoid at all costs' list), I loved this take. The creamy combination of the tomato paste, lite coconut milk, and red lentils were fantastic. The lentils especially added body and a bit more oomph to the soup that is missing from a standard tomato soup. Carrots added a bit of texture: next time I will add something green to break up the colour palate a bit. I still found it to be very rich, typical of cream-based tomato soups, but the paprika and that hint of mustard cuts through that richness allowing me to enjoy the entire bowl. This single soup may have made me a tomato soup lover.
I then tried the Red Pepper Party Pizza Dip and the best way to describe it is pizza in hummus form. It tasted *just* like pizza! I had one swipe from the food processor and I was ecstatic. White beans make the base of the dip, with red bell peppers, tomato paste, Italian seasoning, and fresh basil. The result is hummus that is pizza. I made a quick roasted Portobello pizza with this dip as my 'sauce' and it was the fanciest Wednesday night dinner I've had in ages.
Brandi mentions in the book that she is from the Southern USA, of which all I know about the food traditions is from Souley Vegan in Oakland, California. Looking to learn more, I tried the BBQ Chipotle Green Lentils, which I made ahead for my lunch at work. The lentils themselves are flavoured with tomato paste, balsamic, smoked paprika, garlic powder, and some chili powder. Simple, right? The end result is rich and delicious and screaming to be served with some collard greens (my favourite of which are from Souley Vegan that I haven't been able to replicate yet). Not spicy, but a warming heat that I needed as I sat at my desk in my jacket. The lentils are the perfect foil for the sauce. The next time I make these, I will try my hand at some collards. Even if I fail, these lentils will make it worth it. I happened to find some smoked paprika in my spice drawer, but, if you don't have it, I think a drop of liquid smoke to the mix would be fantastic and result in the slightly smokey taste with the balsamic tang.
The book is split into chapters that track the meals of the day: Breakfast, Time Crunch Lunches, Snacks and Appetizers, Entrees, Soups and Stews, Desserts, and even includes Sides and Dips and Staples. The book has it all for the daily meal preparation, with some recipes appropriate for a casual dinner party. The introduction and preface helps with kitchen set-up and preparedness, focusing on ingredients, flavour enhancers, and substitutions.
This cookbook would be fantastic for those new to creating meals in the kitchen or folks who want to eat as soon as possible with minimal effort and maximum taste. With so few ingredients, the instructions are straightforward. I was continually surprised however how complex and layered the recipes were with just eight ingredients. Brandi relies on concentrated flavours such as garlic, saut̩ed onions, tomato paste, and carefully considered spice mixes to really pack a punch. A note however Рsome recipes are eight ingredients on technicality. I tested some that call for a spice mix or other such recipe which *itself* had eight ingredients, but I found that if you made the spice mix ahead you forgot about all that effort.
The publishers have allowed me to share a recipe with you, and I've chosen the Hungarian Red Lentil Soup. It was warming both in temperature and in taste on the chilly day I tested it, and I hope it brings you warmth as well.
For more information on Brandi and her cookbook, please visit her website.
Reviewed by Katie Hay
When Katie isn't exploring new cuisines and challenging food conceptions in the kitchen, she can be found at farmers' markets, building and designing bicycles, and planning her next life adventure.
Hungarian Red Lentil Soup
oil free gluten free nut free
Dinner doesn't have to take forever. This recipe comes together fast, thanks to red lentils and easy ingredients. The Hungarian paprika, dry mustard, and tomato paste give this simple dish a wonderful depth of flavor. This soup goes great with some fresh crusty bread!
Prep: 15 minutes
Cook: 23 minutes
Yields: 5 servings
1 packed cup (160g) diced yellow onion
3 medium carrots (154g), cut into 1⁄4-inch-thick slices
3 large garlic cloves, minced (15g)
1 cup (209g) dry red lentils, rinsed well with cold water
6 tablespoons (90g) tomato paste
2 tablespoons (15g) Hungarian sweet paprika
1 teaspoon (2g) dry mustard
1 1⁄2 teaspoons (9g) fine salt
1⁄4 teaspoon (1g) ground black pepper
1 cup (240g) canned "lite" coconut milk, well shaken
Add the onion, carrots, garlic, and 1 cup (240g) water to a medium pot over medium heat. Bring to a simmer, and cook for 8 minutes, stirring a couple of times during, or until the veggies are tender but not overly so. Remove the pan from the heat, and add the lentils, 2 1⁄2 cups (600g) water, tomato paste, paprika, dry mustard, salt, and pepper. Stir well, and bring to a boil over high heat. Cover, reduce the heat to low, and simmer for 10 minutes.
Add the milk, and increase the heat to medium-low; cook 5 to 10 minutes or until the lentils are tender yet still firm, and the soup thickens some. Stir often, and do not overcook, as you don't want the lentils to become mushy. Taste and add more salt, if desired. Serve immediately.
Nutrition per serving: 223 calories | 4.6g fat | 12g protein | 37.3g carbs | 7.9g fiber | 5.9g sugar | 878mg sodium
Note: Make sure the paprika you are using is not hot paprika. For the milk, it is important to use a creamy milk like cashew or "lite" coconut milk here for best results. The "lite" coconut milk is very creamy but yields no coconut taste. Almond and rice milks don't do well, and definitely don't use full-fat coconut, as it is too rich and thick and will ruin the flavour.
Dec. 22, 2018
Comments Off on Review | The Vegan 8
Related Posts