#OurNewNormal | Jacqueline Adamescu of Los Angeles, California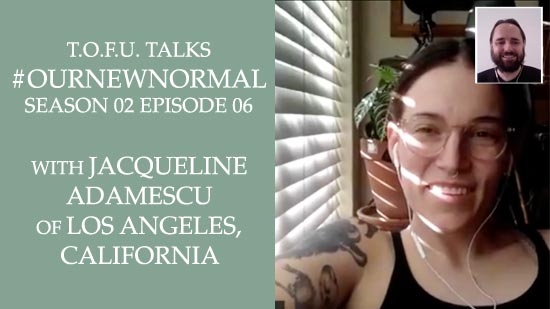 Originally streamed live on Facebook on April 24th, the sixth episode of the second season of #OurNewNormal, a T.O.F.U. Talks limited series, involves a conversation with Jacqueline Adamescu about her life in LA during the COVID-19 pandemic. As a public school teacher, union representative, and fellow independent activist publisher, the talk gets political pretty quick, but plenty is covered to give you an idea of Jacqueline's new normal.
To learn more about Jacqueline, please follow her Instagram.
Podcast: Play in new window | Download (Duration: 48:14 — 66.7MB)
Subscribe: Apple Podcasts | Google Podcasts | Spotify | Android | iHeartRadio | Stitcher | Blubrry | TuneIn | RSS
May. 07, 2020
Comments Off on #OurNewNormal | Jacqueline Adamescu of Los Angeles, California
Related Posts