Behind the lines: Vida Vegan Conference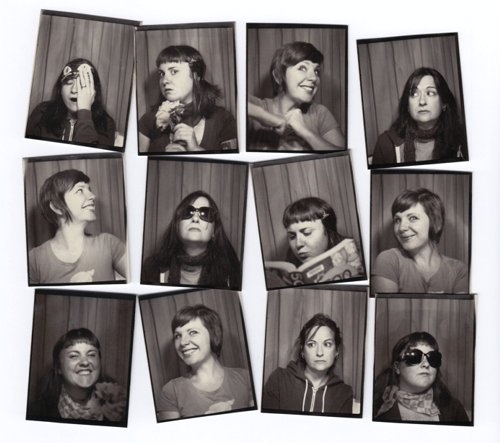 Alright, I've made no secret of my love for Portland, I know. I'm also aware of the fact that I have done a terrible job of hiding my excitement for being involved with the first annual Vida Vegan Blogger Conference this coming August. Of course, can you blame me?
With that in mind, I sent along a few questions to the lovely ladies of the Con so you could get to know them a bit more before you meet them in August. After all, you are going, right? Did I mention Isa and Terry will be there along with dozens of other lovely vegan bloggers?
Why start a vegan-blogger conference?

Janessa: There are so many amazing and inspiring bloggers out there–I read TONS of blogs, and know I only come across a small handful. I wanted to create a big group party for all of us–to build connections, make friends, explore the big beautiful vegan bounty of Portland, and to learn the ins and outs of veganism and blogging. From technology to privacy to recipes to dating and mating, we're aiming to have something of interest for everyone.

Michele: Purely selfish reasons, really: I would love to go to a blogger conference, but most conferences simply don't appeal to me. We're trying to create the atmosphere we'd feel comfortable in, with down-to-earth speakers, relevant sponsors, and lots of options for classes and activities.

Jess: I just wanted to see if certain bloggers really existed! And what they said.

Favourite part about it?

Janessa: Â It's terribly exciting to think how many fantastic people have agreed to speak at Vida Vegan Con. I get shivers when I look at our Speakers List. By the same token, I'm terribly excited to meet all the bloggers and readers who are coming who may not know many bloggers or many vegans in their town and are branching out, buying a ticket, and committing to the pure awesomeness of this event. So, to condense all my adjectives into a one-word answer: the people!

Michele: First of all, adorable little Canadian "u" in "favourite." Really, favorite part is seeing where our registrants are coming from. I've done a lot of road-tripping and have seen a lot of tiny towns. It's got to be tough being the town vegan–now they get to see other vegans in real life!

Jess: I'm going to go warm and fuzzy with this one: the camaraderie with my fellow organizers, laughter, support and anticipation.

Anything new people should know about?

Janessa:  Portland is really affordable and we're doing our best to showcase all the ways you can enjoy yourself while still saving a buck or two. If you're worried about cost, I can almost guarantee you that you can come for the conference, have the time of your life, take loads of pictures, eat piles and piles of delicious vegan food, and still not spend too much money. For any advice, feel free to email me personally at [email protected].

Michele: I'd love to see more folks on the Facebook group page. It's really for conference attendees, not just people who think VVC is a cool idea. You can find roommates to cut costs, set up ride shares, and tell us what you want included in the conference. It's your group.

Jess: Portland-wise, there's a new and intriguingly vegan-friendly pizza parlour that's recently opened, Sizzle Pie. Soy Curls! Basil Cashew spread! Late Night! VVC-wise, there is seriously something new that excites us every single week, whether it's speakers, topic ideas, special guests, location news, etc…

Are you expecting to go over the Portland vegan capacity? Are there not enough vegans there already?

Janessa: Â Too many vegans?! IMPOSSIBLE!

Michele: I can't wait to read about The Great Tempeh Outage of 2011.

Jess: I'm expecting some type of explosion after the Saturday night Gala-Rama and Silent Auction. There will be hundreds of vegans and quite surely, a fancy bean spread or two.

Will you be exporting the conference, and its vegans, to another city next year?

Janessa: Â Anything is possible! 😉

Michele: We've already joked about VVC 2012: Hawaii…but why the hell not, right?

Jess: Don't be shocked if we intentionally hold our second conference in a reclaimed Vegan Mecca, such as Seattle (just look at what Veganscore is up to there) or Chicago – or an up and comer, such as Milwaukee.  I wouldn't be surprised if Michele – she's a crafty one – is secretly working on a snazzy Vegan Mecca torch to hand on.

Who would win in a fight: Quinoa or Cous Cous?

Janessa: Â If Quinoa were called Quinoa Quinoa, we *may* have an almost equal fight, but as is it's just not fair.

Michele: I know I should say Quinoa, but you know what, man, Cous Cous is ready out of the barrel and up for anything.

Jess: I'm leaning towards bold Isreali cous cous, but if red quinoa is available it could be steaming worth watching.

What's THE thing a vegan has to do in your town? Actually, since you're in Portland, name three. Just three. =)

Janessa:
1. EAT ( Vegan Toffuffalo, Vegan Pho, Vegan Nachos…. even Vegan Croissants for crying out loud)

2. HIKE We have GORGEOUS trails all around Portland. And August, when Vida Vegan Con is going down, is the most perfect time to be in Portland. Get out and get active!

3. DRINK Portland has a ridiculous amount of Happy Hours– beers for a buck are normal, and many many bars have at least one solid vegan option on their menu for cheeeaaap.

Michele: Rent a bike and explore all four quarters of the city–that's bicycle, not unicycle. This city has enough unicycles. Seriously, a unicycle? Anyway, however you get there, check out one of the gazillion farmers markets. During the summer, we've got at least one going on somewhere. And make sure you get out at night. Our city is so beautiful at night. Grab some buddies and do a bar-n-cart crawl.

Jess: By "has to do", I'll assume we're talking has to eat, and I'm a food blogger, so:

1. Dinner at Portobello Vegan Trattoria

2. A spring or summertime meal at a food cart. Off the top of my head, 3 all vegan favorites are: Homegrown Smoker Vegan BBQ, Native Bowl & Kitchen Dances.

3. Bakery binge. Try and visit at least 2 of the 3 all vegan bakeries. And a VooDoo Doughnuts.
Related Posts