Belfast II – St. George's Market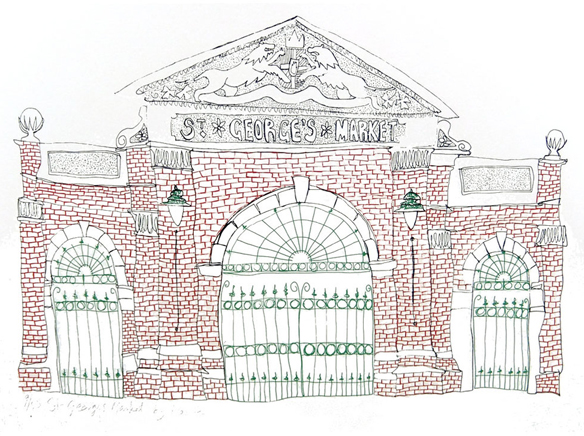 St. George's Market, by Flax Fox
While I was in Northern Ireland, I visited botanical gardens, a museum, and a castle… Of particular interest to vegans, though, is St. George's Market.
With a history that stretches back to the 19th century, when the structure that currently houses the market was built, St. George's Market is certainly the oldest community market I've ever had the pleasure of visiting! This long history helps contribute to the atmosphere (the latin motto built into the building, Pro Tanto Quid Retribuamus, means "For so much what shall we give in return?" This is a great motto for a market!), but can also be a little morbid (during the Belfast Blitz of World War II the building was used as a mortuary for over 200 of those killed in the bombings). History lesson aside, though, St. George's has a lot to offer.
St. George's Market is open from 6 AM – 2 PM on Fridays (the Variety Market), from 9 AM – 3 PM Saturdays (the City Food and Garden Market), and 10 AM – 4 PM Sundays (the Sunday Market). I visited on a Sunday, which was also their St. Patrick's Day celebration. There was lots of green and shamrock-themed food, crafts, and artwork – not to mention performances!
At first I wasn't sure if there would be much food for me… But as you can see, I walked away with a pretty sweet haul. The bread, which was tomato and fennel, came from the Barleycove Bakery, the carrot and sweet potato soup from The Soup Kitchen, and the pokora and samosa from Goloka Catering. I'm not including the baklava stall in this review, because although they told me it was vegan (minus the honey, if you count that), it tasted very strongly and distinctly of butter, so I can't recommend them!
Goloka Catering offers "homemade vegetarian & vegan cooking," "catering for all occasions," and "cookery classes." Shyam Das, the owner and operator, is also fantastic. There were lots of yummy curries available, but as I'd just eaten at Archana the night before, I wanted something different. Both the pokora and samosa were delicious, and the prices were very fair!
The Barleycove Bakery is frequently present at St. George's Market, and offers a wide variety of artisan bread – a good portion of them vegan! I bought half a loaf of tomato bread, and ate some of it the next day… It was filling, delicious, and cheap. If you're in and around the Belfast area, definitely give them a shot!
Oh man, the Soup Kitchen! These guys were fantastic. So very sweet and friendly, and the soup? Fantastic! I ate half that day and half the next (with my leftover artisan bread)… Delicious and nutritious. Plus, the owners let me know that they make an effort to provide vegan options in their ever-changing soup lineup, which I very much appreciate. They've recently been upgraded to a permanent stall at the market, with a brand spanking new sign. Check out their Facebook fanpage – I'm currently drooling over their curried parsnip and apple and spicy butternut squash concoctions…
Alright, that's it, that's all folks! From now on I'll be blogging about… Something else! I'm very grateful to have been given the opportunity to talk about my time in Belfast, as well as the amazing food I was able to eat there. The Republic of Ireland gets all the play, but I think I'll be visiting Northern Ireland again. Next time you fancy a British vacation, give Belfast a try! I don't think you'll be disappointed.
Apr. 02, 2011
Comments Off on Belfast II – St. George's Market
Related Posts