Highlight: Will Travel for Vegan Food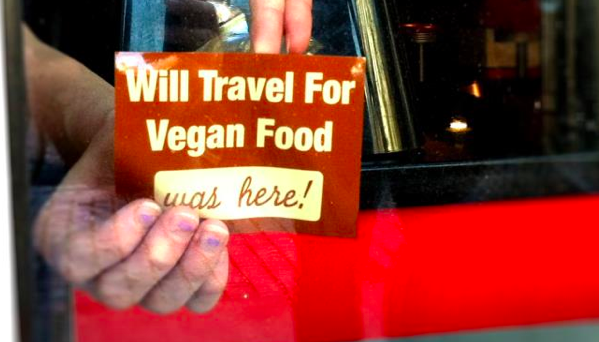 Since I would rather cram a lot into my last bit of time here in South Korea, this blog has been neglected. Also, given that I'll be traveling around half of the world in the next month, I doubt I'll be spending a lot of time in front of my computer. So, I thought it might be fun to hand the blog over to some other people to highlight what they're up to. Thus, continuing with the theme of travel (have you entered our contest with vegan artist Emaline Delapaix yet?), I would like to introduce you to someone who does have a handle on traveling and blogging, Kristin Lajeunesse.
A tale from the road
It was late and I was tired. I had just spent a lovely day gallivanting around Bethlehem- and Scranton, Pennsylvania in search of vegan noms. I checked into a hotel that night as I was preparing to fly out to Puerto Rico the next day to meet up with a friend for a two-day jaunt in Old San Juan, which meant getting up early to drive to NYC, where I was departing from. I was getting ready to take a shower and it hit me, I have a giant piece of chocolate cake from Vegan Treats in my bag! Late night indulgence, here I come! I quickly opened the box and without taking a second glance I shoved that cake into my mouth. I closed my eyes for a second as I began to savor the sweet flavor and as I opened my eyes to see what the damage from my initial bite was, there they were… dozens of little ants crawling on top of AND inside of the cake! GULP. I managed to get the first bite down but couldn't bring myself to eat any more of it. I left the rest for the ants. That's what happens when you leave something super sweet in a warm vehicle for hours at a time! Sigh.
The reason
Welcome to my project, Will Travel For Vegan Food! My name is Kristin and I'm currently on a yearlong, vegan food focused road trip across the country. The goal is to attempt to eat at all of the 100% vegan restaurants in the United States, while also visiting all 50 states, volunteering at farm animal sanctuaries, and interviewing vegan business owners. I'm about six months in, and have been living out of my van, Gerty. I'm having the time of my life and love sharing my travel experiences, even the icky ones!
The ups and downs
So far, the ant story is actually the grossest experience I've had. Haha! Aside from that this road trip has been pretty amazing. There was however, one week where things weren't going according to plan. I was in DC and one day I lost my driver's license, the next day I got a parking ticket, the following day I got kicked out of a parking lot for sleeping there, in my van, and the final day of the series of frustrating events, was the starter on the van went. So I had to have her towed to a shop to get her fixed. Oh yeah, a few days after that one of the brake lines went. There's nothing like pushing your brake petal to the floor to only keep going. Scary stuff! Thankfully I was in a major city and was able to get everything sorted out within a few days, no problems. When you're driving a 95 sports van with 160,000 miles on it, you expect things to go awry every so often. If anything, I've learned to take things as they come, not panic, and just find a way to get it all sorted out.
I'll be finishing up the East Coast portion of my trip by the end of June and will then begin to head to the middle of the country as I make my way West. Stay tuned, as this adventure is sure to lead to even better, "gasp, omgawd that did NOT happen," experiences along the way.
Who am I?
Kristin Lajeunesse is a full-time blogger, driver, and eater of vegan food. She's also a part-time social media consultant and motivational speaker. Kristin founded the first, and currently only website dedicated to providing resources for couples looking to veganize their wedding day, Rose Pedals Vegan Weddings. She's got a MA in Integrated Marketing Communications from Emerson College and a BPS in Business Management, with a Specialization in Equestrian Studies from Cazenovia College. Follow Kristin's vegan food journey and road trip at wtfveganfood.com.




Related Posts