Review: Cooking Vegetarian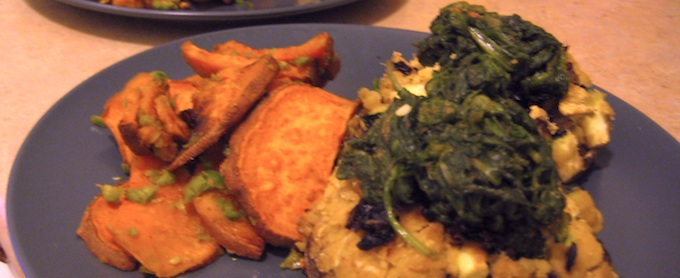 This book is sectioned off into two parts: Part One is "making sense of food choices" and Part Two is the recipe section. If you are new to being vegetarian or vegan, I like this idea. Or if you purchased this book because you have one in your life and would like to cook for them without asking a million questions first. However, if you are a veteran vegetarian, then the first part will be a little elementary. Even the introduction is a little much for me. "The art of cooking", "the science of nutrition", "the six tastes" and other similar headings are not something that I look for in a cookbook. I'm all about pictures and specifics on the ingredients and recipes I'm using. That being said, once you get past Part One, this book has some really delicious recipes.
The Recipes
The first one I made was the Fiesta Quinoa Salad with Lime Dressing. I had a BBQ to go to and wanted to bring a side that everyone could enjoy. This salad was very easy to make; tasty, light, and just downright summery. I'm a big fan of quinoa. Its gluten free, light, healthy, and packs a good protein punch. This awesome pseudo-grain paired with the lime dressing and veggies was SUPER yummy. I LOVE sesame oil, so this dish had no hope of escape. My only complaint is the measurement style, but this could just be a personal preference. It was "½ cup cucumber", "¼ cup red pepper", etc… I don't know what that is, and I don't like to waste food. I like measurements such as "½ a medium sized cucumber", "½ a red pepper", "two garlic cloves", you get the idea.
Next up I made the Dhal-icious. I really love Dhal. It's an amazing spiced Indian dish that will nourish and warm your soul. I made a couple adjustments to the recipe though because I forgot to pick up some garam masala. So I added a few extra spices to it that garam masala contains like cardamom, cinnamon, and pepper. Then I threw in an extra ½ tsp of curry powder. The other adjustment was that I added an extra cup of water. I believe that Dhal shouldn't be too thick. This dish was flavourful and fragrant. It tasted so vibrant and yummy. I used green lentils, but any lentils can be used. Red or yellow produces the most visually appealing dish, but they will all taste good. Lentils also provide a huge amount of protein, which I think makes them super filling. So although I ate mine without, they would go great with some brown or basmati rice.
The next two dishes I made together, and they were by far my favorite. I made the Portobello Mushroom Burgers with Chickpea Topping and Baked Yams with Lemon and Green Chili. I freaking LOVE Portobello mushrooms. They are nice and meaty, so they fill you up and they are super flavourful and versatile. This recipe was pretty awesome in fact. They tell you how to make the mushroom marinade, chickpea topping, and then give you some ideas on garnishes. You by no means HAVE to eat it inside a bun like a burger, which I did not. I just ate them stuffed, with some sautéed spinach and the baked yams. For the sautéed spinach, I used some garlic powder, lemon juice, cayenne, and a pinch of sea salt. The baked yams were super spicy and delish!!! Perfection in fact. I love it HOT!
Over all I liked the cookbook. The recipes are good, easy to make/follow, use well known ingredients, and are tasty. I will get a lot of use out of this book for sure!
Reviewed and recommended by Krystle Charlton
Photo: Portobello Mushroom Burgers with Chickpea Topping and Baked Yams with Lemon and Green Chili
Jun. 24, 2012
Comments Off on Review: Cooking Vegetarian
Related Posts