The T.O.F.U. Grant: Round Four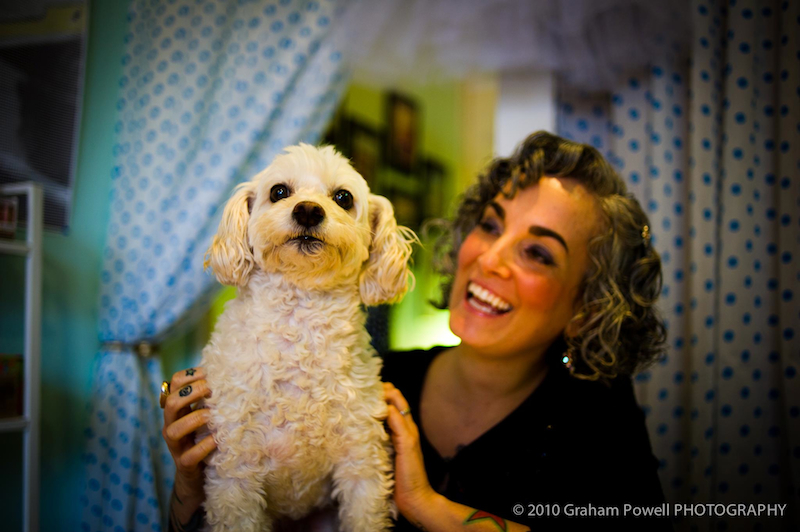 I'll be honest, once I had the focus of issue seven nailed down, the next concern on my mind was figuring out who would receive the fourth T.O.F.U. grant. It's not that I was going to be handing them a large bag of unmarked bills, a small tropical island, and a lifetime supply of kale or anything major like that. But, since I decided to dedicate half of each issue's advertising revenue to it, the grant has become a very important part of what I do with T.O.F.U.
And so, I kept my eyes and ears open to see who was doing what in the vegan scene. Little did I know, the first sign had been placed in front of me years ago. And, given the success of that one cookbook, I suspect it's been in front of many of you as well. Of course, it wasn't until some major events happened that all of these signs came together to make up my mind that the next T.O.F.U. grant recipient would be Sarah Kramer.
Building a Community
Long before everyone and their blog had a publishing deal, let alone a single vegan cookbook in Barnes & Noble, Sarah Kramer was spreading the vegan message through great plant-based recipes and her charm. Although the start of her publishing career rings a little close to the T.O.F.U. home, Sarah's first zine eventually became the original vegan bible that is How it All Vegan. With over a quarter of a million copies sold worldwide since it was published over ten years ago, that book, like Sarah, laid the foundation for so much of what has happened in the vegan community.
But Sarah didn't stop there. With two other books (Garden of Vegan and La Dolce Vegan), a travel-friendly compilation of recipes (Vegan A Go-Go), and an iPhone/iPad app (Go Vegan! with Sarah Kramer) under her belt, Sarah took an even bigger step and opened her own vegan boutique (Sarah's Place) in Victoria, BC, Canada two years ago.
This time, it's personal
If you've had the chance to talk with Sarah in some way, whether it was through a tweet, an email, a blog comment, or while looking through all the wonderful and curious things in her boutique, chances are you already know how nice she is. Of course, that's always been a part of what made Sarah and her work so great: it was personal. From her near daily pics of her dog, Fergus, to the fact that her store is filled with hand-picked finds of curiosity and beauty, Sarah's secret ingredient to her success seems to always be a simple dash of herself in everything she does.
So, when she broke the news that she had breast cancer, it was no surprise that the support was almost immediate. Even though those in the vegan community can certainly get wrapped up in a lot of drama, especially online, this time it wasn't about who now ate what for what reasons. This time it was about Sarah, and, instead of tearing something or someone down, people were doing something positive: they were touching themselves.
Taking care of business
Over two months and a bunch of blog posts later, a lot has happened for the newest grant recipient. As can be expected, there have been some ups and downs, and there are more to come, but at least one constant has been the support of the vegan community. Of course, when you're running your own business, flowers and get well cards can only go so far before the bills take over, especially when you're faced with recovering from surgery and needing to work at the same time.
Although I can't relate to recovering from serious surgery, especially a mastectomy, I do understand the toll a small business can take on a person, even when they're healthy. So, for this and many other reasons, the best way I could think of to help Sarah and thank her for everything she has done for more than a decade was the T.O.F.U. grant.
If you'd like to show your support or tell Sarah thanks, here are some of the ways you can reach her:
Related Posts