Plum: Gratifying Vegan Dishes from Seattle's Plum Bistro (A Review)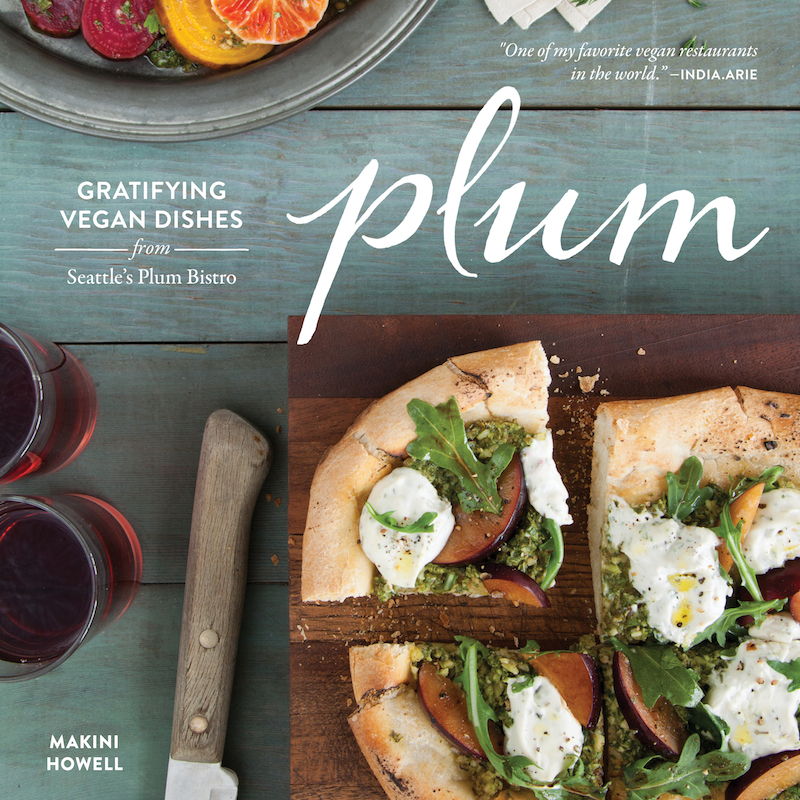 Judge This Book By Its Cover (and Pages)
At first glance, this cookbook is gorgeous. Beautiful, colorful pages filled with delicious and fresh looking food. It is broken up into sections ranging from fundamentals, beginnings, small plates, salad & soups, transitional raw, tofu, tempeh & seitan, pasta, grains and dessert; there is nothing lacking in this book. Even a dog treat recipe in the back (which pretty much won me over). Also many of the recipes are gluten-free and soy-free.The introduction written by Makini Howell herself is an honest letter to the readers on her approach to veganism and Plum Bistro. Lifelong vegan, she provides fresh, sustainable, and organic meals that never lack in flavor. She also sources 90 percent of Plum's foods from local, small farms.
The Plum of All Its Parts
While searching through the recipes they all seemed to have a lot of ingredients. I must admit I was a little intimidated at first, but don't let that fool you! These recipes are easy and full of flavor. The Good Old-Fashioned Blueberry Pancakes (pg.15) are the perfect vegan pancakes I had been searching for; so fluffy! The original recipe calls for gluten-free flour, I used regular all purpose flour and they still came out great. The Habanero Yam Soup (pg.43) was spicy and comforting, perfect for cold nights; I will definitely be making this all winter. One of my favorites is the Pesto Plum Pizza with Balsamic Arugula; SO GREAT. So much flavor, so amazing. It includes Basil-Walnut Pesto (pg.9) and Basil Soy Ricotta (pg.8) and Agave Balsamic Vinaigrette (pg.9), all located in the Fundamentals section. I was pleasantly surprised with how well the flavors blended and the plums added a delicious sweetness, I couldn't get enough! Basil-Walnut Pesto is going to be my go-to pesto recipe from now on, very simple and with the arugula added it is the perfect flavor.
A New Favorite
Along with now being inspired to take a trip up to Seattle so that I may experience Plum Bistro firsthand; this has to be one of my favorite cookbooks of the year. It is one beginning and seasoned cooks will enjoy; I know I will be planning meals out of Plum for years to come.
To find out more about Plum, please visit their website.
If you wish to purchase the book through Amazon, you can find it here
.*
Reviewed by Raquel Moreno
Raquel is a mom to a basset hound named Bentley. She has a penchant for craft beer, zombies, and feminism, and you can find her in the warmer parts of the USA often debating whether or not she should get a new tattoo or another friend for Bentley. Or both.
* This post contains affiliate links. If the product is purchased by linking through this review, T.O.F.U. receives a modest commission.
Dec. 17, 2013
Comments Off on Plum: Gratifying Vegan Dishes from Seattle's Plum Bistro (A Review)
Related Posts