Review: Fran Costigan's "Vegan Chocolate"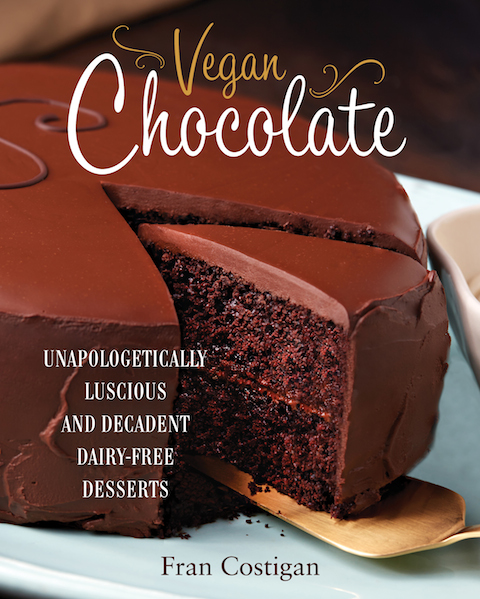 Whenever I review anything that has to do with food, baking, cooking, or recipes, I always let people know first that I am not a food blogger. I love good, vegan food and every once in a while I blog about an incredible food experience I have had, but my blog is not focused on food.
So I am ecstatic to offer you my first cookbook review, a review of Fran Costigan's new-ish cookbook, "Vegan Chocolate – Unapologetically luscious and decadent dairy-free desserts".
Let's jump right in!
Learning the Basics
I love a cookbook that introduces me to new information, or helpful information, before going into recipes. Fran's sections about the ingredients, chocolate, and equipment are very helpful. Especially the equipment. If you are a frequent baker you may already have all of the equipment she writes about. I am not, and the list was for sure an educational experience.
Another thing I loved right away were her suggestions. Some of them I just know were written just for me, like the one that says to read through the entire recipe first. She actually mentions this a couple of times. Thanks Fran. People like me need to be reminded of this, otherwise we get to the middle of the recipe and realize we don't have something we need.
Baking Like a Pro
I made four recipes out of the cookbook, starting with the Gluten-Free Brownie Bites on page 126. I made them for a gathering we had on New Year's Day and they were a huge success! The ingredients were all easy to find at the local grocery stores Mike and I shop at and all of the items I needed we already had in our kitchen. The brownie bites require the Homemade Sweetened Prune Puree on page 127. Both recipes were easy to understand. I have to say that when I started reading the cookbook, I instantly became overwhelmed. There was no way I could make these recipes, they were simply too intense!
Half way through the first recipe I realized that this was not true. Read the recipe all the way through. If you are like me and need a little more, then read it a couple of times. Take your time. And before you know it the seemingly overwhelming recipe will be coming out of your oven in perfect condition.
Another thing I love about this cookbook is that the instructions are numbered, well thought out, very clear and, for me, easy to understand. This is a big deal for me.
I also tried the Bittersweet Cashew Cream Truffle Squares on page 43, which, like the brownies, required another recipe, the Basic Cashew Cream on page 284. This recipe was rather simple for me, and I was already feeling more comfortable with the cookbook. The only tough time I had with this recipe was getting the truffles-to-be off of the parchment paper without completely mangling them. In the end though, just like the brownies, they came out totally delicious.
The Journey Continues…
There are so many other recipes to try, and I am excited to continue my baking journey with Fran's "Vegan Chocolate" by my side. I highly recommend this cookbook for anyone who likes sweets and/or chocolates, regardless of whether or not you feel you are a baker. Go for it!
To find out more about Fran and her books, please visit her website.
If you wish to purchase the book through Amazon, you can find it here
.*
Reviewed by Dan Hanley
Dan and his partner, Mike, blog at The Gay Vegans about politics, getting politically active, being a voice for the voiceless, places they love to go to find the best vegan food, as well as overall being a gay, vegan couple in the suburbs.
Website | Facebook | Twitter | Instagram | Pinterest
* This post contains affiliate links. If the product is purchased by linking through this review, T.O.F.U. receives a modest commission.
Related Posts