#freeanimals: The First T.O.F.U. Giveaway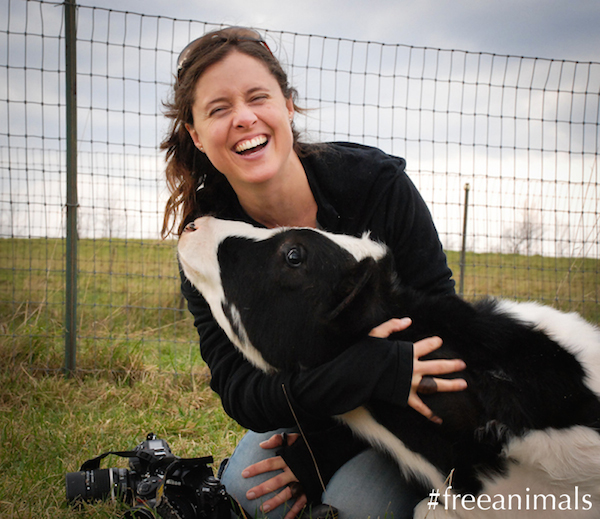 After being a part of the vegan world for so long, you would think T.O.F.U. would have done a million giveaways by now. However, unless I'm forgetting things as the years roll by, it seems this one is the first! With that in mind, I'm thrilled that this is how the first big step is being taken.
We Animals: The Project and the Book
By now, I hope a lot of you have heard about The Ghosts in Our Machine, and, by extension, the work of Jo-Anne McArthur through the We Animals project. Depending on how far back into the T.O.F.U. catalogue you've read, you may also recognize her as the second T.O.F.U. Grant recipient from issue #5 when she was interviewed by Kathryn Asher.
Nearly three years later, Jo-Anne is still producing intelligent, emotional photos. Along with this, she's also the author of We Animals, an amazing 200+ page hardcover book that highlights not only her photography over the past decade, but also her thoughts as she travelled around the world from slaughterhouses to sanctuaries and everything in-between.
So, as a big fan of Jo-Anne and her new book, it should come as no surprise that I'm happy to announce that T.O.F.U's first giveaway is a copy of We Animals.
#freeanimals: Which One is Your Favourite?
Although Jo-Anne's work can be heartbreaking at times (as it should), there are also a number of images that focus on the positive interactions between animals and people as well. Whether it's a cow at Farm Sanctuary or an adopted puppy, We Animals also celebrates love and compassion.
With that in mind, I want you to tell/show me one of your favourite animals over the next two weeks through Facebook, Twitter, Instagram, Pinterest, Google+, tumblr, or maybe even an email! Use the hashtag #freeanimals and include T.O.F.U. or myself (Ryan Patey) depending on what social platform you use. On Thursday, March 20th, I'll be randomly drawing a name from those who enter, and that person will have the book shipped to them anywhere in the world.
Thanks for caring,
Ryan
Photo Credit: Jo-Anne McArthur / We Animals
Mar. 12, 2014
Comments Off on #freeanimals: The First T.O.F.U. Giveaway
Related Posts