Highlight: Vegan Package Swap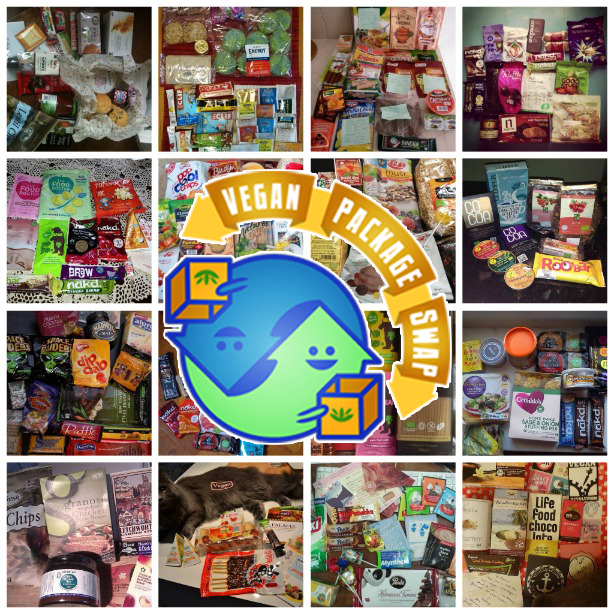 Most of us get to that point in life, especially our professional one, where we ask ourselves "What am I doing with my life?", right? Life today is usually too crazy, too busy, too much of many things, and usually not the good ones. But you just keep going. Sometimes you know you should be doing something else, but most of the time you just accept that this is your life.
I was close to this point in 2012. Life seemed very chaotic then for a very specific reason: I had a newborn and no desire to look for a job. Since I moved to Europe – from Brazil – in 2008 I hadn't had a proper job and that was already a lot of change in my life. I was doing freelance work and writing about veganism for some magazines around the world. You might think that sounds pretty good and I agree. It was very good. Plus, I had my own blog, All About Vegan Food, to use my skills as an online journalist. However, a lot of the work I was doing for other people was being done for free. For a few years, I did this happily, but then I reached the point where I wanted to do more and I needed to invest in something that would give me a financial return eventually.
The Turning Point
That's when things started to change. My son had turned one and I still wanted to be with him as much as I could. So, I decided to dedicate the rest of my energy to turn my personal blog into a vegan website. However, I wanted to offer something new to my audience. I was writing about vegan food and so were – and are – hundreds of other blogs, websites, and magazines out there. I was not a brilliant chef and I couldn't travel the world reporting my adventures, so what could I do? One day, during the second semester of 2012, after opening a box full of vegan treats that came from one of my best friends, the idea of a vegan swap came to me: I'm always exchanging vegan packages with my friends and we all love it, so why don't we offer something like that through a website?
In that moment Vegan Package Swap was born, and I thought my idea was brilliant and I was a genius, so I congratulated myself. Of course, that was until I went online to research about it and "voila" there were already three vegan swap projects happening around the world. I read everything I could find about them and realized two important things: they were all national ones and they only swapped food. Those two aspects became the key to the Vegan Package Swap. It would be the first worldwide project and subscribers would be encuraged to swap more than food. My husband is a web developer, and since he was already helping me with the website, he decided to create a system to pair up subscribers and a message system so they could communicate between themselves. After four months of work, we launched Vegan Package Swap and the first edition happened a little over a year ago, in March 2013.
To our surprise, the project quickly became far bigger than we had imagined! I still remember my husband and I talking about the first edition and wondering how many subscribers we would have. Bets were between ten and 50. We had around 150 and the numbers kept growing.
Bigger and Better
Today, one year later, we have around 1,300 subscribers. For each edition we get between 180 and 300 participants – you don't need to join it every month. The majority of the swaps go really well and we get very positive feedback. There are a few "issues" according to our swappers: shipping prices, that makes many of them still choose to swap just in their own country or continent, and missing packages (we do not take responsibility for this and there are some post services problems). And in very few occasions we had people who subscribed and didn't send the package. What?! Yes, that's my thought too. Why would vegans do that? Unfortunately, being vegan doesn't mean you're automatically a good person, free of bad intentions (although we all wish this would happen). Due to these problems, at the end of 2013, we came up with the idea of the Super Swapper, a paid subscription where our swappers pay 1,99 Euro/month and get package insurance and other special features, such as the possibility of choosing their pair and exclusive giveaways. Along with that, the Super Swapper is a way to support the project, given that we currently don't make money in any other way from Vegan Package Swap.
So here I am, in 2014, working from home at my dream job: writing and managing a vegan website and a really cool project. Thanks to this, I get to see vegan goodies travel the world, and people connecting with other people and learning and trying new products.
And if you are wondering if we also swap with our subscribers the answer is "yes". We wouldn't dream of missing the best part!
Written by Glauce Ferrari
Glauce wrote "Made in Brazil" for the sixth issue of T.O.F.U. and has kept busy ever since. You can keep up-to-date with All About Vegan Food, Vegan Package Swap, and her in the following ways:
Website | Twitter | Facebook | Instagram | Google+ | LinkedIn
Apr. 06, 2014
Comments Off on Highlight: Vegan Package Swap
Related Posts