Review: Sweets from the Earth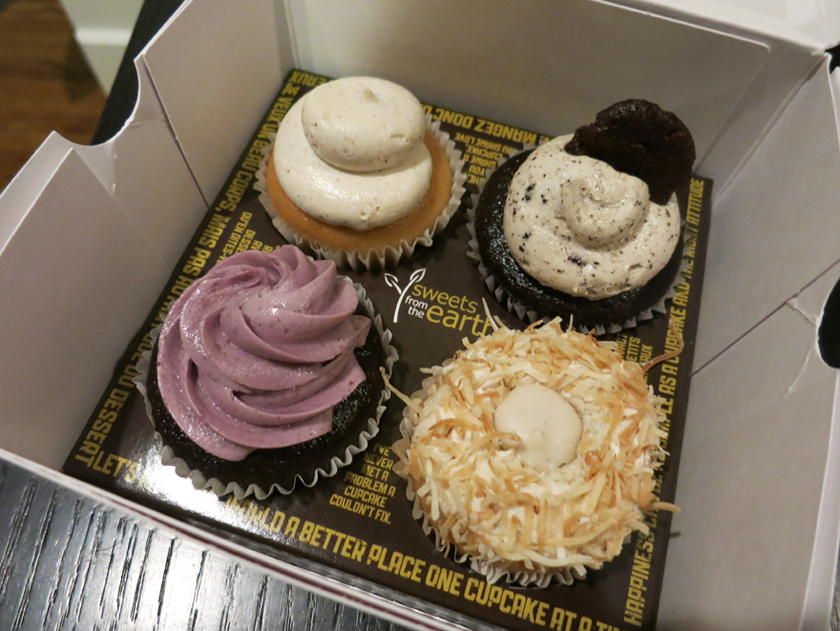 If you live in Toronto you'll probably be familiar with Sweets from the Earth products. Their packaged baked goods can be found at health stores, cafes, and mainstream grocery stores all over the city and have gradually spread across Canada. So when I was offered the opportunity to sample and review a few of their products I looked forward to it.
Sweet and Sensitive
Sweets from the Earth offers vegan, and either gluten-free or nut-free baked goods. As someone that knows people with serious allergies, I appreciate their dedication to maintaining a separation between potential allergens. They have two separate facilities: One dedicated dairy, egg, peanut and nut-free, and the other dairy, egg, wheat and gluten-free. Thanks to these considerations, this also means they provide a vegan option that is safe for nut-free schools. In addition to making cupcakes, muffins, cookies, bars, boxed cheesecakes, and breads, Sweets from the Earth also makes larger cakes for restaurants and weddings (including mine) and do a variety of special orders too.
This month a lovely special delivery from Sweets from the Earth arrived at my door full of delicious vegan treats – In the box – 4 assorted cupcakes (Coconut Cream, Vanilla, Lavender Chocolate, and Cookies n Cream), a spiced carrot cake square, a goji berry super stuffed cookie (a Sweets from the Earth / Chef Doug McNish collaboration), and two "bake at home" cookie dough tubes (one gluten-free chocolate chip, and one nut-free double chocolate). Of course I say "bake at home" because they can also be "eat raw at home." Follow your heart (I did.)
Spiced Carrot Cake Square
I generally don't like carrot cake, so of course, I started with the Spiced Carrot Cake square. It was moist and nicely, but lightly, spiced with a complimentary layer of cream-cheese frosting on top. I was impressed with the texture, especially for a packaged product. Overall, it was delicious. The only criticism I have of it is the packaging is plastic wrap, and I wonder if they've pursued any alternatives.
Cupcakes
Next, my partner and I worked our way through the package of cupcakes – Coconut Cream and Lavender Chocolate being easy winners, both with incredible presentation and especially unique flavours. It's also nice to be able to walk into a 24 hr grocery store (at least locally) and pick up a 4 pack of these vegan cupcakes in case of "emergency".
Cookies
The Goji Berry super stuffed cookie was tasty, but had a bit of a soft stick to your teeth quality. It was a unique soft cookie, with a hint of spice, stuffed with a goji berry preserve, and sweetened with coconut sugar. It was also gluten-free, and probably something I'd grab again in the future. But I'm more likely to grab the Fudge Super Stuffed Cookie (because of course, chocolate.)
Eventually, I got to the dough. And the debate began about what to do with it. Eat it? Bake it? Why not both. I followed the baking instructions exactly for the gluten-free chocolate chip cookies and ended up with a batch of extremely lovely cookies, and still set aside some of the cookie dough. They were delicious baked and raw, and I was impressed that they were gluten-free – I couldn't tell without checking the package. The nut-free double chocolate cookies were my least favourite of the entire selection, and left me wondering whether I'd prefer to try the gluten-free version instead (which I have never wondered before.) They were sweet, chewy, and chocolaty, but possibly too sweet for me.
Overall, it's great to have Sweets from the Earth as an option in Toronto and across Canada, and nice to have a company dedicated to making quality vegan products that avoid many common allergens.
For more information about Sweets from the Earth and their vegan products, please see their website.
Reviewed by MeShell Gudz
MeShell lives in Toronto, likes science, vegetables, technology, coffee, and social justice. And cats. All the cats.
Oct. 23, 2014
Comments Off on Review: Sweets from the Earth
Related Posts