Review: The Veggie-Lover's Sriracha Cookbook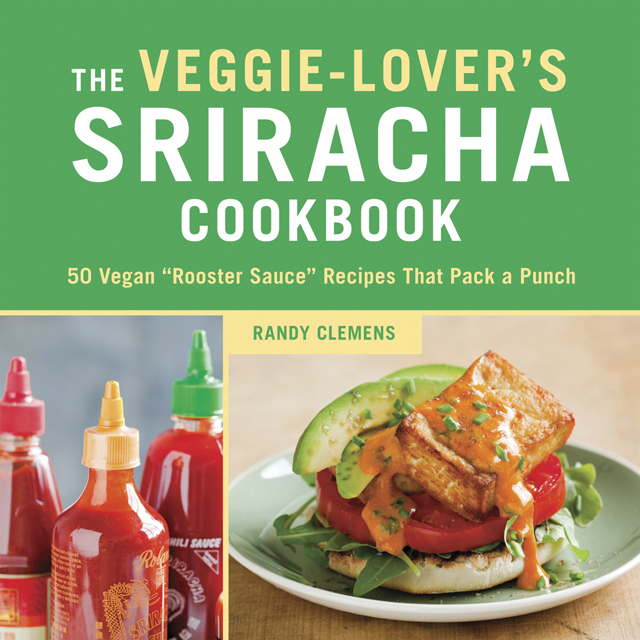 Randy begins with a disclaimer: He's not a vegan or vegetarian. He's a lover of vegetables, and has a theory that people who hate veggies hate them because they've been neglected, pushed aside to overcooked and mushy or undercooked and raw status. His mission is to change all this, and he doesn't waste any time. The intro consists of an Ode to the Vegetable, a brief history of Sriracha and all its glory, and a quick introduction to substitutions and "hippie ingredients", he then gets right to the recipes.
DIY, Oh My!
The ultimate DIY book, the first recipe is homemade Sriracha. Sure, you can buy it, but where's the fun in that? Mine turned out fantastic, even though it was green (I couldn't find red jalapenos). No substitution to the original, I loved fermenting the jalapenos myself, and the vinegar/garlic tang was more pungent here. I found myself mixing-and-matching Srirachas for different applications, like a wine connoisseur. The DIY approach is strong in this book: don't have mayo? No problem – there's a recipe for that. Want to make the phenomenal Braised Eggplant Tagine with Sriracha Harissa and Mint-Coconut Crema, but don't have Harissa or Ras-el-Hanout? No worries – recipes for both! I did not make the mayo, but the harissa is fantastic, and in my opinion superior to the bought stuff at my local Persian market. The ras-el-hanout mixture lent a warmth to the tagine that paired with the harissa and resulted in a thick, spicy, tomato stew of greatness.
Full of Surprises
Of the 50 recipes I tried over 30%, and all were winners. Aside from the Eggplant Tagine, the Soon Dubu Jugae, a Korean version of miso soup, and Fiery Pho Chay were ones I've made multiple times since. The Pho broth is made by first burning onions, then simmering the onions in broth made with Sriracha, Chinese five-spice, dried mushrooms, and kombu. Various vegetables are thrown in at the end, with the result of a warming, addictive, and amazing broth full of depth. The Burning Thai Bruschetta brings Thai and Italian together in a wonderful mix – think classic bruschetta with lime and a hearty dose of Sriracha, and the Five-Alarm Black Bean Soup was simple comfort food, proving once again that the LBD of soups can surprise with flavour. Randy flaunts his creativity in the Sriracha Shakshuka, a traditional Israeli breakfast of a tomato broth with eggs. In lieu of eggs, tofu is an adept stand in, soaking up the tomato sauce of thyme, paprika, cumin, and fresh parsley garnish. However, the California Benedict with Sriracha-Chive Hollandaise is the pinnacle of creativity, and a discovery for me: Benedict's are so much better with Sriracha! Less creative, but no less tasty, are the Mouth-on-Fire Minestrone and Jackfruit Pulled Pork Sammiches with Pickled Red Onion. The most surprising dish in the book for me though was Sam's Jamaican Jerk Garbanzo Sliders with Mango-Cucumber Relish. The patties obtain most of their flavour from the Jerk Sauce mix-in, an enticing combo of Bragg's, thyme, ginger, all-spice, cinnamon, and nutmeg. I was a bit leery when reading the ingredients, but as with the Pho, the spicy zing of Sriracha makes them all work. Topped with a quick mango-cucumber-lime chutney/salsa, the whole dish together transported me right to Jamaica, with the perfect ratio of warming spices to fiery heat.
Lest we forget about dessert, the Super Simple Peanut Butter Cookies have six ingredients, and flour is not one of them. When out of the oven, they're like eating raw peanut butter dough balls, with a gentle kick from the Sriracha. Not for everybody, they're not too sweet and challenge the concept of a "cookie". As a result, they got mixed reviews in the office, but those that like their desserts on the savoury side loved them.
With so many creative dishes, it was hard to come up with just these to highlight. The Sriracha-Cucumber Hummus was nothing short of genius, and although my crepe skills have not improved, the Banh Xeo (a Vietnamese breakfast crepe) was delicious – or what I rescued from the pan. With so many more recipes to try, I will be making every one.
Being Wrong Tastes Great
The cookbook rights some wrongs, and is truly an ode to vegetables and that fiery rooster sauce that so many of us love. The recipes are simple and quick to pull together, and all are weeknight friendly. I was introduced to new flavour profiles, most notably all-spice and Sriracha and all its fantastic applications from Pho to Jamaican Jerk Sauce. I thought I had tried it all when it came to Sriracha, but Randy continually amazed me. I was happily proven wrong, and challenge you to be proven wrong as well. With only 50 recipes, it's not the largest cookbook in the collection, but it will be one of the most used. An extra bonus for those who are cooking for non-vegans: Randy notes in side notes where vegetarian items such as eggs, milk, and sour cream would be appropriate. Overall, I was wowed by this little cookbook that could, and awaiting dinnertime with great anticipation for what new Sriracha creation would be unveiled.
The publishers of the Veggie Lover's Sriracha Cookbook have been kind enough to let me share with you a recipe. I give you the Fiery Pho Chay: I challenge you to make it just once! The vegetables are flexible, and whatever you have in your fridge should work. My favourite combination is the one suggested though: broccoli, carrot, and the addition of Chinese greens (bok choy, gai lan, gai choy, etc.) for some bright colour. Pro tip: when ready to serve, instead of throwing out those wonderful dried mushrooms and kombu, slice the mushrooms to bite-sized pieces (~2mm thick) and chiffonade the kombu and throw them back into the pot! They add fantastic texture and flavour to your Pho de jour.
To find out more about the book, please visit the Random House website.
If you wish to purchase the book through Amazon, you can find it here
.*
Reviewed by Katie Hay
When Katie isn't exploring new cuisines and challenging food conceptions in the kitchen, she can be found at farmer's markets, building and designing bicycles, and planning her next life adventure.
* This post contains affiliate links. If the product is purchased by linking through this review, T.O.F.U. receives a modest commission.
Mar. 31, 2015
Comments Off on Review: The Veggie-Lover's Sriracha Cookbook
Related Posts