Review: Vegan Without Borders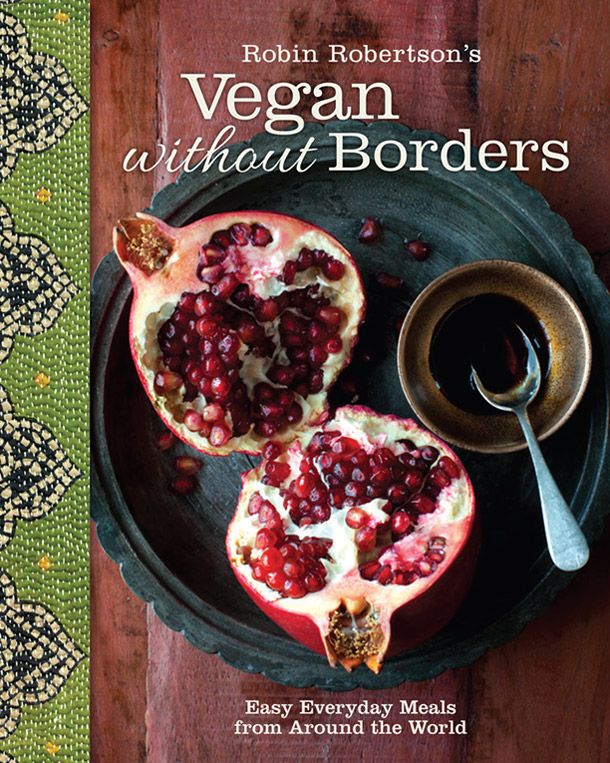 Vegan Without Borders is your passport to explore the offerings of the world's cuisines, right from the comfort of your own kitchen. Robin's masterful recipes bring the world to you for a delicious trip around the world!
From the kitchen of one of the most prolific cookbook authors comes Robin Robertson's Vegan Without Borders. Illustrating that being vegan is not equivalent to being timid, restricted, or unadventurous in the kitchen, Robin gives us family style dishes from most major continents in the world. Beginning with a short introduction of world flavours and how to stock a world pantry as sorted by continent, Robin dives right into the recipes. The recipes are sorted by major continent or region, with Europe, America (US, Mexico, and South America), Africa, India, and Asia highlighted. Also included is a comprehensive index at the back by recipe icon: Gluten Free, Soy Free, Low/No Oil, Quick and Easy, and two pages of Menu suggestions sorted by cuisine type. After making my wish list of over half the book, I got to work!
Take a Trip
From Europe, we have recipes from France, the Iberian Peninsula, Greece, Eastern Europe, and the UK. Choosing a favourite is hard, with such variety in Europe alone. From Spain, the Roasted Romesco Vegetable Stacks were spectacular. I was a bit lazy and skipped the stacked part – I just served it in a bowl, slathered in the rich and creamy Romesco sauce. The roasted vegetables here were eggplant, zucchini, and portobellos, all meaty veggies which held up to the creamy almond and tomato Romesco wonderfully. Leftovers turned into a salad, and were perhaps even better! The Fregola with Roasted Zucchini and Tomatoes highlights Italian simplicity at its best. Mostly zucchini, tomatoes, and fresh basil, this pasta dish is light, refreshing, and made me think I was under the Tuscan sun. From France came the Roasted Ratatouille with Basil Pistou. This was fascinating to me: although the roasted vegetables are the same as the Romesco Vegetable Stacks, with the Basil Pistou the same veggies are transformed to a completely different dish. Basil Pistou is like a pesto, and was light, vivacious, and made the roasted veggies sing. With those highlights, I made my way to the Mid-East, Africa, and India.
Africa, the Middle East, and India each have a wealth of recipes to choose from, with specific regions of each area highlighted. These regions are where I spend most of my time in the kitchen, so I thought I knew it all, but was happily proven wrong. The Ajvar, a roasted red pepper condiment from the Balkans, was fantastic. I slathered it on everything but especially enjoyed it mixed in with some hummus with raw veggies. The Tamarind Chickpeas with Green Beans and Cauliflower married some of my favourite flavours: tamarind, ginger, and cumin. The tamarind and ginger give the dish brightness, and the toothsome cauliflower soaked up the curry sauce wonderfully. Happiness in a bowl! Honourable mention goes to the Tofu and Jackfruit Curry, a Sri Lankan delight that due to the turmeric was as cheerful as the Tamarind Chickpeas. The Vegetable Tagine from Morocco was also a solid stand-by. I topped mine with a generous dollop of Harissa, which complemented the sweetness from the dried apricots and raisins, tang from the capers, and warmth from the Moroccan spices.
Continuing onto Asia, I was wowed by the recipes, declaring at every one that it was my new favourite. If I am not in India, my kitchen revolves around Asia. China, Thailand, Japan, Korea, Vietnam, and SE Asian Islands (Indonesia, Malaysia, etc.) are all represented here, each with flavourful and delicious dishes. I loved them all, but the one that stood out the most was the Bangkok Street Cart Noodles. I would have never thought to combine tamarind and peanut butter with tomato paste, sesame oil, and tamari, but now that I have I crave the creamy-tangy-sweet-nutty sauce. So hard to describe, I've made it since and tossed whatever vegetables I have in it with the same great results. The Bibimap from Korea was another instant classic, with its combination of textures and gentle heat. The easy Szechuan Bok Choi reminded me that sometimes simple is better, and the Panang Vegetable Curry with jackfruit was a tangy complex curry unlike any I've ever tasted.
Completing my globetrotting, I finished up with my own back yard: The Americas. As I was so distracted in Asia, I focused on Latin America here, due to lack of time. My favourite was the Spicy Plantain Fritters with Mango-Papaya Relish. The plantain fritters were easy to make and a great vessel for the relish. I only used papaya as I could not find a mango, but the relish did not suffer. A classic Latin American mix of fruit, lime, and cilantro, the relish flavour blended fantastically with the plantain fritters, leaving me pleasantly surprised. I had leftover plantains and relish, and made simple tostones for lunch the next day, with the same delicious results.
A Trusty Guide
The recipes themselves are very pantry-friendly, and most can be made on a weeknight. Some recipes call for special ingredients, but Robin does a great job explaining where to get these novelty items and/or potential substitutions. Simple, straightforward, and to the point, the recipes are easy to follow. Almost all dishes have pictures, which is helpful if venturing into the unknown. With its breadth of cuisines, dishes, and menus, there is something for everyone and every craving in this cookbook. With Terry Hope Romero's Vegan Eats World, this book is a fantastic addition to the globe trotter's kitchen arsenal.
Try Before You Buy
The publishers, Andrews McMeel Publishing, have generously let me share a recipe with you. It was a difficult choice, but ultimately I decided on the Korean staple Bibimbap. Very rarely vegan in restaurants, this spicy bowl is easily adapted to a vegan diet without sacrificing flavour, umami, or the integrity of the dish. Robin's version is packed full of flavour, texture, and a nice kick at the end from the kochujang (or gochujang) paste. My favourite part of the dish was the juxtaposition of cabbage, mushrooms, and cucumber doused in the sesame-kochujang sauce. Comfort food in a bowl, this dish is easily whipped up with whatever you have on hand, and amazing every time.
For more information on Vegan Without Borders, please see Robin's website.
If you wish to purchase the book through Amazon, you can find it here
.*
Reviewed by Katie Hay
When Katie isn't exploring new cuisines and challenging food conceptions in the kitchen, she can be found at farmer's markets, building and designing bicycles, and planning her next life adventure.
* This post contains affiliate links. If the product is purchased by linking through this review, T.O.F.U. receives a modest commission.
Apr. 07, 2015
Comments Off on Review: Vegan Without Borders
Related Posts