Review: Cookin' Up a Storm by Laura Dakin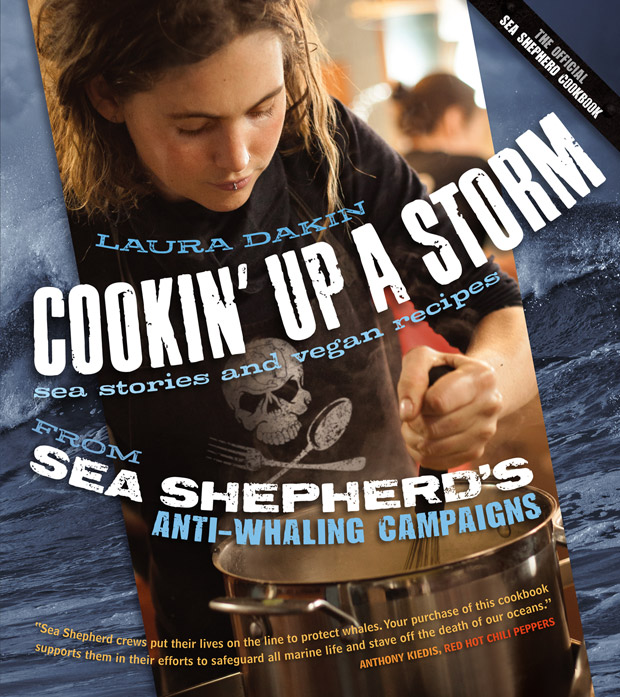 With simple straightforward recipes you can use everyday, Laura Dakin's new vegan cookbook Cookin' Up a Storm shares stories from the sea and recipes from the Steve Irwin, one of Sea Shepherd's Anti-Whaling Campaign vessels. It also answers questions I didn't know I had about Sea Shepherd, like how do you feed a crew of fifty people, three times a day, for one hundred days at sea? The answer is: with careful planning.
Just Sit Right Back and You'll Hear a Tale (or Two)
The book is full of stories of what it's like working on a Sea Shepherd anti-whaling vessel, what the different ship roles are, and what's involved with working in the Galley (which I now know as the area of a ship where food is cooked and prepared). Pictures of food and stories of life at sea pepper the book throughout, but it's a well arranged publication with an effective list of contents arranged logically starting with Breakfast (or Morning Starters), then going on to Soups, Mains, Salads & Sides, Sauces, Breads, and Desserts.
Each recipe has a few lines of introduction, telling how the food relates with the crew or with life on the ship, like when I began cooking up Laura's Southern Ocean Scramble for breakfast and started wondering where tofu fits on a ship, because I always have it ready to go in my fridge or freezer – she mentions it's saved for special occasions at sea, so that probably explains why it's such a solid and delicious option. We enjoyed it with some toast, and while you might be tired of the ever present tofu scramble recipe in vegan cookbooks, I would recommend giving this one a try.
There are five different Gilligan's Island themed granola mixes for Breakfast/Morning Starters, plus other great options like Radical French Toast or Beans for Breakfast. I made the hearty comforting Chickpea Noodle for the Vegan Soul for dinner, but other soups I see in my future include the Polar Potato and Leek Soup, and the Warming Pumpkin Soup.
The Mains category includes several straightforward recipes like Dave's Misir Wat, Chickpea Curry for a Courageous Crew, and Old Salt (and Pepper) Tofu. Some mains take a few more steps like the eponymous Sea Shepherd's Pie or the Revolutionary Vegetable Crumble, but for many recipes it's easy to already have the ingredients in your pantry. The Mains are complemented well by the Sides and Salads section. I made the Lovely Lemon-Garlic Green Beans to go with my Sea Shepherd's Pie, but found it a bit too lemony for my liking (I bet it's good at preventing scurvy at sea though). Other appealing options include a variety of twists on potatoes (spicy? sweet? savory? it's here) and a few more involved recipes like Asian-Style Stuffed Dumplings.
I found one of my new favourite gravies in this book's Sauces, Spreads, and Condiments section – Punk Rock Gravy, thick and savoury with just a touch of spice from thai chillies, it paired perfectly with the Sea Shepherd's Pie and also with the Onion and Herb Dinner Rolls. I liked the Basic White Bread recipe in this book, because it's a great initial bread recipe, and appreciated the versatility, especially for someone working on building up their vegan cooking skill, or someone just starting out with bread.
Last but not least, let's talk about dessert – from cookies to cheesecake to snacks and drinkable chocolate, this section is sure to please. I've got my sights on the Raw Cheesecake to the Rescue and Action Coffee Cake, but after reading Laura's Q&A with Paul Watson, I'm going to have to try the Antarctic Tropical Canadian Delight. I made the Captain's Favourite Carrot Cake, and while my oven didn't entirely cooperate, ultimately, it had a nice flavour.
Stamp of Approval
Overall, I liked the feel of the book, and flipping through the pages something always caught my eye, for recipes to recommend or recipes to try myself or a story to read. Every recipe comes with approximate servings and nutritional information, and most come with serving suggestions or pairing suggestions which I always appreciate. It was nice to see the international influences in Laura's recipes mixed with personal stories of living at and cooking at sea. And on a personal note, as a keen philatelist, I was delighted to see all the sea animal stamps shared along the way.
With a collection of eclectic recipes, this book also offers some information about Sea Shepherd Conservation campaigns and activities, and stories from other crew members about living and working at sea. There is something for everyone, and it offers an especially great introductory look at the hows and whys of vegan cooking, in a friendly and casual manner. I'd recommend checking it out sometime.
Have Your Pie and Win the Book Too
And courtesy of Book Publishing Co., I'm pleased to offer you both the recipe for Sea Shepherd's Pie and a chance to win a copy of the book.
From now until April 9th, if you name another one of the boats run by Sea Shepherd in the comments below, you could win a copy of Cookin' Up a Storm! The book will be shipped anywhere in Canada or the USA by Book Publishing Co. once a winner is randomly chosen.
For more information on Cookin' Up a Storm and Book Publishing Co., please see their website.
If you wish to purchase the book through Amazon, you can find it here
.*
Reviewed by MeShell Gudz
MeShell lives in Toronto, likes science, vegetables, technology, coffee, and social justice. And cats. All the cats.
* This post contains affiliate links. If the product is purchased by linking through this review, T.O.F.U. receives a modest commission.
Related Posts