Review: The Oh She Glows Cookbook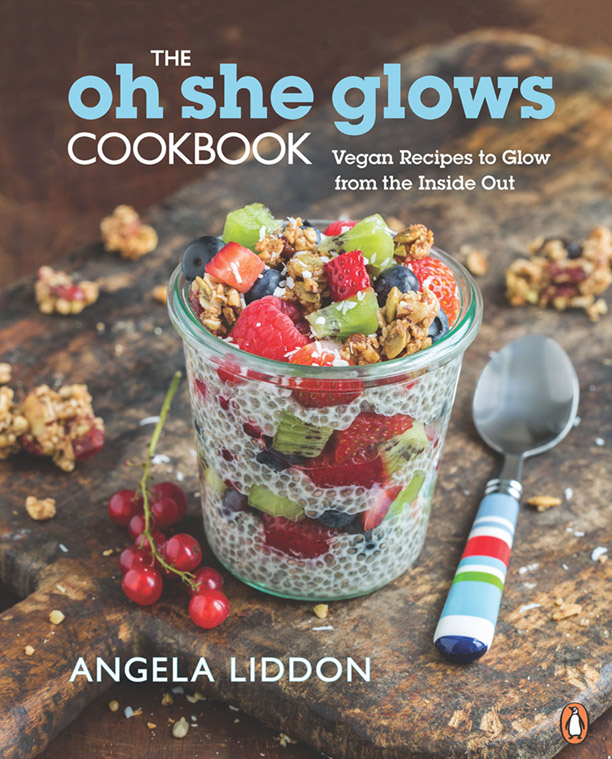 Fresh, flavourful, and fun: three adjectives Angela epitomizes in her debut cookbook Oh She Glows. Colourful, delicious, and sometimes decadent, this cookbook is a pillar in the New Generation of Vegan chefs.
Angela Liddon, the voice behind Oh She Glows, has done it again. Blog followers eagerly anticipated her debut cookbook as soon as she spilled the quinoa all those years ago, and they had reasons to be excited. Drawing on her years of experience and growth in the kitchen from her blog, Angela's debut cookbook is full of colourful, simple, and downright delicious recipes that people have come to expect. My entry to the vegan cooking world started at The Post Punk Kitchen, as many of that era does. I quickly found Oh She Glows, following and growing with Angela, whose kitchen evolution so closely mirrored my own. Soon I had new must-reads on the blog roll: the New Wave of vegan chefs who bring approachable, delicious, and amazing food to the new and veteran vegan. It is this humble reviewer's opinion that Angela Liddon and Kristy Turner (But I Could Never Go Vegan!, Keepin' it Kind) are the cornerstones to the New Wave, and they have the cooking chops to prove it.
After an honest introduction of her previous health habits and slow evolution to a vegan kitchen, Angela gives us a glimpse into her kitchen: her pantry and kitchen gadgets are briefly touched upon, to prepare for the rest of your whole-foods journey. Although both sections are somewhat extensive, I made over half the recipes (all I had time for!) with nothing fancier than a blender and food processor. Every recipe I made and want to try uses ingredients familiar to many grocery stores in North America and Europe: approachable prep for amazing food.
Soups, Salads, and More to Satisfy
The recipes are split into 10 chapters ranging from breakfast to dessert and everything in-between. Familiar with many of her recipes from her blog, including the classic OVO and all its wonderful variations (included in the cookbook as well), I challenged myself to try all new dishes. To give you a good indication, I've chosen my favourites from each of the chapters (more or less). The breakfast category is full of wonderful hot cereals, infamous seed breads and crackers, and other delicious bites. I've yet to try a new recipe in this category, but I know which one it will be: the Out-the-Door Chia Power Doughnuts. Not a traditional fan of doughnuts, I think I'll love these as they are full of crunchy chia seeds and spiced with cinnamon. For snacking pleasures, the Perfect Kale Chips were indeed perfect. I am kale chip challenged, and these were the first batch that have not ended up wilty or burned. As addictive as any crunchy snack, the cookie sheet of chips disappeared in no time. (Tip: As Angela notes, kale chips get wilty by the next day. But if you place them on a paper towel in a single layer and microwave on high for 20s, they stay crunchy all week!) The Roasted Rainbow Carrots with Cumin-Coriander Tahini Sauce was amazing. Roasting really does something to carrots, and when drizzled with a lemon-accented cumin-tahini sauce I was happy I only made a single portion, because I ate it all. I made all the salads, surprised and delighted at each. The most surprising to me was the Walnut, Avocado, and Pear Salad with Marinated Portobello Caps and Red Onion. This was a great stretch – I usually hate walnuts, avocados, fruit, and raw onions in salads. But the marinated portobellos were fantastic, and each component added a different mouth-feel and taste to the overall dish. I was wrong, and will happily admit it with another version of this salad!
Angela shines in the art of soups and stews. Many of her blog recipes are odes to the humble bowl of steaming flavour, and her cookbook is no exception. From the simple and tangy Indian Lentil-Cauliflower Soup to the Eat your Greens Detox Soup and decadent Soul-Soothing African Peanut Stew, I dug into these stews with relish. Each distinct, with their own layered flavour profiles. Chock full of vegetables and legumes, these hearty soups were as filling as they were tasty.
Lest we forget about dessert, I abstained from the Yolos due to my promise and made the Winter Citrus Salad. Fresh and vibrant, winter citrus fruits of choice are lightly adorned with fresh mint and sliced almonds, making a wonderful refreshing end to the meal. Also on my must make list at my next potluck is a throwback to my youth: the Beat the Heat Frozen Dessert Pizza. It's the Peanut Butter Cup Treatza Pizza from DQ: my absolute favourite! The cookbook ends with basics from everything like buckwheat flour to chia seed jam to banana soft serve. Honourable mentions where I just lacked the time include the imaginative smoothies, and a revisit to the wonderful Super Power Chia Bread. With such breadth, there is something to please everyone!
Photo Finish
This cookbook is full of simple, approachable recipes that the whole family will enjoy. Most can be made with ease on a weeknight (<45min), with downtime in-between. The recipes are such that they are practical, and don't sacrifice flavour for speed. The included photos done by Angela are absolutely stunning, but what is more exciting is that the dishes end up looking like the photos! This is homey, craveable cooking at its finest, and Oh She Glows will be a go-to cookbook stained and splattered. With a sequel to this book in the works, my craving for new recipes from her kitchen will be satisfied soon enough!
Have It All
The publishers have been kind enough to let me share a recipe with you, so you could also enjoy the wonderful dishes of this book. I've chosen the simple yet elegant Roasted Rainbow Carrots with Cumin-Coriander Tahini Sauce. The cover photo for the US version, this dish was absolutely mind-blowing. I've made it more than once, and the second go-around I roasted the carrots on the stovetop, to avoid the cookie-sheet. Fantastic results each and every time, this carrot side dish would be a welcome addition to any holiday table, or any table period. Smokey from the roasting, exotic from the cumin, bright from the lemon, and rich from the tahini, this dish has it all.
To find out more about Angela, please visit her website.
If you wish to purchase the book through Amazon, you can find it here
.*
Reviewed by Katie Hay
When Katie isn't exploring new cuisines and challenging food conceptions in the kitchen, she can be found at farmer's markets, building and designing bicycles, and planning her next life adventure.
* This post contains affiliate links. If the product is purchased by linking through this review, T.O.F.U. receives a modest commission.
Related Posts