Review: Healthy Happy Vegan Kitchen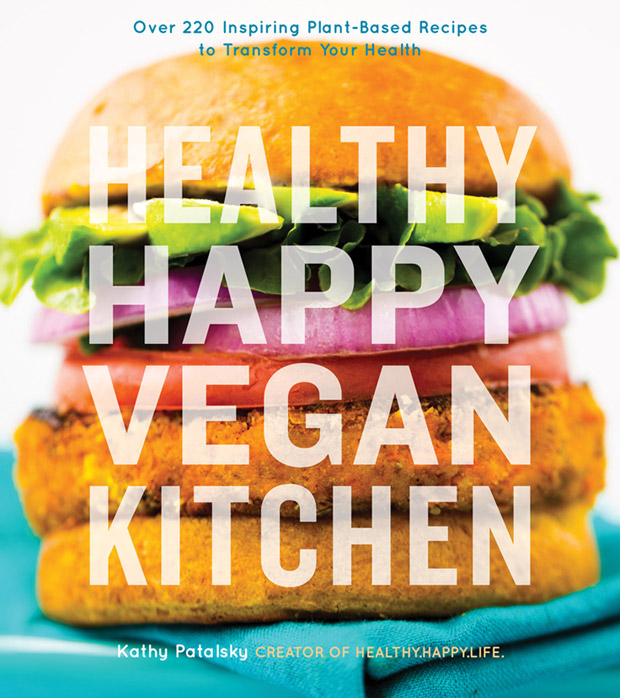 I cannot express enough how absolutely amazing this book is.
Healthy Happy Vegan Kitchen is Kathy Patalsky's highly anticipated second cookbook to 365 Smoothies. She is the voice behind Healthy. Happy. Life., a blog that never fails to cheer me up. Kathy is known for her zest for life and creativity in the kitchen, and it's reflected with big bold colours, bright dishes, and tangy flavours. This cookbook exemplifies all of this and more, as Kathy welcomes us into her creative whirlwind with 220 amazing recipes.
The book is dedicated to her beloved cat, underlining the labour of love this book is. The table of contents are little pictures, similar to her blog. The introduction includes tips on pantry stocking, new and familiar vegan items, and some kitchen tips. Geared to any and all vegans, test-run vegans, or those who picked up the book on a whim, the tone is light, approachable, and you cannot help but get excited for this cookbook project. The introduction is unique in that it also includes 10 tips for new or test-run vegans, such as play with your food, explore, talk, and tune in. The introduction closes with a short section on what is wellness, and ten suggestions for finding your own. One tip that I tried to incorporate more was using spices such as turmeric, cinnamon, and cayenne more for their anti-inflammatory benefits. I don't know if it's working, but my food is delicious!
Dishes to Brighten Your Day
With 220 recipes and 14 chapters ranging from Breakfast, Bowls, Burgers, and Cakes, Balls, and Fritters, there is no shortage of inspiration. If you're feeling overwhelmed, the book concludes with some menu suggestions, something that is much appreciated. My own wish list drawn up, I made an effort to try a recipe in each category. Of the ones I tried, a common theme of the reviews were surprise at how bright and cheerful the dishes looked and tasted. I was constantly amazed and began to look forward to my own ray of sunshine in the kitchen on those dreary rainy days. I loved them all, but some absolute standouts were as follows.
The It's Always Summer Slaw was an "instant classic" according to my notes. Rice vinegar and lemon make the standard slaw ingredients bright and cheerful. The Apple Edamame Slaw Salad with Peanut-Ginger dressing was something I was apprehensive about and then could not stop eating. If you had told me that the combination of apple, peanut butter, tahini, cilantro, vinegar, ginger, and crunch would be so amazing, I would have probably thought you were crazy. Another surprise was the Roasted Veggie Golden Raisin Soup. My notes scrawled on a leftover library return slip read: "Strange Genius. Raisins give sweetness. Capers and lemon give tang. Nooch richness. Veg meatiness. Rosemary savoury. No idea how this works, but it does – and so well!! Unique and delicious!"
A common pairing was tahini and lemon, which shone in the 5-Step Raw Kale Salad and Power Tower Tahini Salad. Kids could easily execute the Save the Day Toast, which is a "recipe" for toast with almond butter, banana, and cacao nibs. Sometimes simple is best. For the grownups, the Spicy Lemon Mulled Hot Toddy with lemon, ginger, and booze was fantastic. The most creative burger I've ever made was the Turmeric Hemp White Bean Burger Patties. They made me smile just looking at them, so intense were their yellow colour. I kept on smiling as I devoured the patties chock full of nutritional yeast, thyme, and turmeric. I liked the addition of hemp seeds in a burger patty – something I have never done before but will definitely be doing again. The seeds are unobtrusive, and lend a slight nuttiness to the bean-based patty.
Mushroom, Mushroom (Listen*)
I loved all the recipes in the book, from start to finish. But the following recipe made me sit up and take notice. First a bit of a backstory: I hate mushroom soup. I hate everything about it – from the mushrooms to the cream of the soup. I have relatives that would buy the Costco flats of the stuff and cook with it so much one flat would disappear in two weeks. So when I saw the No-Cream of Mushroom Soup, with three types of mushrooms and the cream made from steamed and pureed cauliflower (a fantastic trick I learned from Eric Tucker that has saved my cream-hating self many a time) I dared challenged myself to make it. I have no pets, and live alone, so this dare came with high stakes – I would have to eat it. This recipe made me take back every mean thing I've ever said about Mushroom Soup. I was speechless when eating it. Kathy took this dish and made it a million times better. The pan-roasted mushrooms add a smoky deliciousness. The three types (button, Portobello, and shiitake) add different flavours and texture. The cauliflower crème adds just enough body while not being so heavy. There's depth, flavour, and richness, while being simultaneously light. Fantastic in every way, I now love mushroom soup, but only if it is this mushroom soup!
Most, if not all, of the recipes are very pantry friendly, and very weeknight friendly. Many can be made in one bowl, a huge plus for me. They are bold in colour and flavour, and would satisfy even the pickiest of eaters. There is something for everybody in this book, and it is a sure crowd pleaser. Kathy's bubbly spirit lives throughout, and you want to join her and dance into the kitchen, living life to the fullest. To that end, the publishers have let me share a recipe with you. I have chosen The 5-Step Raw Kale Salad. Featuring the bright tahini and lemon combination, this simple salad is easy to whip up, cheerful to look at, and tastes fantastic.
To find out more about Kathy and her books, please visit her website.
If you wish to purchase the book through Amazon, you can find it here
.**
Reviewed by Katie Hay
When Katie isn't exploring new cuisines and challenging food conceptions in the kitchen, she can be found at farmer's markets, building and designing bicycles, and planning her next life adventure.
* Ryan doesn't apologize for adding this link to Katie's review, and you can thank him for putting the song in your head.
** This post contains affiliate links. If the product is purchased by linking through this review, T.O.F.U. receives a modest commission.
May. 12, 2015
Comments Off on Review: Healthy Happy Vegan Kitchen
Related Posts