Review: Vegan Richa's Indian Kitchen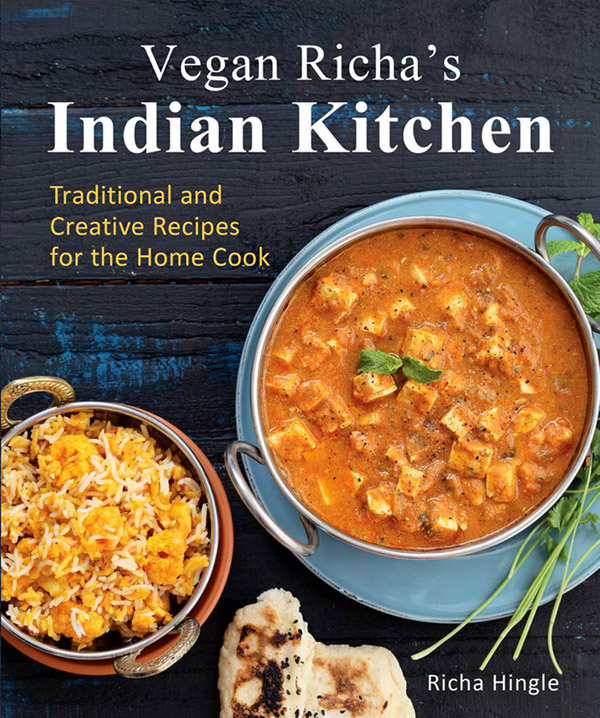 Richa Hingle of Vegan Richa (nee Hobby and More) knows her way around the kitchen. Perhaps it's the innate knowledge learned from her childhood, the nuances of flavour profiles and Venn diagrams. Perhaps it's her willingness to ask "what if" and "why not". Whatever it is, the results are spectacular. Her blog ranges from more burger and pizza combinations you can count to delectable dessert concoctions and fantastic Indian fare. With an e-zine already published, it was only a matter of time until a full cookbook came. Focusing on Indian dishes, this cookbook is stunning to look at and tastes even better.
Choose Your Own Explosion
The book opens with a bit about Richa: her journey from her Mom's kitchen in India to her own in Seattle with her husband and beloved dog Chewie. The second page of the cookbook has a picture of her parents, a source of many dishes in the book. It's clear from the onset that this is a labour of love, and contains many dishes she grew up eating. Recipe titles are commonly "Dad's favourite" or "Mom's [Recipe]", letting us have a glimpse into her kitchen growing up. After the intro, there's a concise but super helpful guide to Indian spices (complete with pictures), descriptions of beans and how to cook them (pressure cooker and stovetop), and a handy grocery stocking list that I will be taking with me the next time I venture to Indian markets. The final part of the introduction is a gorgeous photo of a thali plate, and a description as to how Indian food is traditionally served. The thali plate is like my favourite dish growing up, but fancier. A platter of saucy curries, vegetable sides (dried or saucy), condiments like chutney, raita, pickles, and carbs: flatbreads, papadums, and/or rice. It's up to the user to choose your own adventure, so every morsel is a different flavour explosion.
Much More than Butter Chicken
I am a long-time lover of Indian food. One of the best days of my life was when I discovered that there was more to it than the Butter Chicken dish Mom cooked in the crockpot. Needless to say, I took the opportunity of this review to cook 80% of the book. Rather than waxing poetic about every recipe, as they all deserve their kudus, I've chosen my ultimate favourite from each chapter, which was not an easy thing to do!
Breakfast's winner was Mom's Chickpea Flour Pancakes (Chilla/Pudla). I love pudla, and love this simple hearty meal. Chickpea flour (besan) is magical, and with Richa's additions of chili, cilantro, and cumin, the breakfast is fantastic. Portable too, for those mornings where you're rushing between the gym and the office, or fancy them up and make a stuffed omelette! The winner from Small Plates and Snacks was the Mashed Spiced Vegetables with Dinner Rolls (Pav Bhaji). I loved the combination of Pav Bhaji Masala and Garam Masala in this delectable veggie stew of tomatoes, potatoes, and cauliflower. Both Masala's are made from scratch, and totally worth it. The Garam Masala adds the complexity, with whole cardamom pods, cloves, peppercorns, and cumin and coriander seeds. The Pav Bhaji was new to me, and a craveable mixture of the same spices as garam masala, but with the addition of fennel and dry mango powder. It is the mango powder (amchoor) that makes the dish tart and tangy. I've made this stew multiple times since, switching out the vegetables to whatever is in the fridge, and adding greens for that extra pop of colour.
With so many sides and dry vegetable curries to choose from, it was difficult choosing a favourite. Looking back, the one I've made over and over is the Sweet and Sour Pumpkin (Khatta Meetha Kaddu). What makes this so delicious is the combination of mustard seeds, cumin seeds, fenugreek, mango powder, and turmeric. These spices lend such a delightful tang to the squash that make this dish something different from the standard cream or tomato-based curries. After we get our fill of veggies, the Dal section is something to behold. A long-time fan of the Rajma and Kala Chana Masala, I especially enjoyed the South Indian Split Pea Stew with Veggies (Sambhar), for a foray into the South. Southern Indian dishes are bright and cheerful from the turmeric and tangy tamarind. Richa's version has eggplant, carrots, okra, and tomatoes with pigeon peas (toor dal) in a tempering with a laundry list of spices, the most notable being curry leaves, sambhar powder (recipe included) and fenugreek. This is my new chicken soup recipe – one that cures all that ails!
One Pot Meals and Casseroles include Spinach Rice and Black-Eyed Peas (Lobhia Palak Pulao) for a quick and dirty filling meal that is as delicious as it is fast to whip up. Main dishes were just as creative, from Palak Paneer, Tempeh Tikka Masala and her infamous Gobi Musallam. But my favourite recipe was the Chickpea Tofu in Spicy Madras Sauce (Tofu Madras Chile Masala). Indeed, I think this may be my favourite recipe of the entire book. Chickpea tofu soaks up the spicy gravy composed of the trinity coriander, cumin, and mustard seeds with the addition of chilies, and warming cardamom, cinnamon, and paprika. Curry leaves add their special twist, and with some greens, tofu, and tomatoes, this dish is fantastic. I've made it too many times to count, each time with different vegetables but always the same craveable gravy. There is so much more to this section that it's worth the book alone just for these mains. With dishes ranging from classics to some I've never seen before in copious Indian eating, there's a new surprise on every page.
Flatbreads are also included, including the required naan, roti, and dosas. With four different types of naan, you cannot get bored with this staple. Desserts include Besan Ladoo, a wonderful little truffle made with toasted chickpea flour and pungent with cardamom. With a dessert e-zine already published, Richa knows how to veganize the most difficult of Indian dishes, and does so with aplomb. The book closes with Chutneys, Spice Blends, and Basics, including how to make your own paneer (!). With such a wealth of information, it was no wonder I dove into the cookbook with relish.
So Many Reasons to Love It
Testing this cookbook reminded me of why I love spices. I grew addicted to the robust flavours of Indian food, and carried with me some Indian techniques to my other dishes. Richa strongly recommends using whole seeds in your recipes, dry toasting them, and then grinding in a spice grinder (or coffee grinder) for maximum depth of flavour. I could not agree more. However, for the lazy, dry toasting ground spices is an easy stop-gap. If there is anything you try, try this. The depth of flavour from that simple step is astounding! The other thing I learned from Richa during the course of testing is the astounding effect a slight change in spice ratio or spice order has on a dish. Even just a 1/2 tsp. more or less of one spice of the list can have such an impact on flavour – resulting in constant creations and new dishes every time.
There are no shortage of Indian cookbooks published, but this one bests them all. There are few (if any) vegan Indian cookbooks, which is surprising given the cuisine's natural inclination to "accidental vegan" dishes. For those classics that are not vegan, such as the paneer (a soft cheese) curries, Richa offers such delicious renditions and even a recipe for homemade Paneer that you will never notice the difference. The photos in the book are also by Richa, and absolutely stunning. The recipes are weeknight friendly, especially if you own a pressure cooker (I do not) or cook beans ahead of time (I do). More elaborate dishes and feasts could be weekend projects, with a multiple course meal capped off with traditional Indian desserts. Spice levels also vary, so if you are spice wary there's something for you here as well. From Northern India's tomato based curries to Southern India's crème based and everything in between, for those uninitiated to Indian cuisine this book is a must. For those, like myself, who are no stranger to Indian, there's more to be discovered in this book from a country with such rich culinary traditions.
The publishers have been gracious enough to let me share with you one of Richa's creations. Just a teaser for the cookbook – for more recipes I strongly encourage you to go to Vegan Richa and explore! The recipe I chose today is Masala Lentils (Sabut Masoor). Dals are classics in my kitchen, and I loved the warming masala spice blend of cumin, coriander, cardamom, and cinnamon. The recipe is simple to make, and an easy weeknight meal. Full of protein from the lentils, some saucy tomatoes, and finished with a kick from Sriracha, this dal is fantastic served with rice, naan, or overtop a giant bowl of greens. Easy for those new to kitchen experimenting, it also teaches the classic method of preparing a dal: seasoning simple legumes with a complex tadka spice blend for a fantastic result.
To find out more about Richa and her books, please visit her website.
If you wish to purchase the book through Amazon, you can find it here
.
Reviewed by Katie Hay
When Katie isn't exploring new cuisines and challenging food conceptions in the kitchen, she can be found at farmer's markets, building and designing bicycles, and planning her next life adventure.
* This post contains affiliate links. If the product is purchased by linking through this review, T.O.F.U. receives a modest commission.
May. 19, 2015
Comments Off on Review: Vegan Richa's Indian Kitchen
Related Posts