Review: The Vegetarian Flavor Bible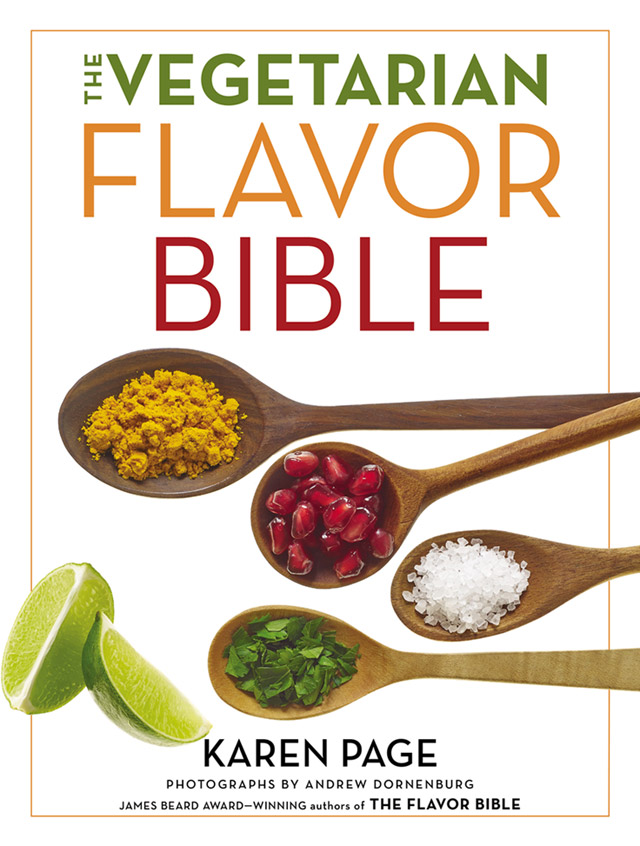 This is not a cookbook. This is a guidebook, a roadmap, to all things delicious. Now even the enthusiast home-cook can outwit and out-create the Top Chefs.
The Vegetarian Flavor Bible is not your average cookbook. In fact, it's not a cookbook at all. Instead, it's an invaluable resource for the home enthusiast, more informative and certain of fantastic outcomes than any cookbook published.
The book starts as most do, with the introduction. The introduction includes a wealth of nutritional advice as to a vegetarian diet, written very similar to Becoming Vegan. Karen Page thoughtfully translates this wealth of information (such as how many grams of protein one should aim for in a day) to a "what she does" suggestion, which I found helpful. There is then a very thorough in-depth timeline of vegetarianism through history, from 3000 BCE to present day – an argument more convincing than many about how vegetarianism isn't a modern fad. Finally, there is a section which I can only describe as a "chef textbook", where she explains what flavour actually is, the senses of palate, and what mouthfeel actually is. She explains in depth the science behind flavour, and the contributions of all senses including smell, sight, mental, and spiritual. I found this extremely enlightening, because I am one who always wants to know why. The section ends with a great craving table, suggesting alternates to what you think you crave (i.e. pork fat sub for sesame oil) to hit all the fundamental eating senses. The remainder of the book is over 400 pages of lists: every vegetarian ingredient imaginable: from acai berries to zucchini blossoms, with separate entries for types of ingredients or storage methods if the mouthfeel changes (fresh vs. frozen tofu), classified as per season, flavour, volume, possible substitutes, what it is, nutritional benefits/profile, techniques to cook, tips, and lengthy lists of other fruits, vegetables, flavours, spices, ethnic cuisines, and dishes which the ingredient compliments. This treasure trove of information ends with "Flavour Affinities": a selection of two or more flavour combinations from the list that will please all senses in whatever dish you fancy. Flavour profiles for specific ethnic cuisines are also included, for cross-reference.
Doing the Research
I found this book delightful. My normal mode of cooking usually involves one of two possibilities:
1) I work off of 4 cookbooks, 2-3 blogs, various Top Chef/Chopped creations, and wing it based on my experience and knowledge as a cook, with a general guide of "one pot wonder" meal.
2) I pick up some strange vegetable at the farmer's market, or try and make my own Chopped episode from my CSA basket, or exhibit zero self-control at the ethnic market (of the week) and bring home the strangest items I can find. I then pour over Google, my cookbooks, and other resources to learn what exactly I brought home and how to prepare it in the most legitimate ethnic manner possible.
The Vegetarian Flavor Bible does all that for me! It gives me the details of the ingredient (once I figure out what it is), how to prepare it, and what matches best. It allows me my creative freedom in the kitchen, and inspires new ideas. For those less adventuresome, who think that a spice cabinet is sufficient with "Italian Seasoning" and salt and pepper, this book is great for you too. It can be as involved or simple as you wish – with a separate entry for even the basics like garlic, you could expand your culinary repertoire one ingredient at a time, by pairing something you have already with something outside your box. (Like perhaps adding lemon to the garlic and Italian Seasoning in a dish). With increased confidence that always comes with DIY successes, soon your spice cabinet or fridge will be full of new and wonderful ingredients.
Beyond a Great Photo
I also really liked the thorough explanation of what flavour is, and how we perceive it with all our senses. A gorgeous plate of food is only worth the taste experience, in my opinion. The reason many reviews do not come with beautifully arranged photos of the food is that my plates generally look horrible. Food is everywhere, and if it's served in one bowl all the better. What my food does have though is texture, aroma, layers of spice, and the knowledge that it's as ethnically representative as I can make it (often having never travelled to the country of origin) and it's adventurous: a new spice combination, a new ingredient (like lotus root), or a new cuisine that I made. This book gives me carte blanche to continue to cook how I love, to explore the senses of flavour, and to buy those splurge items at the farmer's market and ethnic stores. It allows you the freedom and confidence to try weird flavour profiles which at first glance may seem to clash horribly, but will work from component accents. Like ginger [fresh, general] + brown sugar + grapefruit. It lets you experience the dish past the pretty plate, so you can learn about such things as the difference between a quiet heat and a fiery heat. Basically, it lets you grow as a chef, always exploring.
The Vegetarian Flavour Bible isn't a cookbook. It's Better.
To let you decide for yourself, the publishers have let me share with you some entries for your own exploration. In preparation for the bright greens of spring at the markets, I've chosen Lettuce, Romaine (only 1 of 5 Lettuce types, before we get to Endive, Spinach, etc.), and Zucchini. Now when the markets are overflowing with these vegetables (that seem to come in truckloads all at once), you won't be asking yourself "what *else* can I make with [ingredient]" – you'll have the answer right here!
To find out more about Karen, please visit her website.
If you wish to purchase the book through Amazon, you can find it here
.*
Reviewed by Katie Hay
When Katie isn't exploring new cuisines and challenging food conceptions in the kitchen, she can be found at farmer's markets, building and designing bicycles, and planning her next life adventure.
* This post contains affiliate links. If the product is purchased by linking through this review, T.O.F.U. receives a modest commission.
May. 26, 2015
Comments Off on Review: The Vegetarian Flavor Bible
Related Posts