Review | Vegan Yack Attack's Plant-Based Meal Prep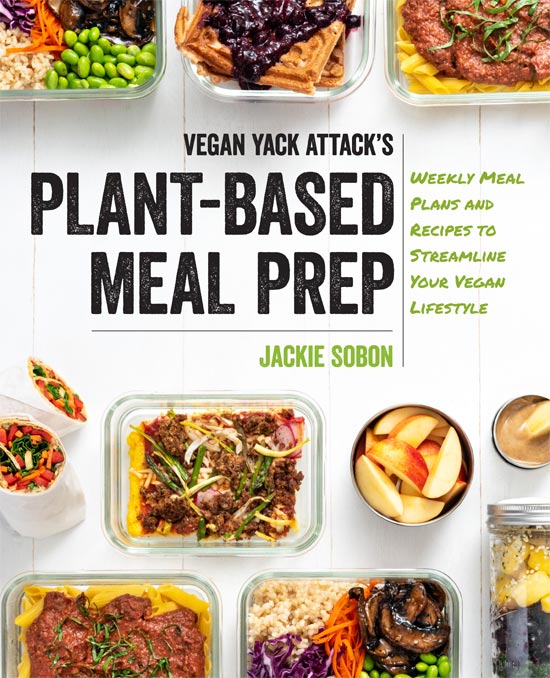 Vegan Yack Attack's Plant-Based Meal Prep by Jackie Sobon has taken me over half a year to review. My editor contacted the publisher in December about reviewing the book; unfortunately for me, due to its popularity the first run of books was already taken. March came and so did my book. I missed the delivery on a Friday; Monday my city started the COVID-19 quarantine. Late June came and my city had started the phased opening process. I asked for the book again, and since I was (and still am) working from home, I didn't miss the 2pm delivery. And here we are, four weeks of meal plans later.
This cookbook is structured uniquely, with the first third of the book dedicated to meal prep tips and meal plans. The book is separated into four parts, and the second part is dedicated to weekly meal prep for one. There are six weeks of meal prep and recipes here, and, as a meal prepper for one, I appreciated Jackie taking the time to think about this demographic. Part three started with meal plans written for more people, but, since in a week you eat one recipe more than once, if the recipe yield (almost always four servings) isn't enough for the amount of stomachs you are feeding, you have to pay attention to potentially prep double or more batches. This section was my favourite. Meal plans were organized logically: higher protein, meals for a family, expedient plans, lighter fare, and flavours. Immediately after the meal plan schedule, there were step-by-step guidelines to walk you through "Day Zero" of meal prep: what equipment you'd need, what you'd be making, and timing tips like start the breakfasts while the beans are cooking. I found these guidelines super informative and space conscious for my limited counter real estate and apartment-sized appliances. It also made the thought of prepping meals for an entire week less daunting: just go from one step to the next and before you knew it you were done. 
Ultimately, I tested 4 weeks of recipes: two meals-for-one which I combined into one week for 4 recipes/week instead of two; The Expedient, and Lighter Fare as we are in the middle of a scorching (Canadian) summer. Of these four weeks of meals, I can say that all of them are solid. Some were just okay, and some were knock-your-socks-off amazing. I was never disappointed when it came to meals, and having exciting lunches waiting in the fridge was a perk of working from home that I appreciated; second only to being able to wear shorts.
One of the standouts was the White Bean Garlic Spread from the High Protein menu. It was like an aioli hummus cheesy umami bomb. It was used in the Chipotle Tempeh Kale Bowls, which were composted of quinoa, kale, tempeh, spices including chipotle chili powder, and finished off with lemon and green onions. The kale did what kale does best: allowed for all the nooks and crannies to be filled with the garlic spread goodness. The tempeh was prepared a couple of days in advance which was mind blowing for me. This was a special lunch indeed.
The Instant Pot Bouillabaisse from the Lighter Fare menu was also fantastic. I have never had Bouillabaisse, so I don't know what to compare it to, but this is a fantastic soup with a base of fennel and so many onions, with the body made up of tomatoes, king oyster mushrooms and maitake mushrooms. Spices that I associate with stuffing and nori make the broth extra flavourful. The end result is something earthy from the mushrooms and fennel, but 'sea-like' with the nori. An extra bonus in this summer scorcher is that its cooked in the Instant Pot, which doesn't heat up my apartment like a boiling pot on the stove does. I've never had anything like it, and I liked it so much I'm working through my second batch now.
My hands-down favourite that I ate four days in a row was the Smoky Tofu Squash Salad from Lighter Fare which has Cashew Ranch Dressing that is lick-the-bowl delicious. The salad itself is simple: tofu and acorn squash that was roasted in the oven at the same time, seasoned with paprika, onion powder, oregano, and mustard powder. Served on spicy arugula and cooled down with the ranch dressing that tastes exactly like ranch dressing. This dish was creamy and delicious, with just enough texture difference due to the arugula to make this texture-eater happy. It was worth turning the oven on for.
The publishers have allowed us to share one recipe, and I have chosen the Smoky Tofu Squash Salad. It was fantastic to prep, and the squash and tofu kept in Ziploc bags in the fridge for the five days it took for me to eat it. The cashew ranch dressing also kept well, and the containers I have in the freezer are holding up nicely too. Sharing a recipe from a meal-prep book without the whole menus is just a sneak-peak of what this book has to offer.
For more information on Jackie and her cookbook, please visit her website.
Reviewed by Katie Hay
When Katie isn't exploring new cuisines and challenging food conceptions in the kitchen, she can be found at farmers' markets, building and designing bicycles, and planning her next life adventure.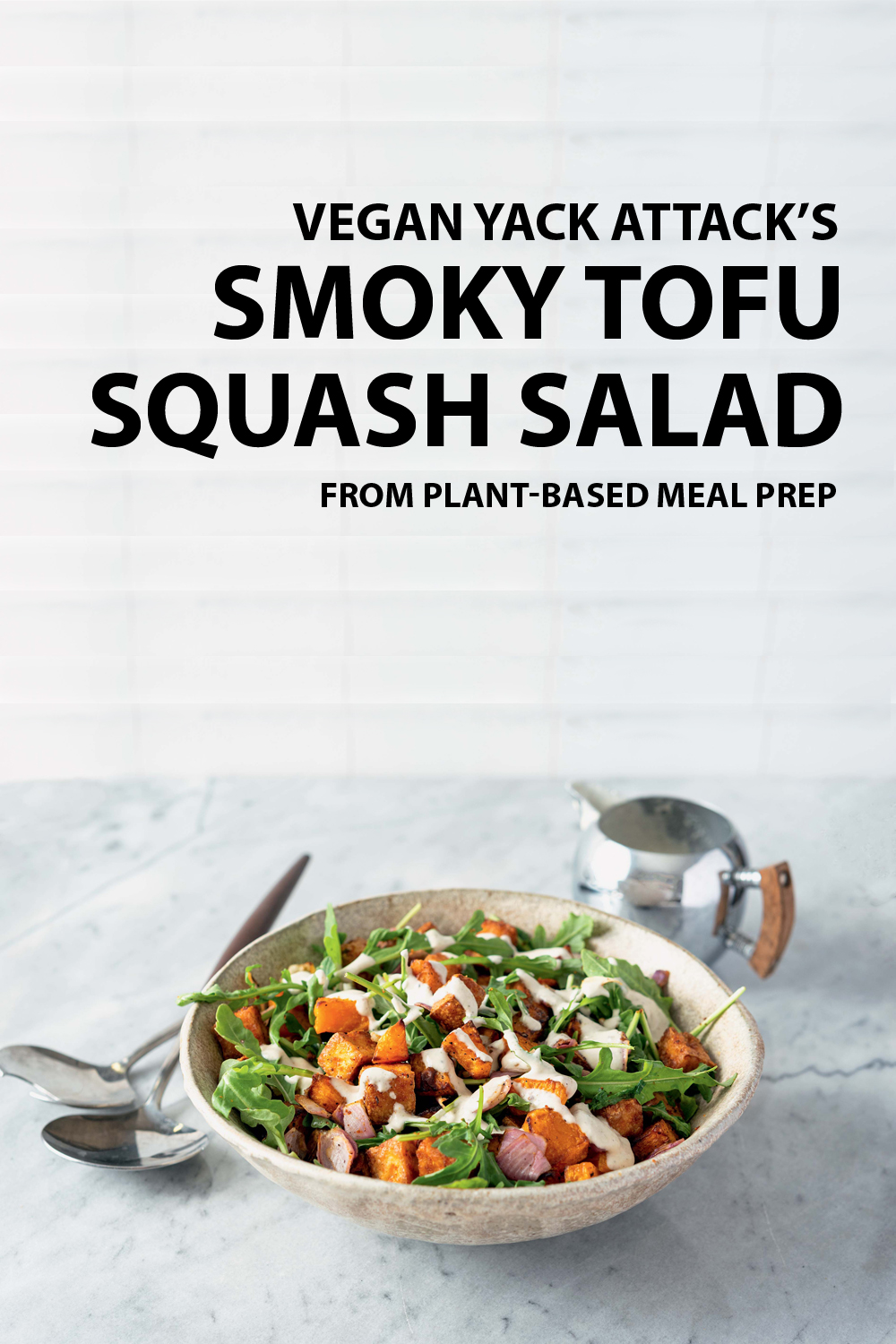 Smoky Tofu Squash Salad
– Fresh Outta The Fridge – Gluten Free – No Sugar Added
The fall flavours of the roasted squash and onion and the peppery arugula in this salad are so, so good, and it's done with so little active cooking time! I guess that's the great part of sheet pan meals, right? If you don't care for tofu, tempeh or chickpeas would also be great using this method.
For the Tofu and Squash
1 (14-ounce [397 g]) package extra-firm tofu, drained
1 tablespoon (15 ml) sunflower oil, divided
1 teaspoon smoked paprika
1 teaspoon onion powder
3/4 teaspoon salt
1/2 teaspoon dried oregano
1/2 teaspoon dry mustard powder
2 pounds (905 g) acorn squash, seeded and chopped
1 cup (120 g) chopped red onion
For the Salads
5 ounces (140 g) baby arugula
1/2 cup (120 ml) Cashew Ranch (see below)
To make the tofu:
Preheat the oven to 400 F (200 C, or gas mark 6) and line a baking sheet with parchment paper. Wrap the tofu in a kitchen towel and gently squeeze to remove excess moisture, then cut it into cubes and transfer to a bowl. Gently stir in 1/2 tablespoon of the oil, the smoked paprika, onion powder, salt, dried oregano, and mustard powder. Spread over one third of the prepared baking sheet.
In the now-empty bowl, toss the squash, red onion, and remaining 1/2 tablespoon oil. Spread the mixture over the remainder of the baking sheet. Roast for 1 hour, flipping halfway through roasting. Let cool on a rack for 10 minutes.
To make the salad:
Divide the arugula between 4 bowls or storage containers and top with the roasted veggies and tofu. Drizzle with Cashew Ranch just before serving. Store salads and dressing separately in the refrigerator for up to 7 days.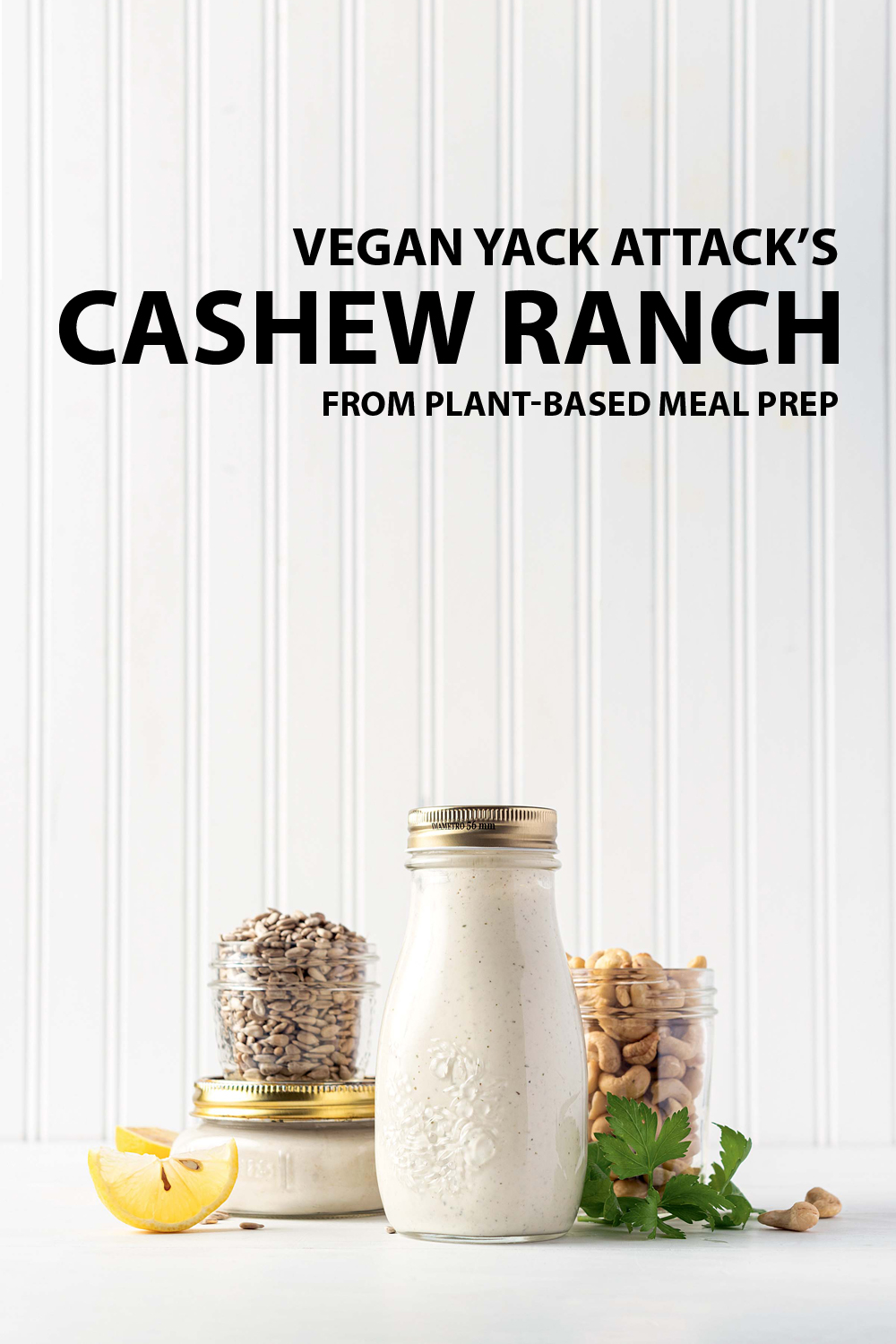 Cashew Ranch
– Fresh Outta The Fridge – 30 Minutes or Less – Under 10 Ingredients
– Gluten Free – Soy Free – Oil Free – No Sugar Added
When you've already made what many people claim is the "best vegan ranch ever," it's hard to top it with another recipe. So instead of straying too far from the Irresistible Ranch recipe from Vegan Bowl Attack!, I've simplified it and changed only a few things. If you're a ranch lover, you'll be enamoured with this one!
7/8 cup (120 g) raw cashews
1 tablespoon (15 ml) white vinegar
1 tablespoon (15 ml) lemon juice
1 teaspoon onion powder
1 teaspoon garlic powder
1 teaspoon dried parsley
1 teaspoon salt
1/4 teaspoon black pepper
Place cashews in a small pot and cover them with water. Bring to a boil, then adjust the heat to medium-low, cover, and simmer until the cashews are softened, about 5 minutes. Drain the cashews and rinse them with cold water. Transfer the cashews to a blender, followed by 1 cup (235 ml) water and the vinegar, lemon juice, onion powder, garlic powder, parsley, salt, and black pepper. Blend until smooth, let sit for 5 minutes, then blend again until very smooth. (Ranch will seem thin at first, but will thicken significantly once chilled.) Store in the refrigerator for up to 10 days.
Pin It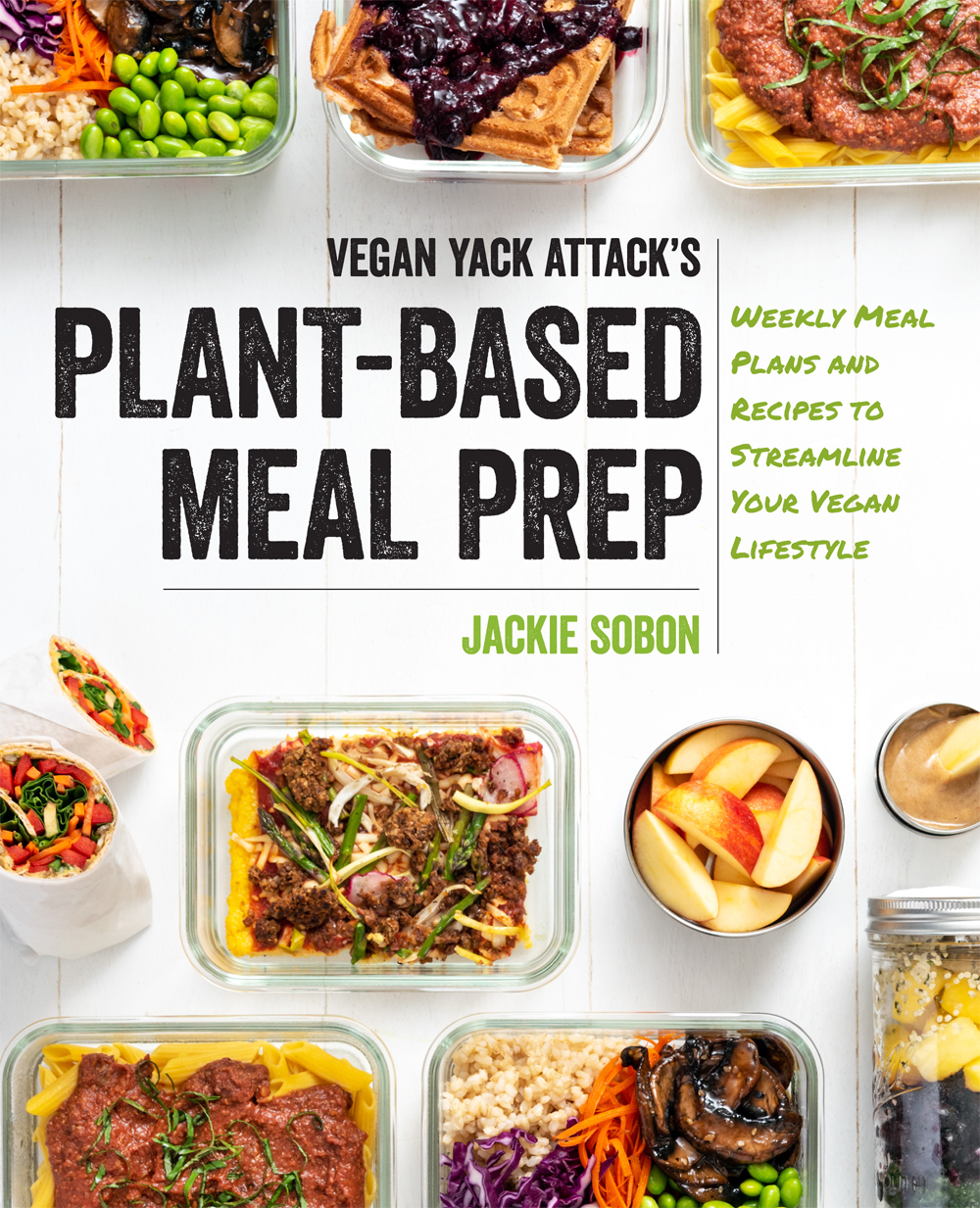 Sep. 22, 2020
Comments Off on Review | Vegan Yack Attack's Plant-Based Meal Prep
Related Posts