Review: Plant-Powered Families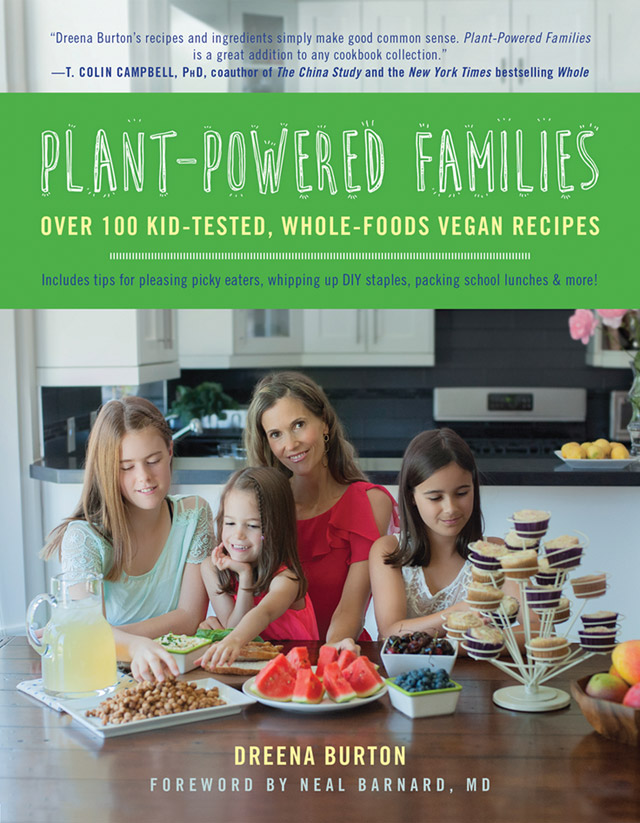 I personally believe that every adult has food issues stemming from childhood. The work of the adult is to expand and grow in taste through culinary adventures, and try and not automatically gag like a six year old when presented with questionable food. I am continually surprised when I unearth a childhood food issue I carry with me – they pop up at odd times. My never-ending quest is to acknowledge them and challenge myself to overcome them. By experimenting with methods of preparation and spices (for example, squash is amazing when not microwaved to be a mush and liberally doused with brown sugar, a dish I despise to this day) challenges can be overcome. I still don't like pickles though.
Dreena Burton's fourth book Plant-Powered Families is working on those picky eaters – kids and adults alike. Readers of her blog Plant-Powered Kitchen and those familiar with her prior cookbooks have become used to her 'kiddo tips' and substitutions for picky eaters. These dishes are quite clearly tried and true kid-approved in the Burton household, with anecdotes like "my girls polish off the entire dish in a blink … you may want to double the batch, just to be safe!" in Dreamy Baked Bananas – a decadent dessert full of fruit, warming chai spices, and creamy goodness from nut butter, milk, and the baked banana. But I'm getting ahead of myself. The recipes overall are what I would call "North American Kid Staples" – things you see on any given day in any given lunchbox at school or dinner table. The potential for food issues and picky eaters is high, but with Dreena's wisdom and clear experience, this can be navigated with ease and delicious results.
The book starts with an introduction to Dreena's story and family, and a thorough guide to pantry and kitchen prep. The recipes come next, sorted by time of day: Healthy Mornings, Lunch Fixes, Dinnertime, and Sweet Treats. Each section has multiple sub-sections, for ease of cross reference. For instance, Dinnertime includes Soups and Stews, Pizza and Pasta, Burgers 'n Fries 'n Such, and Casseroles, Stir-Fries, and One-Dish Wonders. Even more helpful: the sections are colour coded for quick reference. The last two sections of the book are devoted to tricks of the trade: How to prepare for/deal with picky eaters, school lunches, and kids' parties as well as DIY staples, sample meal plans, and FAQs. In short, it is a treasure trove of information for families of all ages interested in following a vegan diet.
Becoming a Child Again
I began testing with recipes I knew I'd like to ease into the child mindset. Some highlights included the Super Cheesy Sprinkle, with the perfect 1:1 ratio of nuts to nutritional yeast. The Sniffle Soup (slightly revamped from Eat, Drink, and Be Vegan) is the new chicken soup, a cure-all for everything that ails you. The Hummus Tortilla Pizza is fantastic. Basically a pizza made with a tortilla shell, pre-made hummus (from the book or bought – I don't judge) as the sauce element, topped with your toppings of choice. After a quick broil, the pizza is ready to be devoured, the ultimate quick easy dinner that could also be a "make your own pizza night" for the family. Desserts were also creative, with the aforementioned Dreamy Baked Bananas, which I will elbow out Dreena's kids for in order to stake my claim (sorry guys). My favourite though was Apples Nachos Supreme. As a kid at Halloween we would make a similar dish with melted caramel squares and melted chocolate, and I would proceed to pick off the toppings and eat only the apples. Not here. The caramel is a salted caramel sauce made from dates, spices, and vanilla. The apples are sliced and tossed in lemon juice to prevent browning, then loaded to the max. Caramel sauce, peanut butter drizzle, popcorn (I didn't have any), nuts, and chocolate chips complete this mound of excellence. This is a decadent treat that isn't too sweet, a surprise of flavours and textures in every bite, and just finger lickin' good. I was impressed, and will continue to make this over and over.
With such successes, I went on to tackle my childhood food issues. I went out of my way testing recipes I remember with an automatic gag reflex, to really put Dreena to the test. I am pleased and surprised to admit that she passed with flying colours, and then some. The Mild Cheesy Dip was spectacular, and instantly brought me back to those family parties where we had the ubiquitous Velveeta cheese dip. The flavour and consistency are spot-on, but Dreena's feels lighter somehow, and doesn't get that icky skin on top. The winner though for me overcoming childhood issues was the Chickpea Salad. I never liked any sort of salad that involved cream – from potato salad to tuna salad. The smell alone brings back gag reflexes. So this chickpea salad was a must try. There's something about the dressing that makes it so addicting: a base of tahini and lemon juice, with some Dijon mustard, Braggs, and kelp granules; there must be some secret sauce in there. For the crunch, apples and bell pepper match the dressing wonderfully, and capers at the end add a glorious tang. If this is what all those salads were supposed to taste like, I'm on board!
An honourable mention to overcoming issues goes to Baconut. Not a fan of coconut and never a fan of bacon, I am now a Baconut addict. A perfect blend of spice and ratio of umami and liquid smoke, the coconut is lightly coated for enough flavour, but not over coated to result in charring when roasting. I executed this perfectly, surprising myself (and my smoke detector). Two batches later, I'm starting to wonder if I should jump on that bacon-for-dessert train from 2010 and see what baconut chocolate tastes like …
Never Stop Growing
I noticed that many recipes feature apples – from Apple Lentil Dal to Chickpea Salad, to numerous apple breakfast bowls, smoothies, and desserts. This is new territory for me, as I usually avoid cooking with apples. As such, all are on my must make list. A more surprising ingredient that was vying for prime time was pumpkin. Growing up, I only had pumpkin in pumpkin pie, and to this day hate pumpkin pie (don't judge). With more recipes featuring pumpkin than apple, I cannot wait to make Pumpkincredible Hummus and Pumpkin Lentil Soup to ring in the winter squash season. And lest we forget my mashed potato aversion, her Crazy Brownies are based on beans and potato, and look like they would be not-too-sweet fudgy masses of perfection. It is a toss-up between this one and the Chocolate Sweet Potato Cake with Chocolate Sweets Frosting which also looks decadent and divine for me to tackle my mashed potato issues.  Her kids are also quite adventurous – the Green Superhero Dressing was a favourite, but I am still a bit leery of any dressing that is a strange colour. Maybe they have yet to be scarred by that bright orange Thousand Island stuff…
Dreena's kids are exceptionally lucky to have such an innovative mother in the kitchen, and we are exceptionally lucky that Dreena has shared with us some of the tricks up her sleeve. Her kids gobble down dishes that I wouldn't have touched as a kid, especially if my mother told me my brownies were made of potatoes. Here's to personal growth, adventurous eaters, and Plant-Powered Families!
I am pleased to share with you the Chickpea Salad recipe that I spoke of. If your favourite childhood memory was tuna salad, I hope you enjoy this riff. If you were like me and left the cafeteria if someone at the same table was eating a tuna salad sandwich, I implore you to give this one a go. I hope you enjoy it as much as I did!
Bonus: BenBella Books, Inc. has been kind enough to offer a second copy of the book for a giveaway! Keeping with the theme of the book, all you have to do is tell us one of your biggest childhood dislikes that you now love and you could win. We'll draw a name on July 2nd and BenBella Books will send Plant-Powered Families direct to the winner*.
To find out more about Dreena and her books, please visit her website.
If you wish to purchase the book through Amazon, you can find it here
.**
Reviewed by Katie Hay
When Katie isn't exploring new cuisines and challenging food conceptions in the kitchen, she can be found at farmer's markets, building and designing bicycles, and planning her next life adventure.
* Contest open only to those within Canada and the United States. Sorry.
** This post contains affiliate links. If the product is purchased by linking through this review, T.O.F.U. receives a modest commission.
Related Posts