Issue Nine: Age Matters is Now Available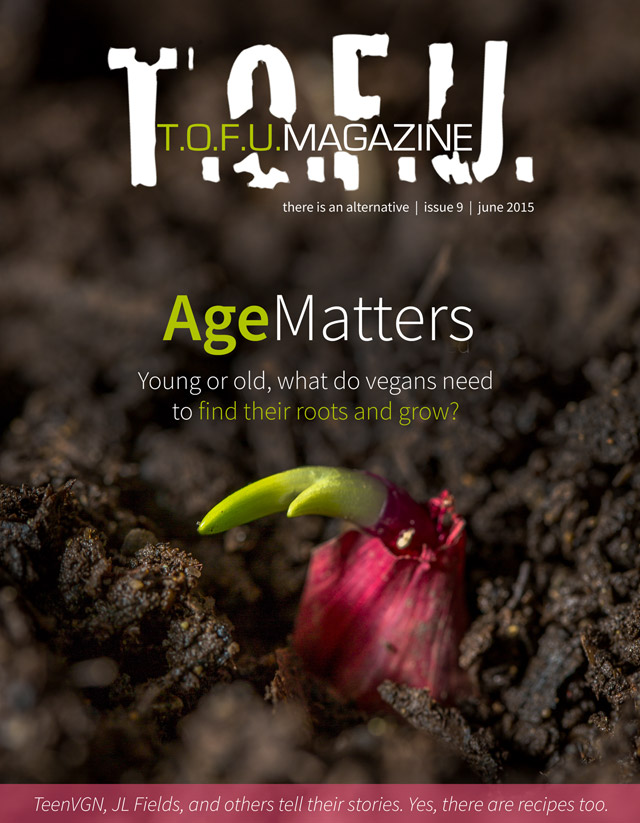 As most of those subscribed to the newsletter know by now, the ninth issue of T.O.F.U. has been released and it's now available in the online store for whatever price you want!
Discussing Age
This time around, T.O.F.U. is tackling the topic of age, and a number of wonderful people stepped-up to offer their thoughts on just how age intersects with their veganism, both from a personal and community point of view.
From JL Fields (JL Goes Vegan) to Dan Hanley (The Gay Vegans), and even a few kids still in grade school, this issue brings plenty to think about to the table.
Of course, there's more to #9 than just the focus pieces! Along with those, you'll find a city review of Edmonton, Alberta, Canada from Sarah Louise of The Cozy Vegan and Blue Rose Baking Co. fame, the story of how Dave Shishkoff started VeganStart, recipes, and more.
If that isn't enough to get you heading to the store, then maybe a peek inside the pages will help? If that's the case, you can check out the preview just below!
Jun. 30, 2015
Comments Off on Issue Nine: Age Matters is Now Available
Related Posts