Review: The Nut Butter Cookbook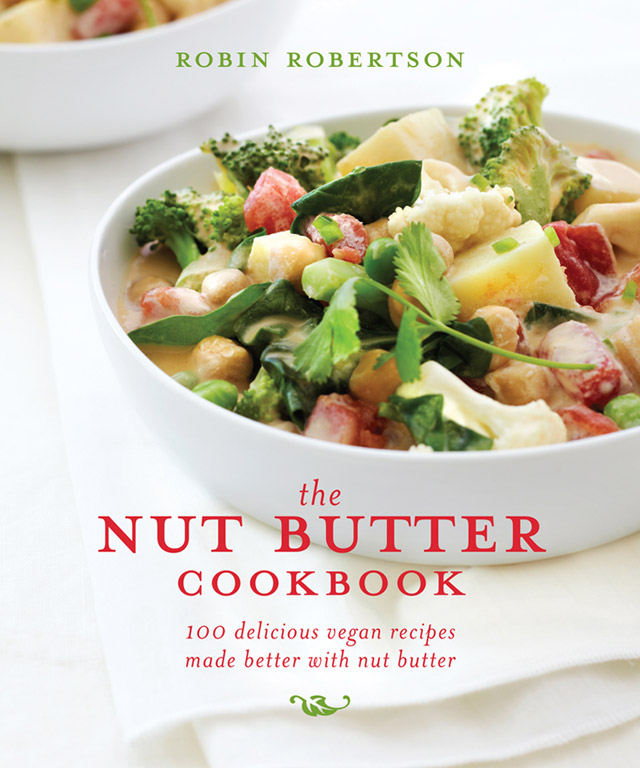 Prior to the fantastic Vegan Without Borders, Robin Robertson had published The Nut Butter Cookbook. As I believe that peanut butter should be a food group, when the opportunity came for me to review an entire cookbook dedicated to nut butters, I couldn't sign up fast enough. The book starts with a very brief history of peanut butter, then quickly diverges to all the different types of nut butters, nut butter substitutes for nut allergies (hello, roasted sunbutter!), and a nice analysis of DIY vs. store-bought. The introduction finishes with some basic recipes for nut butters and nut-based cheeses, of which I tried three: roasted pecan butter, raw cashew butter, and raw tahini. The roasted pecan butter came together in seconds – faster than my homemade sunbutter. The raw cashew butter took ages, but the result was very surprising. Like Cinderella, the bland nut is transformed into a nutty, sweet, almost icing like spread. From this cashew hater, cashew butter is fantastic! The raw tahini was a bit disappointing, because the seeds were too small to grind properly in my food processor. Watching the sesame seed tornado for 10min was amusing, but as a tahini recipe I think I'll try next time with my spice grinder.
Mixed Nuts
With my staples in hand, I started in on the recipes. Separated by dish/course, I had my choice of soup, starters, sides, salads, mains, sandwiches, breakfasts, and desserts. With 100 recipes all featuring nut butters and their seedy cousins, I had to pace myself for fear I would overindulge and never be able to look at peanut butter again. First up was the Linguine with Thai Pesto. Imagine for a moment the love child of a spicy Thai green curry and herby Italian pesto. Now imagine it dressing your noodle of choice, served with some peanuts, cilantro, and finished off with lime. As odd as it sounds, it's fantastic. The second time I made it I added some zucchini and cherry tomatoes, and was blown away by the fusion. Another winner was the Tropical Chickpea and Brazil Nut Stew. I could not find Brazil nuts to make my own nut butter, so I did as Robin suggested and used the creamy, slightly sweet raw cashew butter. This hearty curry is composed of carrots, peas, and potatoes, in a gravy of tomato, curry powder, and brazil nut/cashew butter. Simple to pull together, the cashew butter turns a standard dish into something creamy and decadent, with a hint of nuttiness after.
The one recipe I knew I had to make was the Pumpkin Pecan Soup. Never a fan of pecans or pumpkin pie, I was curious as to how I'd like a simple bisque of pumpkin, tomato, and japaleno seasoned with thyme, garlic, and pecan butter. The roasted pecan butter adds quite a bit of sweetness to counter the heat of the jalapenos, and the thyme was a great addition. I applaud the dish, but it didn't convert me to a pecan lover like the cashews did – next time I'll use a different seed butter. Finally, the Roasted Tahini Cauliflower took it home. Full of all my favourite things, what sets this tahini dressing apart is the addition of sumac. Sumac is a spice from the Middle East, and lends a fantastic tart tang to any dish. The sumac and lemon tahini dressing pair wonderfully with the slightly smoky roasted cauliflower. Roasted whole, this would be an elegant main dish at any table.
Nutty Parmesan was my condiment of choice, with the perfect ratio of nuts to nutritional yeast. And the Peanut Butter and Banana Ice Cream was a decadent end to a Sunday dinner. I did not have a chance to try the baked goods or desserts, but when I do I know what I'm making: Apple-Almond Butter Crumble and Pistachio Butter Biscotti.
Substitutions Welcomed
For those severely allergic to nuts, I encourage you to not immediately dismiss a cookbook entitled "Nut Butter Cookbook". With the help of a food processor, you could easily substitute the nut butters in the recipes for those made from sesame seeds (tahini), sunflower seeds, pumpkin seeds, or maybe even hemp seeds. These seedy substitutions would stand in wonderfully in most dishes, as generally the nut butter purpose is to add creaminess, a 'nutty' depth, and a bit of umami. Seed butters would do all of these things, and are in fact what I will use to share at potlucks.
With so many cookbooks published, Robin has the art of recipe creation down to a science, resulting in delicious, approachable, and simple meals. Some may push comfort boundaries of what is new and exotic while others may remind the more adventurous why simple is best. This cookbook will be used again, whenever I feel the need for a decadent curry or soup, intriguing fusion pair, or wonder what exactly I can do with nut and seed butters. The publishers have generously let me share a recipe with you, and in the interests of inclusion I have chosen the fantastic Roasted Tahini Cauliflower. I strongly encourage you to seek out the sumac for the recipe: I found mine long ago in an Indian grocery store, and the small bag has lasted me longer than saffron!** Tart and creamy sauce drizzled over succulent roasted cauliflower, this dish is a great representation of Robin's creativity, simplicity, and knowledge of world spices. Enjoy this offering, and glimpse into the creative decadent world of Nut Butter Universe.
To find out more about Robin and her books, please visit her website.
If you wish to purchase the book through Amazon, you can find it here
.*
Reviewed by Katie Hay
When Katie isn't exploring new cuisines and challenging food conceptions in the kitchen, she can be found at farmer's markets, building and designing bicycles, and planning her next life adventure.
* This post contains affiliate links. If the product is purchased by linking through this review, T.O.F.U. receives a modest commission.
**If you cannot find it in stores, the spice is sold on Amazon.com for those in the US. For the rest of us not so lucky to have Amazon.com ship to our door, you can still buy it online if necessary! I have just checked, and both Amazon.ca (Canada) and Amazon.co.uk (UK) stock it. I can't speak to other countries, but if Canada stocks it, it has to be everywhere!
Roasted Tahini Cauliflower
This roasted cauliflower dish from the Middle East is known as zahra mekhla. It calls for coating the cauliflower in a flavorful tahini sauce.
Gluten Free | Soy Free | Serves 4
1 head cauliflower, cut into bite-sized florets
2 tablespoons olive oil
Salt and black pepper
2 to 3 garlic cloves
1 teaspoon za'atar spice mix
1/2 teaspoon ground cumin
1/2 teaspoon ground coriander
1/2 teaspoon sesame seeds
1/4 teaspoon smoked paprika
1/2 cup tahini (sesame butter)
Juice of 1 large lemon
1/4 teaspoon sriracha or other hot sauce
1/4 cup water
Lemon wedges, to serve
Preheat oven to 450°F. Toss cauliflower in 1 tablespoon of the olive oil. Season with salt and pepper, and spread in a single layer on a baking pan. Bake until nicely browned and tender, about 25 minutes, turning once about halfway through.
While the cauliflower is roasting, heat the remaining 1 tablespoon of oil in a small skillet. Add the garlic and sauté until softened and fragrant, about 1 minute. Stir in the za'atar spices, cumin, coriander, sesame seeds, and paprika, then stir in the tahini, lemon juice, and sriracha. Season with salt and pepper and stir in the water, stirring until smooth. Taste and adjust the seasonings, if needed.
To serve, toss the hot roasted cauliflower in the sauce and serve immediately.
From Nut Butter Cookbook, by Robin Robertson/Andrews McMeel Publishing, LLC.
Jul. 02, 2015
Comments Off on Review: The Nut Butter Cookbook
Related Posts